Inside the Miraflores Palace, Venezuela's President Nicolas Maduro was holding crisis talks with opposition leaders aimed at quelling weeks of violence and unrest in which 41 people have been killed. Away from the gilded palace, however, the death toll from weeks of protests continued to rise when a police officer was shot dead.
The meeting late on Thursday, and symbolic handshake, was the first to include Mr Maduro's main rival Henrique Capriles, whom he narrowly beat in last year's presidential election. The six-hour talks were also the first to be brokered by foreign ministers from the Unasur bloc of South American governments.
Both sides have agreed to meet again next week. They have both asked the Roman Catholic Church to be a "good faith" witness to the next round of talks.
Mr Capriles warned that the unrest would escalate in the absence of political reforms. "The road here was long and complicated, but it was worth it," said Mr Maduro in his lengthy opening comments. But he cautioned against unrealistic expectations, saying: "There are no negotiations here. No pacts. All we are looking for is a model of peaceful coexistence, of mutual tolerance."
Public support for both Mr Maduro and the opposition have fallen. And Venezuela's already slowing economy has suffered from the impact of violent clashes on businesses and transport. Dozens of anti-Maduro demonstrators remain in jail and some hard-line opposition groups, including the party of the jailed protest leader Leopoldo Lopez, boycotted the talks, which were broadcast live on every television channel.
Officials said a policeman was shot dead during protests in the western city of Barquisimeto, and opposition activists said a woman died in hospital almost a month after being hit by a car while demonstrating in central Valencia. Those fatalities brought the death toll to 41. About 650 people have been injured since the protests broke out in early February, and more than 2,000 people have been detained. Of them, at least 170 are still behind bars.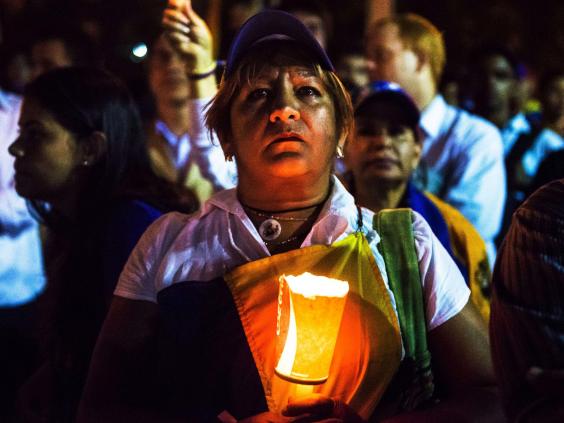 Mr Capriles, defeated in last year's ballot to replace Hugo Chávez, was one of the last to speak. He told the foreign ministers of Brazil, Colombia and Ecuador that Venezuela was crippled by violence, economic misery and political polarisation. "We don't want a coup d'état. We don't want an explosion on the streets," Mr Capriles said. "Either this situation changes, or it bursts. I hope it changes because I don't want violence."
The National Assembly leader, Diosdado Cabello, was sitting across the table from Mr Capriles, and described him as "the fascist assassin" on Twitter. "He doesn't understand he lost the election [in 2013]," Mr Cabello also tweeted.
On Thursday, the Vatican's envoy to Venezuela read a letter from Pope Francis, who said the talks were the only path to peace. "It is a long and difficult road, which requires patience and courage, but it is the only one that can bring peace and justice," the Pope said, according to a copy of the letter distributed by the Vatican yesterday.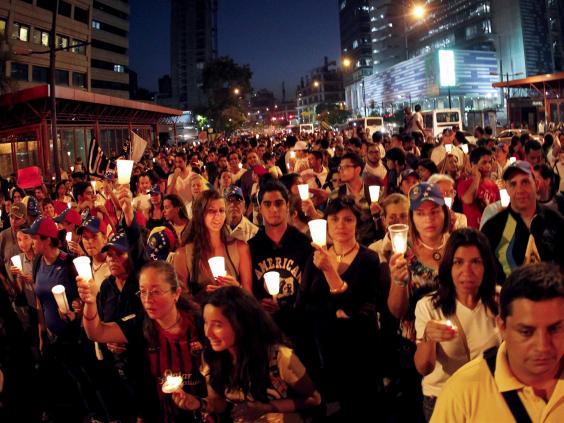 Mr Maduro, who calls himself the "son" of Chávez and is seeking to preserve the country's oil-funded welfare policies, said ahead of the meeting he would talk but not negotiate.
Hard-line protesters have sought to provoke a "Venezuelan spring" that would force Mr Maduro from office, launching roadblocks, marches and other protest tactics in some cities.
Mr Maduro's six-year term ends in 2019. Liborio Guarulla, opposition governor of the southern state of Amazonas, told the meeting people should not think the start of talks would solve problems overnight. "We won't make miracles with this. The economy won't improve by tomorrow," he said. "But we are building something."
Reuters
Reuse content