One of the world's greatest natural wonders has been obscured from view by a rare weather event, with the whole thing being caught on camera in a stunning time-lapse video.
The Grand Canyon in Colorado was coated in a thick layer of cloud after warm air at the top of the canyon prevented the colder air at the bottom from rising.
Known as a 'total temperature inversion', the phenomenon usually only occurs at the Canyon once every several years.
As the air at the bottom cools, dew caused by rain turns into fog rises to the rim of the Canyon, which stops the air from escaping.
A video shows thick fog and cloud rolling across the top of the Canyon, at times making it impossible to see anything, before a breeze blows a top layer away to reveal the spectacular sight.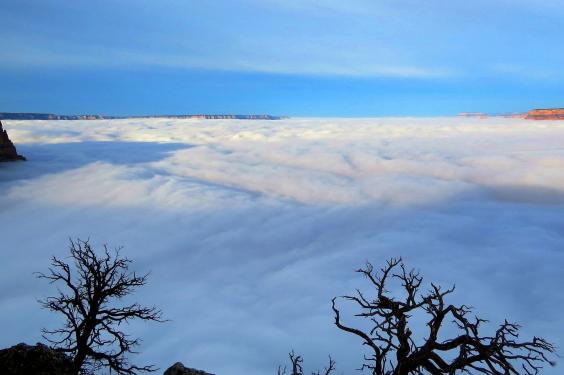 Because the Grand Canyon is so huge (277 miles and 6,000 feet deep at its deepest point), it could take days for the clouds to clear from the ravines, according to the National Park Service
Reuse content