When Ann Trachtenberg teased her niece by saying she'd want to leave hospital to a marching band playing on her last day of gruelling chemotherapy treatment, little did she know her joke would become a reality.
Walking out of the University of Wisconsin's Carbone Cancer Centre with her niece this week, Ms Trachtenberg was stunned to be faced with the university's marching band.
Striking-up a lively tune, it came to light that Ms Trachtenberg's niece was the one who decided to contact the university's Badger Band.
Breaking down into tears during the performance, Ms Trachtenberg hugged one of the students in the band at the end and thanked them.
The video has since gone viral, having been viewed over a million times and shared by almost 20,000 people.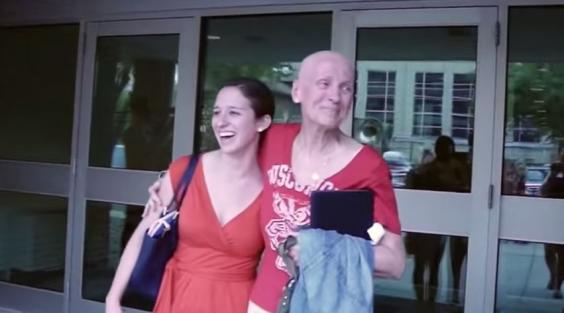 The director of the band, Mike Leckrone, told The Washington Post the band has a close relationship with the centre and that they've been known to do similar performances for elderly citizens and during visiting hours, as well as taking part in fundraising activities for patients too.
Reuse content