A video that allegedly shows a police officer warning colleagues to "hold up" while the squad car's dashboard camera is turned off at the scene of a violent arrest, is at the centre of a St Louis court case.
Cortez Bufford is suing police, accusing them of using unnecessary force when he was arrested last April. Police have insisted the way they handled the incident was appropriate.
Footage from the camera appears to show police pulling over 18-year-old Mr Bufford, dragging him from his car, kicking him and appearing to shoot him with a taser gun, before an officer shouts: "Hold up, everybody, hold up. We're red right now, so if you guys are worried about cameras, just wait."
Seconds later the video ends.

 Lawyers for Mr Bufford, who filed a case of abusive arrest in January, said "red" is police slang for recording, and that the footage supports their accusations that officers lacked probable cause and applied excessive force.


The St Louis Police Officer Association rejects this claim, insisting the force used in the was appropriate and the suspect was lucky he did not get shot since police reported he was reaching for a gun.
The case had taken on added importance in the aftermath of the shooting last summer of Michael Brown, an unarmed 18-year-old black man who was killed by a police officer in the St Louis suburb of Ferguson.
His death, and the subsequent decision not to charge the officer involved in the incident, sparked nationwide protests and angry, sometimes violent scenes in Ferguson.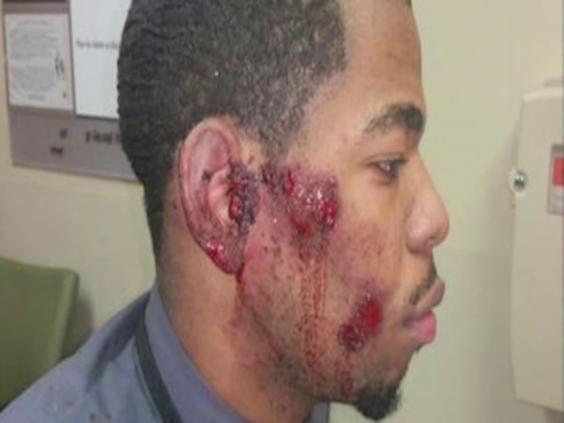 Mr Bufford was reportedly pulled over following an emergency call claiming that shots had been fired near the city's Lafayette Square, according to the St Louis Post-Dispatch. Police reports said officers were alerted to the vehicle because it made an illegal U-turn before abruptly parking.
The release of the video was originally delayed by St Louis Mayor Francis Slay. It was eventually made public by Mr Bufford's lawyers.
Reuse content