As wedding surprises go this probably tops the lot.
A paraplegic groom gave his bride one of the best wedding gifts ever, when he surprised her by taking to the floor without the aid of his wheelchair so that he could stand for the couple's first dance.
Sgt Joey Johnson, who has been unable to walk ever since a motorcycle accident in 2012, was able to take part in the first dance with his wife, Michelle Johnson, after he and his friends secretly created a harness that would allow him to stand.
Michelle, who works as a wedding planner, had organised every aspect of the pair's wedding that took place in June, except for the pair's first dance.
After the two walked down the aisle and read their wedding vows, Michelle was led to the reception area, where she saw her husband standing with the help of the harness.
Joey Michelle Dancing from Jennifer Traynor on Vimeo.
The two then danced to Christina Perri's A Thousand Years as tearful wedding guests watched on.
One of those in attendance was photographer Jennifer Davis of LinneaLiz Photography.
She told Fox News: "When Michelle walked in the whole room was quiet, she had no idea what was going on.
"Joey had been planning the dance for months and having his military groomsman literally supporting him added even more to the emotion in the room. The dance was a beautiful moment to not only capture but to experience."
The couple had met in 2012 at a Country music concert, just a few months after Johnson had returned from serving a 10-month stint in Afghanistan.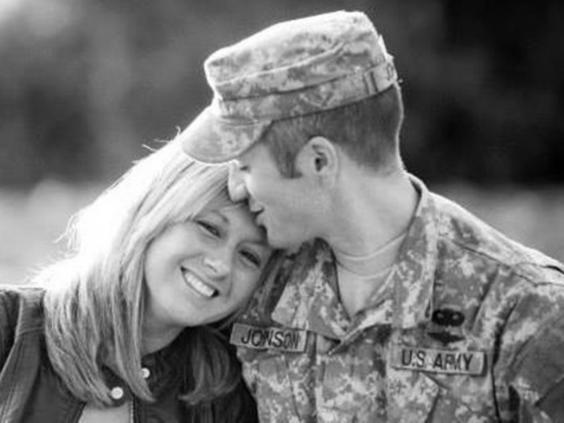 At the time, Johnson was suffering from post-traumatic stress and rode motorbikes to help him cope with the illness.
However, during one ride, Johnson suffered severe damage to his spine and was left paralysed from the chest down.
Michelles had stayed by his side throughout his recovery, and the two decided to get married earlier this year.
The video was caught on camera by and has since gone viral with tens of thousands of people viewing it on video site Vimeo.