The Democratic Party of Virgina has announced it will pull sexually suggestive posters targeting Republican Attorney General Ken Cuccinelli's support for the controversial anti-sodomy laws from college campuses.
Mr Cuccinelli is running against Democrat candidate Terry McAuliffe for Governor of Virginia on 5 November.
The posters, which carried slogans such as "don't let election day go down without you" and "get your head in the game" warned college students that Mr Cuccinelli "wants to make oral sex a felony" because of his support for the state's 'crime against nature' anti-sodomy law, which was struck down earlier this year by a federal appeals court after being declared unconstitutional in 2003 by the US Supreme Court. The law also made oral sex illegal.
At the bottom of the posters, distributed across Norfolk State University and other college campuses, it states: "Education Votes, a project of the Democratic Party of Virginia."
Democratic Party Virginia spokesperson Brian Coy said: "While we feel Virginians deserve to know the truth about Ken Cuccinelli's extreme social agenda, we apologize to those who were offended. We're working to remove these posters from the campuses in question and they will not be used again."
Garren Shipley, a spokesman for the Republican Party of Virginia, said the posters "repeat this thoroughly-debunked Terry McAuliffe falsehood," in an "even more crass and tasteless way than before", according to The Washington Post.
He continued: "Mailers and posters like this are what you get when your candidates have no record to run on. The Democratic Party of Virginia should be ashamed. But they're probably not."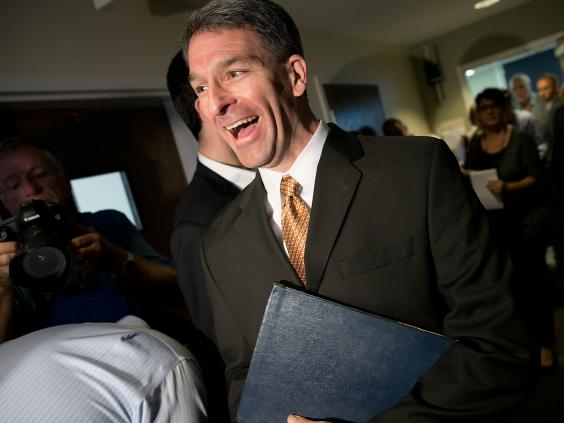 Mr Cuccinelli has defended the law as a tool for prosecuting child abusers and appealed against the US Court of Appeals decision Virginia's statute was unconstitutional.