Days after discussing the future of Syria with world leaders at last week's Munich security conference, the US Secretary of State John Kerry has turned to another influential group to help combat Isis: the men and women who run Hollywood.
Mr Kerry made a beeline for the heads of several major movie studios to kick around suggestions for how to disrupt Isis's staggeringly effective propaganda machine. After the 90-minute session at Universal Studios, Mr Kerry tweeted: "Great convo w studio execs in LA. Good to hear their perspectives & ideas of how to counter #Daesh narrative." Daesh is an alternative term for Isis, employed by Western leaders to undermine the radical Islamic group's claims to statehood.
The meeting on Tuesday was organised by Jeff Shell, the chairman of Universal, who is also the chair of the US Broadcasting Board of Governors (BBG), of which Mr Kerry is a member. The BBG is an independent federal agency responsible for overseeing any US government-sponsored, non-military overseas media output, such as the government-funded broadcasting network Voice of America, one of the outlets that might be used to counter Isis propaganda.
One unnamed attendee described the meeting as a "brainstorming session", telling Variety that several issues were discussed, such as how Hollywood and the government could collaborate in using film narratives to counter the persuasive Isis message, including involving storytellers in Syria, Iraq and other areas affected by the spread of Isis.
Isis has already harnessed the power of film in its campaign to attract young recruits from across the globe, producing multiple propaganda videos with high production values. A recent Washington Post investigation found that the organisation prized its videographers and editors more highly than its rank-and-file fighters, paying them several times as much as other militants.
The meeting included studio chiefs from Warner Brothers, Dreamworks, 20th Century Fox, Disney and Sony. It was also attended by Chris Dodd, the former Democrat US Senator from Connecticut who is now the chairman of the Motion Picture Association of America (MPAA).
Mr Dodd and Mr Kerry have been close since they served together in the Senate, and Mr Dodd reportedly joined the Secretary of State on his flight back to the US from Europe, where he had been attending the Berlin Film Festival while Mr Kerry attended the Munich conference.
Mr Kerry was travelling to Southern California to attend another international conference, the Asean summit, hosted by Barack Obama, which gave him the opportunity to drop in on Hollywood. 
Hollywood's war: Terrorism on screen
Lions for Lambs (2007)
Early responses to the war on terror included Robert Redford's liberal dirge Lions for Lambs, whose A-list cast (Redford, Cruise, Streep) could not enliven its ponderous musings on US foreign policy. "Ibsen with helicopters," opined the New Yorker.
Zero Dark Thirty (2012)
Fell victim to one of the nastiest awards races in recent memory, savaged by its detractors – including Senator John McCain – for apparently implying that torture was crucial in the hunt for Osama bin Laden.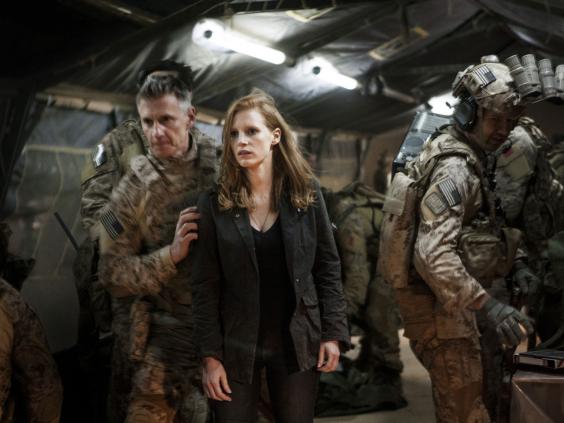 American Sniper (2014)
Starring Bradley Cooper as Chris Kyle, the most lethal sniper in US military history. An unexpectedly huge hit at the US box office, but divided audiences between the patriotic and the jingoistic camps.
13 Hours (2016)
Michael Bay's action-packed drama about Benghazi is shorn of explicitly political content, but nonetheless gives Hillary Clinton's opponents a new excuse to dredge up the past.