The high school student who shot five fellow pupils in Washington state at the end of last week had lured his victims to a single lunch table using a series of text messages, investigators said.
Police said they still don't know why 15-year-old Jaylen Fryberg attacked his classmates – two of whom were also his cousins – using a .40-calibre handgun that had been legally bought by a member of his family.
Trawling through phone messages and records, Sheriff Ty Trenary said that the five victims received texted invites from Fryberg to meet in the cafeteria at Marysville-Pilchuck High School, north of Seattle. At 10.39am he opened fire at their table, before killing himself, police confirmed yesterday.
Zoe Galasso, 14, died at the scene, while Gia Soriano, also 14, died in hospital on Sunday night. The other three victims remain in hospital. Shaylee Chuckulnaskit, 14, and one of the cousins, 15-year-old Andrew Fryberg, remain in critical condition.
Nate Hatch, 14, is the other of Fryberg's cousins. He was shot in the jaw, but has shown improvement and is considered stable. He posted a message of forgiveness on Twitter, writing: "I love you and I forgive you jaylen rest in peace."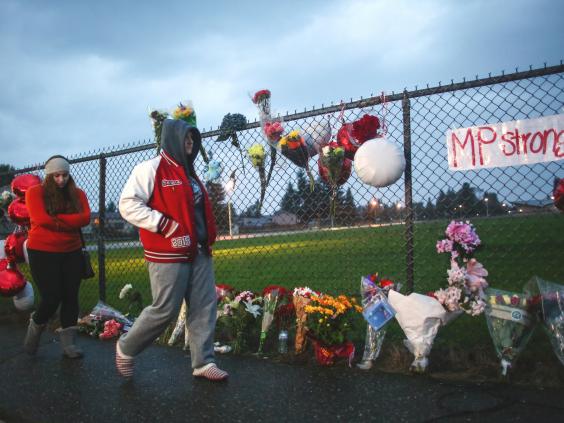 Fryberg was described as a popular teenager who played football and was named a Homecoming "prince" the week before the killings.
"The question everybody wants is, 'Why?'" said Sheriff Trenary. "I don't know that the 'why' is something we can provide."
He confirmed that detectives were also studying Fryberg's social media profiles. Friends said Fryberg had recently seemed upset about a girl, and his Twitter profile included apparently anguished posts including: "It won't last ... It'll never last" and "I should have listened. ... You were right ... The whole time you were right."
Fryberg was a member of a prominent family from the nearby Tulalip Native American reservation.
A tribal guidance counsellor, who also has an office at Marysville-Pilchuck High School, said said no one knows what motivated Fryberg. "We can't answer that question," Matt Remle said. "But we try to make sense of the senselessness."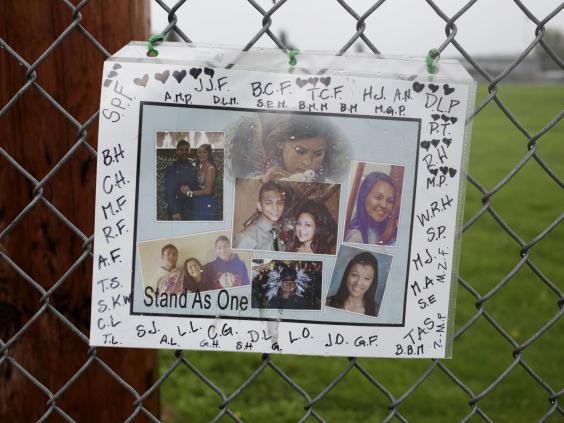 A medical examiner has confirmed that Fryberg's death was suicide. There had been some question over whether he might have shot himself accidentally as a teacher tried to intervene, but Sheriff Trenary said investigators confirmed there was no physical contact between the teacher and the gunman.
At a memorial outside the school yesterday, a group of mourners marked the time at which the shooting was first reported on Friday morning. Flowers and signs were tied to a chain-link fence lined with red and white balloons reflecting the school's colours.
The family of Gia, one of the girls who died, said her organs would be donated, adding: "We are devastated by this senseless tragedy."
"Gia is our beautiful daughter, and words cannot express how much we will miss her."
Reuse content