It's a sight that would worry most parents but not Marlon Grannan and his wife Lisa.
The couple, who breed and train dogs to be guard dogs as part of their Dark Dynasty K9s business, have said that they are happy for their young son to play with their 12-stone pet pit bull Hulk.
"I don't think it's irresponsible at all for people to have pit bulls and children. They're dogs just like any other dog. No matter what the breed, it's all completely on how you raise them," Mrs Grannan told Barcroft TV.
She went on to say, "I have no concerns about any of the dogs around my son. They're amazing family dogs and with the training that they go through, they're used to going against grown men - multiple grown men - and loud noises."
"They go through extensive training. So the little things a kid might do to startle a dog or anything isn't going to faze ours at all. They're amazing family dogs."
In a recent video interview their son can be seeing riding on 17-month-old Hulk, who is believed to be one of the biggest pit bulls in the world.
Hulk is being trained as a guard dog but from the video it appears that he has a softer side when he is with the Grannans. He is often docile and is seen just lying on the floor.
Pit bulls have a bad reputation as being "dangerous dogs" but the Grannans are hoping to shatter these misconceptions through social media.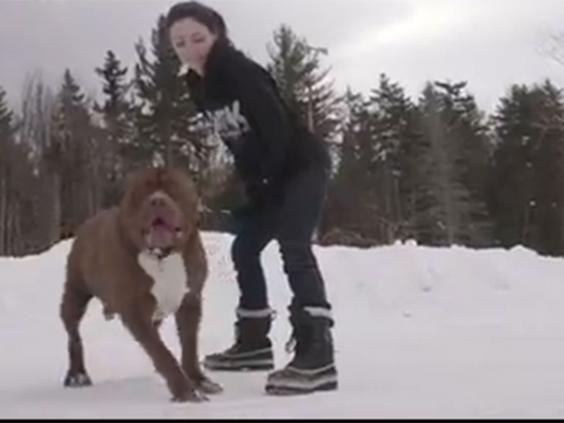 They have posted numerous videos both on YouTube and Facebook, which aims to show that the often-feared animals are just like any other pet dog.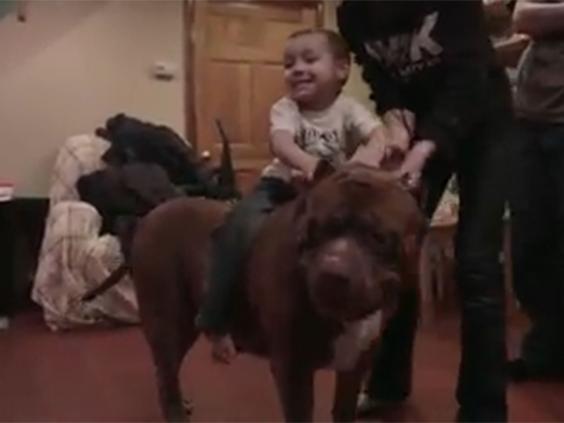 Mr Grannan has trained dogs for 10 years and says that dogs will not just attack people on a whim.
"Well for people that say dogs just randomly flip out, they're not paying attention, that doesn't actually happen. There's something going on throughout that dog's life, [...] that he's got to a breaking point or something like that."
Reuse content