Pope Francis arrived at the White House this morning in his jet black Fiat to meet with President Barack Obama.
President Obama welcomed the Pope, calling him the "living example of Jesus' teachings."
"That means welcoming the stranger with empathy and a truly open heart," President Obama said. "From the refugee who flees war-torn lands, to the immigrant who leaves home in search of a better life."
"It means showing compassion and love for the marginalized and the outcast, for those who have suffered, and those who have caused suffering and seek redemption."
As Pope Francis took the podium, he praised President Obama's action on climate change.
"I find it encouraging that you are proposing an initiative for reducing air pollution. Accepting the urgency, it seems clear to me also that climate change is a problem which can no longer be left to a future generation. When it comes to the care of our common home, we are living at a critical moment of history."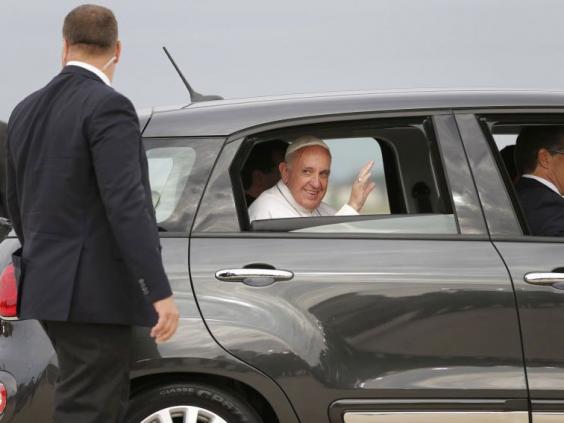 "To use a telling phrase of the Reverend Martin Luther King, we can say that we have defaulted on a promissory note and now is the time to honour it," he said.
He also touched on immigration, saying that: "As the son of an immigrant family, I am happy to be a guest in this country, which was largely built by such families."
After leaving the White House, Pope Francis arrived to the Cathedral of St Matthew to pray with US bishops and urge them not to engage in culture wars and crimes of abuse.
He said that bishops cannot be silent in the face of abortion, drowning immigrants, poverty, trafficking victims, pollution and war, the Catholic News Service reported. He also stressed that the bishops must work to ensure the Catholic Church's sexual abuse scandal must never happen again.
"I realize how much the pain of recent years has weighed upon you," he said. "And I have supported your generous commitment to bring healing to victims — in the knowledge that in healing we too are healed and to work to ensure such crimes will never be repeated."
Pope Francis later canonized Friar Junípero Serra on Wednesday evening in a move which enraged leaders of California's last surviving Native American populations. Under the friar's leadership, thousands of Native Americans were forced into labour and infected with diseases, the Guardian reports.
"Opponents point out that, from the time Serra arrived in 1769, the native population was ravaged by European diseases, including syphilis spread by marauding Spanish soldiers. Indians brought into the missions were not allowed to leave, and if they tried they were shackled and severely beaten," Andrew Gumble writes.
However, the Pope Francis chose to highlight during the Wednesday mass, his first in the states, of his zeal, devotion and missionary efforts in the name of God.
Reuse content