Clowns: joyful, brightly-coloured purveyors of fun and frolics, or sinister, leering creatures with anything but happiness on their minds?
If you fall into the former camp, you seem to be in a minority. Despite their protestations that all they want to do is help you have a good time, clowns are viewed by most of us as something deeply disturbing.
Which is possibly why every now and again a rash of sightings surfaces somewhere in the world of a creepy clown that puts the rumour mill in a tailspin and has parents calling in their children at dusk.
The latest place to be afflicted by the curse of the killer clowns is North Carolina in the US. The Washington Post soberly reported last week that on the streets of Greensboro a local man came face-to-face with a clown which "wore typical big-tent get-up – a wig of red curls, too-big shoes, blue trousers and a shirt with yellow polka dots – topped off with a scary mask".
For reasons not properly explained, the man who saw the clown happened to be carrying a machete and, brandishing his weapon, chased the clown into some nearby woods, where it gave him the slip.
A Greensboro police department report issued last Friday said, "Although it is lawful to dress as a clown, given the heightened tensions about these entertainers, officials are discouraging 'copycat' behaviour by individuals who may find it humorous to mimic suspicious behaviour. Copycats unnecessarily alarm the public and place an unnecessary drain on police resources."
Heightened tensions? Over clowns? Well, yes, because the Greensboro clown was not the first in that neck of the woods. According to the Washington Post, there have been half a dozen "sightings" of sinister clowns in North and South Carolina in recent weeks, with reports ranging from "several clowns in the woods flashing green laser lights" to "a clown with a large, winking nose was hanging out near the dumpsters" to a gang of clowns hiding out in trees trying to entice children to them: "Some had chains, some had knives, and some were holding out money, saying, 'Come here, we've got candy for you'," says one report.
And this isn't just an American problem. Three years ago, rumours of a clown prowling the streets of Bradford, West Yorkshire, was big news for a short while, with "sightings" and reports reaching almost hysterical levels; the clown was peering in windows, committing robberies and even stabbing innocent passers-by said local people, prompting a West Yorkshire Police spokesman to issue a statement: "This seems like it might be a hoax. We haven't had any reports of crimes committed by a clown, I can say that much."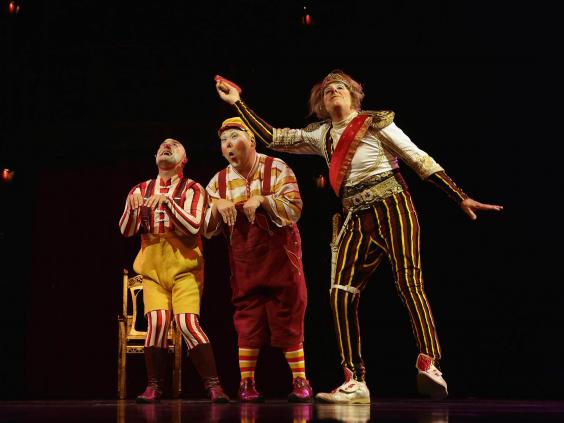 Around the same time there were sightings of the so-called "Chesterfield Clown", and earlier this year the clowns surfaced on Teesside, with reports in May of sightings in Middlesbrough, Stockton and Hartlepool.
Then, as swiftly as they arrive, the clowns leave… or at the very least, people stop talking about seeing them. And children can play out again, parents breathe a sigh of relief, and children's entertainers can go about their business without fear of being chased with a machete. Until the next sighting, that is…
But why clowns? Well, fear of the grinning, painted loons is a recognised condition – coulrophobia is thought to affect as many as 12 per cent of adults. And though, with their buckets full of confetti and poorly-maintained cars, they've been a feature of circuses since time immemorial, many of us just don't find them funny. Which is why Stephen King's 1986 novel IT, featuring a demonic clown called Pennywise (who's coming to cinemas in 2017, just so you know) still terrifies people 30 years on. It's why Batman's arch-nemesis the Joker is so unpredictable and scary. It's also why a 2006 study by the University of Sheffield called for hospitals not to decorate their children's wards with clowns. Dr Penny Curtis, a senior lecturer at the university, said at the time, "As adults we make assumptions about what works for children. We found that clowns are universally disliked by children. Some found them frightening and unknowable."
World news in pictures
World news in pictures
1/30 24 March 2017

Local government have decided to rename the island's main airport after the Madeira-born footballer Cristiano Ronaldo. The official inauguration ceremony is due to take place on 29 March

Getty Images

2/30 24 March 2017

Workers began the renaming works of the Madeira International Airport in Funchal, Madeira, Portugal. Local government have decided to rename the island's main airport after the Madeira-born footballer Cristiano Ronaldo

Getty Images

3/30 24 March 2017

Turkish rescue workers and medics work next to the bodies of migrants laid out near an ambulance in Kusadasi, Turkey

AP

4/30 23 March 2017

Russia's President Vladimir Putin and Maly Theatre Artistic Director Yuri Solomin talking ahead of the Last Sacrifice play at the Maly Theatre

Getty Images

5/30 23 March 2017

The Brandenburg Gate is illuminated with the colours of the British flag to show solidarity with the victims of the recent attack in London, in Berlin, Germany

Reuters

6/30 23 March 2017

US President Donald Trump sits in the drivers seat of a semi-truck as he welcomes truckers and CEOs to the White House in Washington, DC

Getty Images

7/30 22 March 2017

James Harris Jackson is escorted out of a police precinct in New York. Police said Jackson, accused of fatally stabbing a black man in New York City, told investigators he travelled from Baltimore specifically to attack black people

AP

8/30 21 March 2017

World Water Day is held annually on 22 March as a means of focusing attention on the importance of freshwater and advocating for the sustainable management of freshwater resources

EPA

9/30 21 March 2017

Filipino fishermen arrange a fishing net next to a sewage pipe at a fishing village in the town of Bacoor, Cavite province, Philippines

EPA

10/30 20 March 2017

High-rise buildings are partly covered by heavy fog at Hong Kong's Victoria Harbour

AP

11/30 20 March 2017

Libyan fishermen rescue migrants from a sinking dinghy off the Libyan coastal town of Zawiyah, east of the capital, as they attempted to cross from the Mediterranean to Europe

Getty Images

12/30 20 March 2017

Migrants wait to be rescued from a sinking dingey off the Libyan coastal town of Zawiyah, east of the capital

Getty

13/30 19 March 2017

Lebanese activists from the Civilian motionless, and from various parties wave national flags during a protest against new high taxes in front of the Lebanese government palace in Beirut , Lebanon

EPA

14/30 19 March 2017

People march to protest the regional Catalan government's push to break away from the rest of Spain, in Barcelona, Spain

AP

15/30 19 March 2017

An activist lays half-naked with fake blood in a cage during a protest for animal rights, against the suffering and murdering of animals and against animal testing in Athens, Greece

EPA

16/30 18 March 2017

Passengers wait at Orly airport southern terminal after a shooting incident near Paris, France

Reuters

17/30 16 March 2017

Wearing Coyote masks and business suits and waving signs against Canada Goose and their use of fur, PETA members gather outside the New York Stock Exchange

Getty Images

18/30 16 March 2017

View of the Tocqueville high school after a shooting has taken place injuring at least eight people, in Grasse, southern France

Reuters

19/30 16 March 2017

Suspects with their hands tied in plastic straps walk past residents during a raid by the Philippine Drug Enforcement Agency (PDEA) at an informal settlers' area inside a public cemetery in Manila

Getty Images

20/30 16 March 2017

A SpaceX Falcon 9 rocket launches from Kennedy Space Center, over Cocoa Beach and Cape Canaveral skyline in Florida

AP

21/30 16 March 2017

French Police officers secure the scene near the Paris offices of the International Monetary Fund (IMF) in Paris, after a letter bomb exploded in the premises

Getty Images

22/30 16 March 2017

A man poses as crying firebrand anti-Islam lawmaker Geert Wilders during a small demonstration outside parliament in The Hague, Netherlands

AP

23/30 15 March 2017

Acting Assistant Attorney General Mary McCord, speaks during a news conference at the Justice Department in Washington

AP

24/30 14 March 2017

A four-month-old Syrian baby receives treatment at a make-shift hospital following reported air strikes in the rebel-held district of Barzeh, on the north-eastern outskirts of the capital Damascus

Getty Images

25/30 14 March 2017

Miguel Angel Munoz faces a 25-year prison sentence for the alleged murder in 2015 of the US tourist Denise Pikka Thiem, who was hiking the Santiago pilgrim trail

Getty Images

26/30 14 March 2017

Malaysian censors have reportedly cut out a 'gay moment' in the Disney film 'Beauty and the Beast' before agreeing to its release in the Muslim-majority nation

Getty Images

27/30 14 March 2017

Tibetan spiritual leader the Dalai Lama sits on his ceremonial chair during a religious talk at the Tsuglakhang temple in Dharmsala, India

AP

28/30 14 March 2017

Members of the Iraqi forces prepare to fly a drone armed with grenades in the fight against Islamic State (IS) group jihadists in the northern Iraqi city of Mosul

Getty Images

29/30 14 March 2017

A member of the Iraqi forces carries two grenades carrying feathers, which are to be fired from a drone in the fight against Islamic State (IS) group jihadists in the northern Iraqi city of Mosul

Getty Images

30/30 13 March 2017

Members of the Iraqi forces advance towards the Old City in western Mosul, during an offensive to retake the city from Islamic State (IS) group fighters

Getty
So that's why clowns. But why do we keep seeing them, from West Yorkshire to South Carolina? Do these sinister clowns hiding in the shadows actually exist?
"It might well be that someone has seen a clown, maybe an entertainer on his way to a party, or someone advertising something, or even near a visiting circus," says Prof Cary Cooper, Professor of Organisational Psychology and Health at the University of Manchester. "It could be that people simply make up the sightings, perhaps to put themselves in the limelight or get some attention on them. It could even be a cry for help in some cases.
"But what's interesting from a social psychology viewpoint is when the rumours kick in and people start to spread these sightings. Someone tells a friend who tells another friend and so it goes, it spreads like wildfire. And nowadays the internet and social media helps that, it isn't just word of mouth that goes around, say, a town in South Carolina, it gets on social media and goes across the world almost instantly."
And with each retelling of the supposed sighting, the story becomes more and more embellished, and that's human nature, says Prof Cooper. A few years ago when he was at Southampton University he tried an experiment; he sent half a dozen people out of the lecture theatre and then had a pre-arranged incident where someone ran into the classroom and ran out again. One by one he brought the students back; those who had remained in the classroom told the first student what had happened, and that student had to tell the next one to come in, and so on.
"By the time the last student got the story, the description of the person who had run into the class was completely changed from what had actually happened – even down to their ethnicity."
Which goes some way, perhaps, to explaining why some poor guy on his way to a kids' birthday party ends up, several days later, morphing into a knife-wielding demon out to kidnap small children.
Clowns seem to be the most popular iteration of these mini moral panics, but they're by no means the only creatures that get us worked up. Anyone remember the Werewolf of Hull? In May this year there were dozens of sightings of an apparently eight-foot tall beast with huge fangs around the Barmston Drain canal near Beverley, which folklorists linked to the ancient local legend of "Old Stinker".
And such things are not limited to the internet age; you can go back as far as you like for sightings of spectral hounds or ghostly black big cats. Victorian England was terrified by Spring Heeled Jack, a claw-fingered phantom with glowing red eyes who was seen, according to reports, across London, the Midlands, Lancashire and Scotland.
"We are attracted to the idea of something unusual being out there," says Prof Cooper. "Many of us lead humdrum lives, we go to work, we come home, and then suddenly there are these tales of strange creatures or people, and we love to pass those stories on, to talk about them."
Be careful, though, because the clowns – whether real or imagined – can get people into all kinds of trouble. Take David Armstrong who called police on Friday to say a clown had knocked on his window and he'd chased it into nearby woods near his home in Winston-Salem, North Carolina.
On Tuesday this week Armstrong was charged with filing a false report to the police. Evidently, after dealing with clown sightings since August, the North Carolina constabulary have decided – like so many of us these days – that clowns are simply no laughing matter.