As the weather cleared on Sunday, after two days of a snowstorm that pummeled America's East Coast, more than 200 people took to the centre of Washington DC for a giant snowball fight.
The participants gathered at Dupont Circle in the US capital for the annual 'Blizzard of 2016' event and made the most of nearly 20 inches of snow that had fallen.
This year, after being snowed in for two days, many people had extra time to get creative and make the snowball battle a bit more dramatic.
As the video above shows, a few participants dressed as different comics and movie characters, such as Captain America.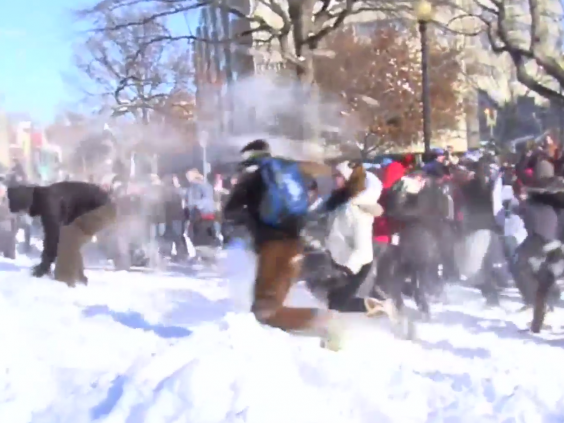 A group of friends, dressed as wild animals, just gave their last Halloween costumes another spin in the snow. 
"We all gifted it to each other for Halloween and then we decided it would be a good idea to bring to the snowball fight. Zoo animals on the loose, nothing is more dangerous than that," said one of them.
Blizzard hits US east coast - in pictures
Blizzard hits US east coast - in pictures
1/10 Storm Jonas from space

This image taken by NOAA's GOES-East satellite on 22 January and released by NASA shows a winter snowstorm over the east coast of the United States.

NOAA GOES Project/NASA via AP

2/10 Washington Monument covered in snow

A jogger runs past the Washington Monument as snow falls in Washington DC. The US capital is expected to be one of the worst affected areas during the blizzard conditions.

Win McNamee/Getty Images

3/10 Record snowfall disrupts traffic

Snow slows down traffic on Interstate 40 in Nashville, Tennessee. At least seven people have been killed in traffic accidents due to the bad weather.

Andrew Nelles/The Tennessean via AP

4/10 Washington DC faces worst of the snowfall

A member of the US Secret Service stands guard covered in newly fallen snow outside the White House.

Win McNamee/Getty Images

5/10 Supermarkets stripped of essentials

Supermarket shelves were left bare as millions of Americans hunkered down for a winter storm expected to dump historic amounts of snow in the eastern United States.

NICHOLAS KAMM/AFP/Getty Images

6/10 New York braces for blizzards

A New York City police officer of the 20th District use snow blowers to clean the pavements at West 81st street on January 23 2016 in New York City.

Astrid Riecken/Getty Images

7/10 Snow covers US capital

A pedestrian crosses the street in the Chinatown area of Washington DC. Some areas of the Washington district are expected to see more than 100cm of snowfall.

Getty

8/10 Snow covers US capital

Workers shovel snow on a sidewalk in Washington DC. The storm could potentially be the largest in the capital's history and will probably rank in the top five in terms of snow accumulation.

Getty

9/10 Blizzard hits North Carolina

NCDOT snow plows clear the roadway along Interstate 85 in Greensborough, North Carolina. More than 130,000 people are without power across the South East, with 125,000 of these in the Carolinas.

Lance King/Getty Images

10/10 Snow covers the White House

US Secret Service Agents stand guard outside the White House during a snowstorm in downtown Washington DC

MLADEN ANTONOV/AFP/Getty Images
Storm Jonas brought Washington DC to a standstill over the weekend, forcing 11 states to declare a state of emergency.
Reuse content