A powerful winter storm has hit the East Coast with freezing rain, snow and Arctic cold.
About 2,250 flights were cancelled, Washington's airports were shut down, and schools and local governments were closed. The storm was the latest of a series of weather systems to pummel the US.
The storm was expected to blanket the US capital with up to 9 inches of snow as it swept from the Mississippi Valley to the Carolinas and Mid-Atlantic states, the National Weather Service said.
Brian Hurley, a weather service meteorologist, said temperatures would be about 15 degrees Celsius below normal as a cold front gripped from the Great Plains to the Atlantic coast.
Although the snow is expected to bypass northern cities including New York and Boston, by early on Monday New York's temperature had already peaked at -5 C, he said.
"This is yet another in a series of arctic outbreaks all winter," Hurley said.
Freeze warnings were in place from the Canadian border into Texas. The main electric grid operator for most of Texas issued a conservation alert due to expected higher power demand.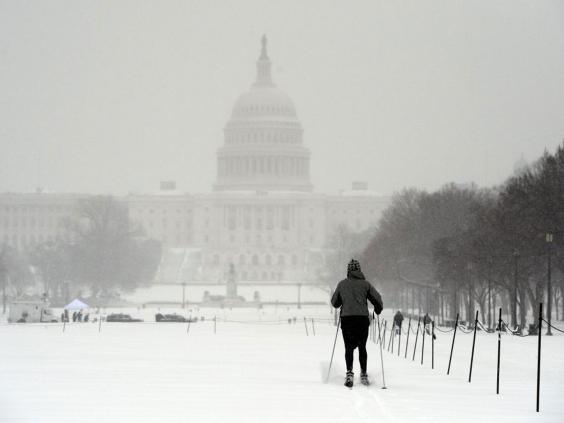 The storm shrouded the Capitol in snow and prompted the US government to shutter its Washington area offices, keeping hundreds of thousands of federal workers at home. Congress put off scheduled votes because of the bad weather.
The governors of New Jersey, Delaware, Mississippi and Tennessee declared states of emergency, and schools and local governments throughout the area closed. Maryland state offices shut down and West Virginia state workers were on a delayed schedule.
In Philadelphia's downtown Gallery mall, Juanita Thomas, 57, was waiting to go to her local bank, which planned to open two hours late due to the storm. She had no complaints about the repeated snowstorms that have clogged the city's streets and shut down schools.
"I wish it would have snowed on Christmas for my grandkids," Thomas said. "God's giving it all to us now."
REUTERS
Reuse content