A former teacher who said President Obama has a "soft spot for homosexuals" due to his history as a "gay prostitute" is one step closer to joining a Texas educational board and deciding what goes in to students' textbooks.
Mary Lou Bruner, 68, wrote on her Facebook page in October 2015 that Obama spent his twenties as a sex worker. She has also stated, according to various posts last year on her Facebook page, that "school shootings started after the schools started teaching evolution" and that books on sex education "stimulate children to experiment with sex" and therefore these books are not allowed in prisons.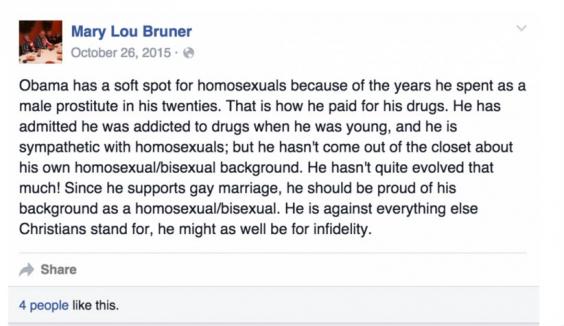 Her posts were first shared by the Texas Freedom Network, a nonpartisan watchdog group monitoring the far-right.
Ms Bruner, who believes slavery was not the reason for the Civil War, narrowly lost a majority vote in a three-person race to join the Texas State Board of Education. 
A run-off vote will be held in May, and she is forecast to beat her Democrat opponent. If she gets on the board, she will help decide the education for a large portion of East Texas.
Ms Bruner said she has spent 36 years teaching in public schools and a masters in education, according to her website. She has been endorsed by the former chairman of the Texas State Board of Education Gail Lowe.
If elected, Ms Bruner has vowed to a "return to traditional education" and to "protect the children's textbook fund from lobbyists".
Gawker has compiled an expanded list of her previous statements on dinosaurs, Noah's Ark, her view that the Democrats killed John F Kennedy and whether President Obama was "complicit" in the "scheme" by schoolboy Ahmed Mohamed to bring a clock into his classroom which the teacher feared was a bomb.
Ms Bruner is strongly against same sex marriage and wrote: "NO, NO, NO. Don't tell us the The Supremes have spoken and the gay marriage issue is over. We are not moving on."
The Washington Post reported that the Texas board changed the state's social studies standards in 2010 after deciding previous standards were too liberal.
Ms Bruner insisted to the newspaper that the Texas Freedom Network had engaged in a "smear campaign" against her.
"The press is going after me with barrels of ink," Ms Bruner said, "and I'm just one little person."