Despite his widespread support, Donald Trump has also been the subject of much vocal resentment during his presidential campaign.
However, it has now emerged his property developer father, Fred Trump, was also the target of protesting voices.
Woody Guthrie, writer of the classic 'This Land is Your Land' and widely regarded as the Godfather of American folk, rallied against Trump senior back in the 1950s. 
And new lyrics, discovered by Will Kaufman, Professor of American Literature and Culture at the University of Central Lancashire, show the great troubadour's hatred for Fred Trump.
The writings were influenced by Guthrie's experiences in 'Beach Haven', a Trump-built public housing project. Guthrie, who influenced musicians from Bob Dylan to Bruce Springsteen, signed the lease for an apartment there in December 1950.
Trump's public housing projects were later subject to a case brought by the Civil Rights Division of the US Justice Department. A major charge was that "racially discriminatory conduct by Trump agents" had "created a substantial impediment to the full enjoyment of equal opportunity".
A 1979 Village Voice report by Wayne Barrett on the rise of Donald Trump cited examples of housing applications being "coded by race".  
"Three doormen were told to discourage blacks who came seeking apartments when the manager was out, either by claiming no vacancies or hiking up the rents," wrote Mr Barrett of the court records.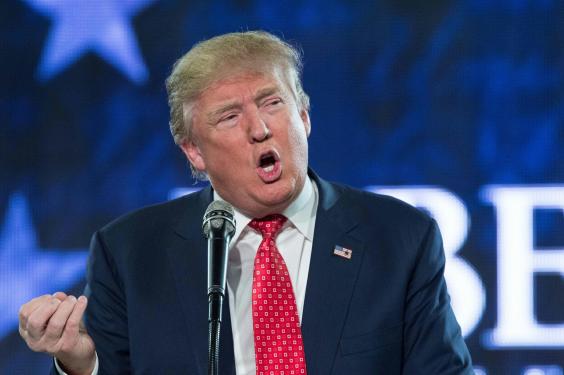 "A super said he was instructed to send black applicants to the central office but to accept white applications on site. Another rental agent said that Fred Trump had instructed him not to rent to blacks. Further, the agent said Trump wanted 'to decrease the number of black tenants' already in the development 'by encouraging them to locate housing elsewhere'."
The Trumps later had to sign an agreement with the government preventing them from discriminating against anyone in "the terms, conditions, or privileges of sale or rental of a dwelling," according to the Washington Post.
They were also made to take out advertising informing minorities they had an equal chance to seek housing at their properties.  
Fred Trump was also investigated by the US Senate in 1954 for for profiteering from public contracts, including overestimating his Beach Haven building charges by $3.7 million.
Guthrie, who was a prominent social campaigner, clearly sensed this discrimination during his time at a Trump property, writing:
    I suppose
    Old Man Trump knows
    Just how much
    Racial Hate
    he stirred up
    In the bloodpot of human hearts
    When he drawed
    That color line
    Here at his
    Eighteen hundred family project ....
In a separate song, Guthrie even reworked the lyrics of one of his most well known songs,  "I Ain't Got No Home", into a protest against 'Old Man Trump':
    Beach Haven ain't my home!
    I just cain't pay this rent!
    My money's down the drain!
    And my soul is badly bent!
    Beach Haven looks like heaven
    Where no black ones come to roam!
    No, no, no! Old Man Trump!
    Old Beach Haven ain't my home!
Guthrie also wrote in free verse, imploring a "negro girl yonder" to live in his neighbourhood: 
"I welcome you here to live. I welcome you and your man both here to Beach Haven to love in any ways you please and to have some kind of a decent place to get pregnant in and to have your kids raised up in. I'm yelling out my own welcome to you."
Donald Trump, who has advocated building a wall on the US - Mexican border to keep out migrants and proposed a ban on all Muslims from the US, has also been accused of racism during his presidential campaign.
"Donald did inherit his father's racism, and was probably actively coached in his father's racism, and worked with his father to perpetuate it," Mr Kaufman told the Washington Post.  
Mr Kaufman said he believed Donald Trump was "sneakier" than his father, and said of Trump's alleged wrongdoing: "It's not a case of the whole apple not falling far from the tree. The apple is still connected to the tree." 
Donald Trump has denied that he is racist, once saying on CNN: "I am the least racist person you have ever met."
Reuse content