A Catholic campaign group has released a video pleading for tolerance and understanding for all those "oppressed" by the recent US Supreme Court ruling on same sex marriage.
The video by Catholic Vote mimicks the confessional style of LGBT support videos.
Shot in black and white, tearful young Catholics tell viewers "they are not alone" and say they feel like they are marginalised "for being who they are".
They say their views are starting to attract stigma with one adding, without a trace of irony: "No one should be looked down upon, no one's views should be suppressed."
Another says: "I am a little bit nervous about people kind of hearing that I am this way and then thinking 'well she is not welcome here'."
All confirm that they believe "marriage is between a man and a woman".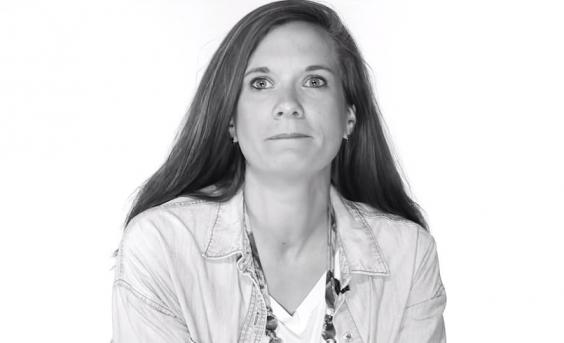 Another begs for all the barriers to be broken down and for people "get to know all these people one on one".
The video has provoked a backlash online and the video has so far received over 36,000 "thumbs down" on YouTube compared to just 2,800 likes.
One Catholic commentator on the video said: "As a 62-year-old Baptized practicing Catholic old woman, that baptized and raised as Catholic five sons, this website just might make me leave and become a Lutheran.
"It disgusts me that a Catholic organization is doing what Donald Trump does, promote hate."
She said that if her parish priest had started using the same rhetoric from his pulpit she would walk out adding that the video had done an  "excellent job of driving Catholic [sic] to a different religion. Really do the work of your father Satan, who is our only true enemy".
Another added: "When I first saw it, I actually thought it was a pro-gay group mocking conservatives."
It has spawned numerous parodies since it was launched last week, including one by Youtube comedian Soundly Awake.
In the video, the three participants say they feel oppressed because they cannot expresses their racist and sexist views.
One said "I think the races should be segregated. Maybe  like Asian City or black land. At the end of the day I don't think we should be ashamed of how we feel about things. So just be you. Unless you're black. Or Asian. Or Latino. Or Arab. Or Native American. Or a woman."
He later added that he doesn't see his mind changing then stuck his fingers in his ears.
"Nobody's views should be suppressed, especially if they oppress marginalised groups of people. Those are my favourite views." added another.
Same-sex marriage legalised across the US
Same-sex marriage legalised across the US
1/15 Same-sex marriage legalised across the US

U.S. Supreme Court ruled that the U.S. Constitution provides same-sex couples the right to marry

Reuters

2/15 Same-sex marriage legalised across the US

Ariel Olah of Detroit, left, and her fiancee Katie Boatman, are overcome by emotion outside the Supreme Court in Washington, Friday, June 26

AP

3/15 Same-sex marriage legalised across the US

Lori Hazelton and Stephanie Ward are the first same-sex couple to receive their marriage license on Friday, June 26, 2015, in Muskegon, Mich

AP

4/15 Same-sex marriage legalised across the US

Wedding cakes provided by All Saints Episcopal Church of East Lansing are cut inside the Ingham County Courthouse in Mason, Mich

PA

5/15 Same-sex marriage legalised across the US

Ariel Cronig (L) and Elaine Cleary embrace outside of the US Supreme Court after the ruling in favor of same-sex marriage

Getty

6/15 Same-sex marriage legalised across the US

Reverend Laura Barclay, right, officiates the marriage of Tadd Roberts, left and Benjamin Moore at the Jefferson County Clerks Office Friday

AP

7/15 Same-sex marriage legalised across the US

Beth Sherman (L) and her wife Karen Hawver (R) celebrate with their children Ben and Emma (C) the U.S. Supreme Court's landmark ruling of legalizing gay marriage nationwide

Reuters

8/15 Same-sex marriage legalised across the US

People celebrate in front of the U.S. Supreme Court after the ruling in favor of same-sex marriage June 26, 2015 in Washington, DC

Getty

9/15 Same-sex marriage legalised across the US

Eric Hause of Norfolk, center, hugs Claus Ihlemann and Robert Roman in the lobby of the Slover Library Friday morning, June 26, 2015

AP

10/15 Same-sex marriage legalised across the US

Spencer Trzybinski hangs a rainbow flag, a symbol of the lesbian, gay, bisexual, and transgender movement, at the Dunes Resort and Entertainment Complex in Douglas, Mich

AP

11/15 Same-sex marriage legalised across the US

Angela Boyle, left, and Laura Zinszer take a selfie after receiving their marriage license at the Boone County Recorder of Deed's office on Friday, June 26, 2015, in Columbia, Mo

AP

12/15 Same-sex marriage legalised across the US

After 54 years as a couple, George Harris, 82, and Jack Evans, 85, are married by Judge Denise Garcia on Friday, June 26, 2015 at the Dallas County Records Building in Dallas, Texas

AP

13/15 Same-sex marriage legalised across the US

Newlyweds, Colby Roanhorse, left, and Zachary Roanhorse celebrate after applying for a marriage license from the Kent County clerks office, Friday, June 26, 2015, in Grand Rapids, Mich

AP

14/15 Same-sex marriage legalised across the US

A couple kiss to celebrate the US Supreme Court's historic decision on same sex marriage during a rally outside the Stonewall Tavern in the West Village in New York on June 26, 2015, after the US Supreme Court's historic decision on same sex marriage

AFP

15/15 Same-sex marriage legalised across the US

A demonstrator arrives at a rally in Greenwich Village to celebrate the Supreme Court's ruling on gay marriage, Friday, June 26, 2015, in New York.

AP
Reuse content