The vice-president of a youth cheerleading squad in Boaz, Alabama was forced to resign after showing up to practice with his buddy in matching racist tees.
One t-shirt read: "The Original Boys In The Hood" with drawings of a KKK member accompanied by a burning cross, while the other shirt simply read: "White Pride."
Former volunteer cheerleading coach Kayleigh Tipton told WAFF-TV that the t-shirts were simply "awful."
"I mean, I don't stand for it, I don't want my kids around it. No one I know wants their kids around anything like that," she said.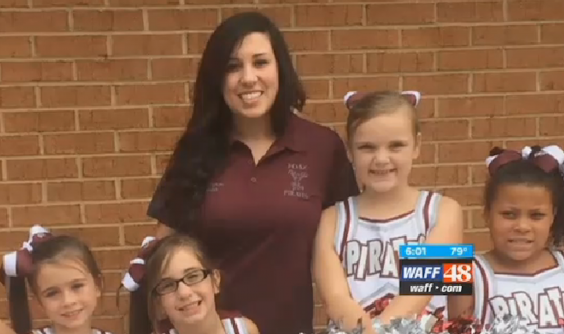 Coach Tipton brought her complaint to Commissioner Kenny Jones who forced Vice President Brian McCracken to resign.
"We ended up taking care of the situation, we informed the parents they are no longer allowed to wear that type of shirt to any North Alabama Youth Football & Cheerleading League functions," he told the outlet.
However, Coach Tipton was also forced to resign for starting "drama." Commissioner Jones said the decision had nothing to do with her raising the issue of wearing inappropriate, racist tees around children.
"I'm just disgusted because I feel like I didn't do anything wrong besides make a complaint that should have been kept private to begin with. I asked why and she could not give me any reason," Coach Tipton said.
WAFF-TV: News, Weather and Sports for Huntsville, AL
Cody Tipton, Kayleigh's husband, defended his wife by saying she was the only parent among the group who was willing to take a stand and do what's right for the children.
"It's hard for a biracial child that is 4 or 5 to understand what racism is. It just outrages me and a lot of other parents but no one will stand up to it because of the consequences their children will get."
Mr McCracken still maintained that the two shirts were only a joke.
Reuse content