A video showing two men 'surfing' on the back of a whale shark has provoked outrage online.
The footage shows two men standing on the back of the whale shark while being pulled along by a rope attached to a boat. They apparently taunt the whale shark as it continues to follow the boat.
It is unclear where the film was taken.
A tweet from the London-based marine wildlife charity Marine Conservation called the incident "unacceptable".
Man rides whale #shark & technically isnt breaking any laws. This is unacceptable #whaleshark http://t.co/swYZegKFGT pic.twitter.com/5LHOZ7dloE

— Marine Conservation (@savingoceans) June 18, 2015
Whale sharks are a protected species. They are found in warm tropical waters and can grow up to 12 metres in length. They feed on plankton and small fish.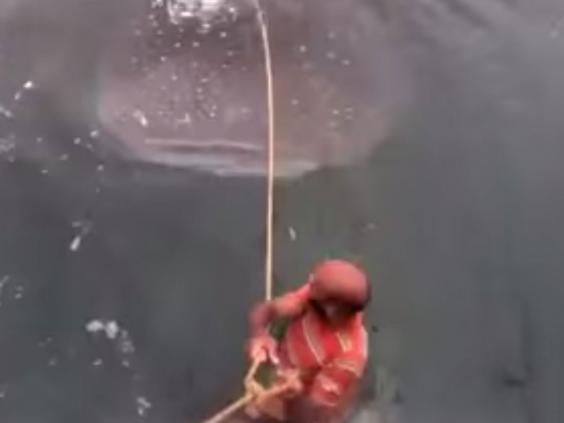 Whale sharks are docile creatures and it is not uncommon for swimmers to be able to ride on their backs.
The men's antics have nonetheless been sharply criticised online.
Whale Shark 1 Dumbass Humans 0 http://t.co/X0uJxwfqGj

— Veronica Mars (@veroicone) June 19, 2015
Why do humans always do such stupid things like attempting to SURF on a whale shark?! http://t.co/orBQRbGplW via @IFLScience

— Hannah Fuchs (@foxywrit) June 19, 2015
A video making the rounds shows two stupid swimmers trying to "surf" on a whale shark. In the footage, the two... http://t.co/vsxkdKL20c

— Sea Shepherd Seattle (@SeaShepSeattle) June 19, 2015
Reuse content