A 100-year-old woman who never attended school has learnt to write her name for the first time.
Zhao Shunjin, from Hangzhou in eastern China, is celebrating gaining a Literacy Certificate after deciding to take up writing classes in June. 
Shunjin had never attended school but had always wanted to learn basic skills, according to People's Daily, China.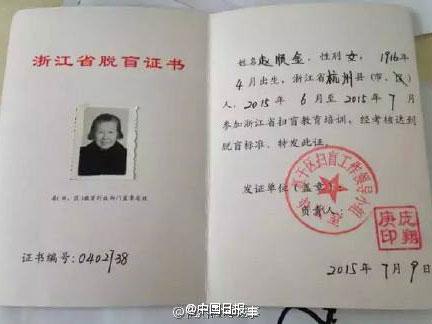 When a literacy class opened in her local area, Shunjin took two hours of classes a day and within 10 days had learned more than 100 characters - including reading and writing her name, home address and a series of fruit and vegetables.
Her eldest son, Luo Rongsheng, 70, told CNN that Shunjin announced she wanted to learn how to write at a family dinner in June.
He said: "My mother has never been to school her entire life. She is old and longsighted, but was so determined to learn this time."
"I wrote down her name with a marker so that she could see it clearly. She was just sitting there and writing her name for an hour or so."
Shunjin is retired but used to make a living selling vegetables.
China had a literacy rate of just 15 to 25 per cent in 1949, when the People's Republic of China was established and when Shunjin was 36 years old.
Official statistics now show that the illiteracy rate in the country had decreased in 2010 to four per cent.
Reuse content