On election day at Zargona High School in Kabul, the mood was ebullient. In the morning the rain had stopped just before polls opened, and enthused voters had queued up past the gate to cast their ballots. Most had taken part in previous elections; many held up their well-worn voting identification with pride, but none had seen the like of yesterday's historic poll before.
Ahmad Mustafa, a geography teacher at another nearby high school, had brought his wife and two daughters. He proudly explained that they were all casting their ballots for different candidates, not voting along tribal or ethnic lines. Mr Mustafa, like many others waiting in orderly queues, said he wanted a new leader who could bring peace and security. "I feel happy. This is the day of happiness," he repeated, breaking into a toothless grin.
If the run-up to the presidential election – hoped to bring about the country's first peaceful transition of power since 1901 – was dominated by bombings and shootings, yesterday proved largely, for post-war Afghanistan at least, peaceful. The Taliban had threatened to target voters, and tensions were high after the shooting of two highly respected journalists, Kathy Gannon and Anja Niedringhaus, at Khost, near the Pakistani border, by a man in police uniform on Friday. Ms Niedringhaus, a photographer with the Associated Press, died in the attack, Ms Gannon, a correspondent, was injured.
Kabul awoke to a report of a bomb explosion in the northern part of the city yesterday. A voter was shot dead in Paktia. A suicide bomber was arrested before entering a polling station in Faryab. A bomb went off in Baghlan. But voters said incidents were not out of the ordinary.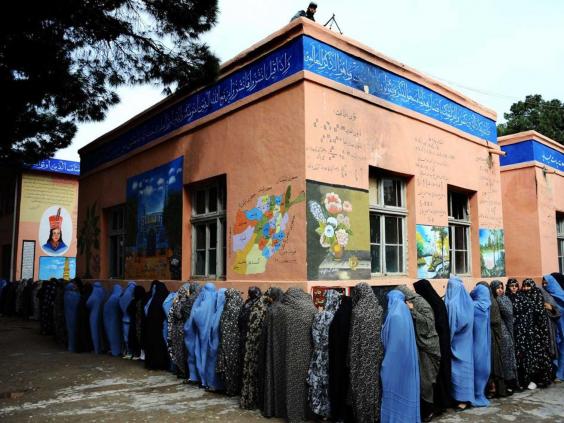 The influential police commander Abdul Razik closed off the city of Kandahar, resulting in lower than expected levels of violence. Text message services were shut by the government until polls closed. Those wanting to cast ballots expressed pride in the security forces guarding the election.
"There was a time when we could not even think of risking our lives for one vote," said Abdul Baki, 36, a government employee in Kandahar. "But now with this security so tight, I can clearly see the value of these votes and I hope that this election will be fair." At Zargona High School there were 20 armed men protecting voters and the ballot boxes. The national police had cordoned off the street, and conspicuous plain-clothes police officers were in abundance.
Inside, while the men's section bustled, the women's side of the polling station was relatively empty, with observers outnumbering voters. Marzia, a widow and cleaner at the high school, said she had voted for President Hamid Karzai in previous elections. This time she did not have an obvious choice, as Mr Karzai is constitutionally banned from running again, and so she struggled to decide. She hoped that a new president would fix the economy, which is largely subsidised by foreign donors, so that her four children could get good jobs in the future.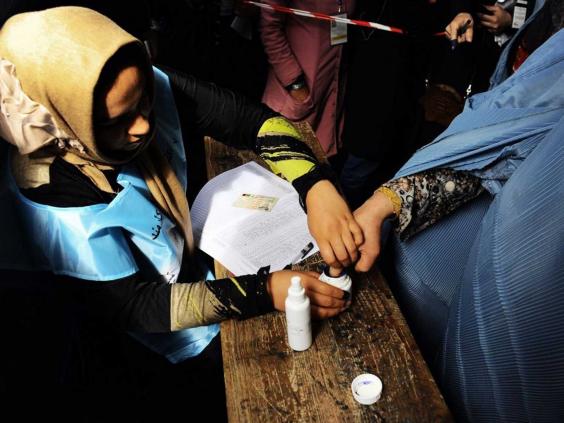 The poll was only the country's third for president, and the first political transition that comes as the Nato coalition forces withdraw.
The international community has made it clear that Afghanistan's financial future hinges on an acceptable result. Observers say that a fraudulent result is bound to test the patience of the donor community, whose interest is already waning and turning to newer causes such as Central Africa Republic or Syria. They point out that Afghanistan cannot continue as a state without external aid. The election itself, costing $129m (£78m), is being funded by foreign donors. There is no obvious frontrunner, leaving the country potentially divided.
Far from the uplifting scenes of voters lining up to cast their ballots yesterday, in Kabul's south-western district of Khushal Khan, Mohammad Hajidat Janan, a provincial council candidate, lives on an eight-storey building called Wardak Plaza, where many other elected officials from the province reside.
In pictures: Afghanistan election: Voters defy Taliban to cast votes for new president
In pictures: Afghanistan election: Voters defy Taliban to cast votes for new president
1/5 Afghanistan elections

Afghan women stand in line as they wait to vote at a polling station in Kabul April 5, 2014.

2/5 Afghanistan elections

An Afghan woman shows her inked finger after voting at a polling station in the northwestern city of Herat

3/5 Afghanistan elections

Afghan voters queue at a local polling station in the Jamee mosque of Herat on April 5, 2014.

AFP

4/5 Afghanistan elections

An Afghan woman leaves the booth after casting her vote at a polling station in the northwestern city of Herat

AFP/ Getty Images

5/5 Afghanistan elections

Afghan election workers are escorted by armed policemen as they transport election materials and ballot boxes to remote polling stations in Balkh Province this week

Getty Images
Despite being an elected official of Wardak province, an hour's drive from Kabul, he said he could not go to his own district – a Taliban stronghold – because of the deteriorating security situation there.
Without a police escort, he said, "I would not even feel comfortable going to the city centre". Of the eight presidential candidates, none ever visited Wardak during the campaign period, he added. Only Zalmai Rassoul's vice-presidential candidate, Habiba Sarabi, drove into Maidan Shar, the provincial capital, but left within the hour. "If the security forces cannot provide security to candidates, how can we expect them to provide security for the voters?" he asked.
Mr Janan worried that most of the 350,000 security forces had been focused on securing the polling booths which were in provincial capitals or district centres, under the gaze of election observers, security forces and the international community. No one outside the capitals would vote, he claimed, because the fear of reprisal outweighed the desire to take part in the democratic process. The capital, Kabul, was sealed off by rings of roadblocks and checkpoints.
The second main threat facing Afghanistan's election, after militant violence, was fraud. Mr Janan said that without adequate independent adjudicators for every polling place, the election results would lose credibility. He said: "If you put a wolf in a room with a sheep, and tell the wolf 'wolf, don't eat this sheep', of course the wolf will eat the sheep. If no one is watching over the ballot boxes, of course it will be stuffed."
The secretary of the Afghan Independent Electoral Commission, Ziaul Haq Amarkhel, said that by 5pm, when the polls had officially closed, seven million people out of an estimated eligible 12 million had voted. Last night, there were several reports that the police in Kandahar province in the south turned voters and election observers away from polling stations. One elder told the BBC that election observers had been beaten by police.
In the morning, unverified rumours of ballot stuffing emerged in Helmand, a woman was said to have been caught attempting to cast 22 votes in Kandahar. Asked to comment on widespread reports of polling stations running out of ballot papers, Mr Amarkhel said this information was "false".
Afghans continued to head to the polls as dusk fell, even if they were to be turned away. The biggest challenge now is counting the votes. And after that, the complaints period starts. One of the eight candidates will have to score more than 50 per cent of the vote to avoid a run-off with his nearest rival. Challenges to the result will be inevitable, observers said.
It will take six weeks for all the results to come in and a final result to be declared in the race to succeed President Karzai. "Today we proved to the world that this is a people-driven country," Mr Karzai, wearing his trademark green robe and a lambskin hat, told his country on television yesterday. "On behalf of the people, I thank the security forces, election commission and people who exercised democracy and... turned another page in the glorious history of Afghanistan."
Reuse content