The fate of Malaysian opposition leader Anwar Ibrahim could be decided today as a Malaysian court continues to hear an appeal against a sodomy conviction and five-year prison term which many people regard as politically motivated.
A ruling against Mr Anwar, 67, could end his political career and inflame tension after opposition gains in a general election last year raised the possibility of a genuine challenge for the ruling party that has held power in multi-ethnic Malaysia since 1957.
A court convicted Mr Anwar in March of sodomising a former political aide and sentenced him to five years in prison.
One of Mr Anwar's lawyers told the court this week that the defence argument that Mr Anwar was a victim of a "political conspiracy" had not been seriously considered in previous hearings.
His lead lawyer, Gopal Sri Ram, said the March verdict was handed down without "the strictest of scrutiny". "There has been a miscarriage of justice," he added.
In the mid-1990s, Mr Anwar was the ruling UMNO party's rising star before he fell out with then premier Mahathir Mohamad. He was sacked in 1998 and then campaigned against corruption and nepotism and led a nationwide "reformasi" (reform) protest movement before he was jailed in 1999 for corruption.
In 2000 he was convicted of sodomy for the first time, but the conviction was overturned in 2004. He was released from prison and returned to politics as head of a revitalised opposition whose showing in a 2008 election deprived the ruling coalition of its traditional two-thirds majority in parliament. The majority of Prime Minister Najib Razak's UMNO-led alliance was cut further in the 2013 election.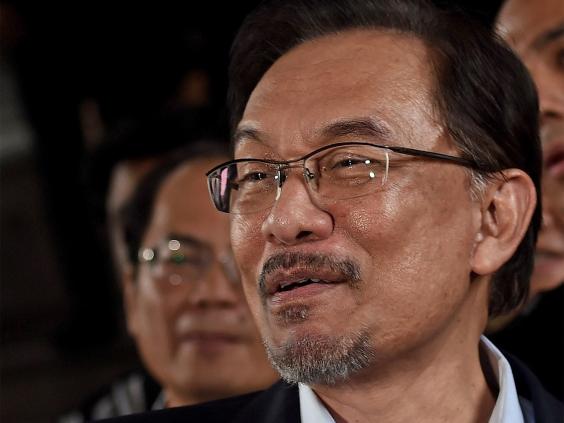 If Mr Anwar loses the appeal, he faces a return to jail and would be barred from contesting the next general election that must be held by 2018. He could go abroad to avoid the possibility of jail, but said: "This is my country and I cannot imagine leaving. It's a tough choice. Imagine at my age having to go back to prison."
Human Rights Watch called last week on the government to end the "politically motivated prosecution". This view was backed by Amnesty International. "The 'sodomy' charges against Anwar Ibrahim are clearly politically motivated and a blatant attempt by the Malaysian authorities to silence and undermine a critical voice," said Richard Bennett, the group's Asia Pacific director.
A ruling against Mr Anwar would anger his supporters, who could take to the streets. His departure from politics would also be a setback for an uneasy three-party opposition alliance he leads.
Mr Anwar's daughter, Nurul Izzah, said earlier that her father's jailing would pose a test for the alliance. "You're talking about the man who is a unifying factor no longer being there. He drove the coalition together," Ms Anwar said.
Reuters
Reuse content