Farzana Balooch looks nothing like the Afghan women you normally see in the news. She is not hidden under a burqa, emaciated by poverty or mourning the recent loss of a relative in a bomb attack. A beautiful and self-confident graduate, her hair is loosely covered in a scarf coordinated with a Western outfit, and her iPhone 5 is superglued to her fingertips.
Farzana, aged 24, is one of a growing number of women in the capital, Kabul, who have thrived on the greater freedoms and education that have opened up to the neglected half of the population over the past decade. "There are lots of improvements for women," she says. "Most women in Kabul have jobs. Previously, women couldn't work outside [of their homes]. Now, most organisations have 20 per cent female employees."
A few miles away from the fragile but determinedly modern world inhabited by Farzana, Saber Bibi, aged 15, sits in a refugee camp and mourns the death of her 10-day-old daughter. These are two sides of the same coin of emancipation and shackled tradition that rule the lives of Afghanistan's women and, despite the years of reconstruction, fate still plays a disproportionate role in deciding on which side it lands.
Today, the country is expected to go to the polls in the first round of voting for the presidential election. The moment could mark a turning point for women, as the prospect of the Taliban gaining influence grows more likely. Most presidential candidates say they are prepared to negotiate with the Taliban, seeing it as the only chance of creating lasting peace, as Nato troops pull out and insecurity increases. But women's rights campaigners fear the move will put the nation's progress towards equality in jeopardy.
Farzana studied business at Kabul's Khana-e-Noor university and soon plans to do a masters in development. She is currently running programmes for the international charity, Islamic Relief, a job which means travelling away from her husband, something which would have been unthinkable under the Taliban.
Even in parts of Kabul, women can often be invisible, with very few walking alone on the streets uncovered. Counting the people on one stretch of road in the east of the city last month, we passed 74 men before seeing a woman.
Farzana had not even turned two when civil war meant her family fled to Kerman in Iran. Her parents were wealthy and educated but had to start from scratch again "with only two glasses for tea and nothing else". They had been employed by the military – her mother as a nurse, and her father as an officer in the presidential palace.
Now back in Kabul, her father has lost his sight and her mother, head nurse in the military hospital, is the breadwinner. Farzana says her mother despairs at how the country slipped backwards. "When my mother was a Kabul student and school student she didn't wear a headscarf," Farzana explains. "At that time, freedom for women was like in the US or Europe. Working outside and studying was not strange. Gradually, during the war, everything changed and wrong ideas were given to people. Many people from the provinces calling themselves Talibs came to Kabul.
"When I came to Afghanistan, I was 15, and I had to cover up. My mother says this is not the culture of Afghanistan and Kabul, it is the culture of Pakistan and Iran. Afghanistan's culture has changed. In my view, everything depends on the preference. If I want to cover, I should be able to cover, and if not, I should be able not to. Many people wearing full covers are not happy, but they have to because of a father or brother or sometimes just because of their neighbours."
Shaista Chishty's portraits of Afghan women
Shaista Chishty's portraits of Afghan women
1/8 Improvements for women

Farzana Balooch, 24, is one of a growing number of women in the capital, Kabul, who have thrived on the greater freedoms and education that have opened up to the neglected half of the population over the past decade

Shaista Chishty

2/8 Bleak future

A refugee camp in eastern Kabul for displaced Afghans

Shaista Chishty

3/8 Devastating discovery

Shah Bibi's children were sold secretly into marriage by her husband Ghafoor, who was addicted to heroin and hugely in debt

Shaista Chishty

4/8 Secret betrayal

Shah Bibi's mother-in-law Shirin with Shah's daughter Farida, eight who was sold secretly by her father to fund his drug habit

Shaista Chishty

5/8 Brutal fate

Shah Bibi's daughter Parawna, six, was also sold into marriage by her drug-addicted father

Shaista Chishty

6/8 Living in fear of the Taliban

Uzra Lali, 32, and one of her daughters. Uzra had to flee from Afghanistan to Pakistan with her two children in 1998 when the Taliban attacked her village, imprisoning her husband, Abdul Hamid

Shaista Chishty

7/8 Carrying around the stigma of addiction

Korpa Yosini, 43, and her daughter at a Shortepa drug clinic. Korpa became addicted to opium after her husband Mohammed's heroin addiction meant no money was coming in to feed their seven children. She realised that on opium she could weave more rugs

Shaista Chishty

8/8 Fearing the worst

Mariam Mohammady, 39, and her daughter Masooma. Mariam runs a sewing business in Bamyan city and says: "I'm worried that the war will come back after the election. I didn't experience the Taliban because I left during the Russian invasion, but if the Taliban come back they will kill all of us"

Shaista Chishty
Farzana is Tajik, the second-largest ethnic group in Afghanistan, who have a reputation for being more socially liberal than Pashtuns, the largest group. Her older sister, Khatera, who is 27 and married with three kids, has had a dramatically different life because of her choice of husband, according to Farzana.
"My sister married a Pashtun and she's not allowed to do anything outside the house... My life and my sister's life are so different. She grew up in Iran and was a fan of books and learning. Now she has changed and she doesn't do these things. In Iran, we used to be out of the house until 8pm or 9pm and went to museums. I kept that freedom – I go abroad alone and travel – but she didn't. She has accepted the culture of her husband's family... She's almost forced to have another kid, so she has a boy. If she doesn't have one this time she will be almost forced to try again... Sometimes her husband's family say [to me], 'Forget about these men habits and become a good woman'. They say, 'Don't cross your limits'. But some say, 'You are lucky'."
One of the country's most prominent female politicians, Fawzia Koofi, who had wanted to run as a presidential candidate but, at 39, was barred by minimum-age rules, has spoken of her fear of the social consequences of the Taliban regaining influence. In her memoir, The Favoured Daughter, she wrote: "So much has been done in recent years to support and enhance the overall progress of Afghan women; bringing the Taliban back into the government will undo all that".
Just a few miles south-east of Farzana's home, in district eight, is a refugee camp full of women living in the kind of social conditions that make it seem like the past 13 years never happened.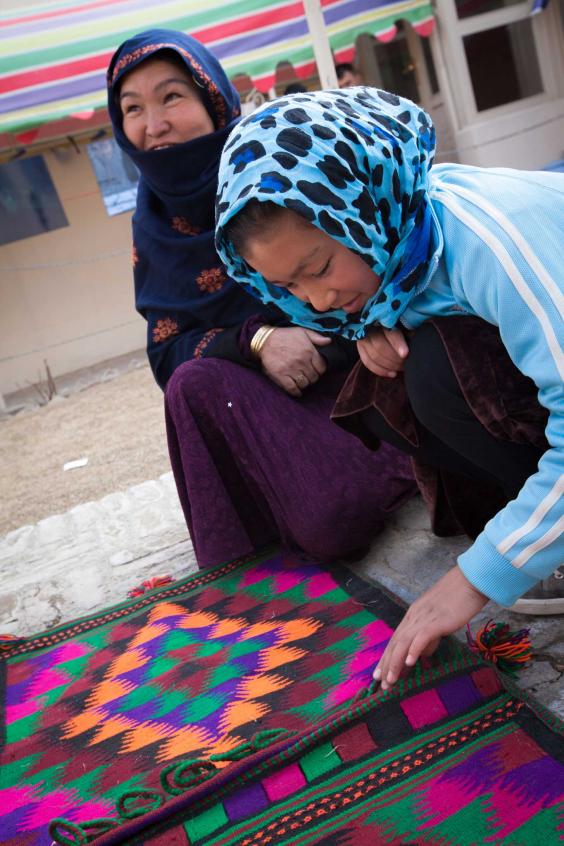 Saber Bibi, aged 15, cowers in the shadows of her doorway. Nervous to leave its entrance, she becomes agitated when men come near the door, pulling her scarf tighter. "Even my brother-in-law hasn't seen my face," she says.
Originally from Kandahar in the conservative south of the country, Saber had only just got married when war caused her to flee her new home in Lashkar Gar, Helmand Province, three years ago. Now she lives in a draughty mud hut in the camp with her 27-year-old husband, Saheb Khan, his family, and their two-year-old son, Talib.
"I've not been to school but I've attended tailoring classes," she says. "I'd like to work but only if it's nearby. My husband will not allow me to leave the camp. If these people training us belong to the camp my husband doesn't have a problem. We are poor [yet only] our husbands work and we are just sitting in our house idle. I'd like to work but I'm not allowed."
When asked how she feels life is for women living here, she is not given a chance to answer. Her mother-in-law, Shah Pairi, aged 70, who has been supervising the conversation, quickly interjects: "Women are living happily and comfortably," while Saber eyes the floor.
Saber's only protection from Kabul's snowy winter is a flimsy shalwar kameez and headscarf. Her feet look slightly purple in the flip-flops which were fine in the southern heat but are painfully inadequate here. In these makeshift camps, the cold is more than a discomfort – it is fatal. Last month she lost her newborn baby to suspected pneumonia. "My baby Fatima was born, but after 10 nights she died," she whispers. "I don't know what the sickness was but the baby was normal. How could I keep my baby warm in this house?" she says, gesturing to the open doorway and cracked mud floor. "Maybe she froze to death, I think that's how she died."
On the face of it, there have been substantial legal advances for women in recent years. Four years ago, the Elimination of Violence Against Women (EVAW) law criminalised 18 different acts of violence against them, including rape, child marriage, forced self-immolation and giving away a woman to settle a dispute. But the latest evidence shows that this is still barely enforced. Of just 1,669 incidents of these 18 crimes that were actually reported throughout the country last year, only 109 cases – or 7 per cent – went through a judicial process using the EVAW law.
The law did not stop Shah Bibi's children being sold secretly like lifeless commodities. Originally from Paktia province in the east of the country, Shah, aged 24, moved to Kabul with her husband, Ghafoor, 11 years ago for a better life. Ghafoor had a well-paid job working with metal in Dubai and at first things were good, but that was before she discovered his secret vice. For years he had been a heroin addict and hidden it from the family. After he lost his job in Dubai his addiction deepened, and he started gambling and losing money fast, even selling their only property.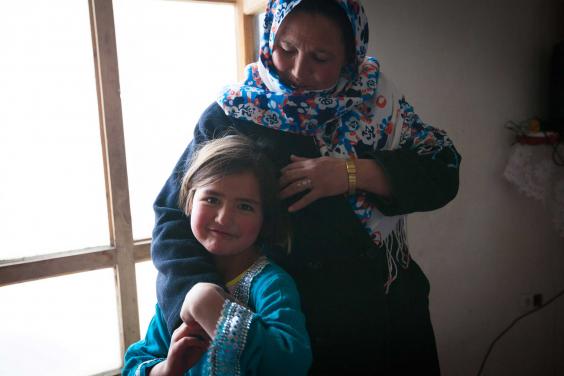 Three months ago, Ghafoor died and Shah discovered what else he had flogged to feed his habit. Two men came to her door asking for the money. When she could not pay, they demanded her daughters. She discovered that when Ghafoor had last needed money, he had secretly borrowed 200,000 Afghanis (£2,105) against his oldest daughter, Farida, aged eight, to gangsters. If he couldn't pay up, he had told them, then she would be their property. Then he did the same deal with the next youngest daughter, Parwana, aged six, securing 150,000 Afghanis (£1,579) against her hand in marriage.
"When I got to know about the deal on my daughters I was shouting and screaming and crying," Shah says, tears pricking her eyes. "I called my brother and said my husband has made this mistake and my little daughter will get married to a husband she doesn't know."
Her brother paid the debt against Farida in full and arranged an engagement to a cousin. She will marry the man, who is around 25 years old, in two years. For Parwana, the youngest, it was too late. "When we went for the negotiations I didn't know the engagement was already done, so it was too late to make a deal. In three and a half years, when she's nine, she'll be married." Parwana looks on wide-eyed with her brothers and sister, whose faces look haggard beyond their years. A few feet tall and dressed in a pink fluffy hoody with a cartoon cat on it, it is hard to imagine her getting married. Her future husband is around 16 years old.
Parawana's fate is brutal, even by the standards of a country that still typically puts a greater value on one sex than another. But elsewhere in Afghanistan there are signs that things are changing.
In the city of Bamyan, 80 miles north-west of Kabul, women walk around freely in brightly-coloured clothes. Many work and education for girls is largely accepted. It was here, in 2001, that the Taliban blew up the Great Buddhas, ancient statues carved into sandstone cliffs overlooking the city. After 10 years of peace it now feels like one of the furthest places in the country from the Taliban's reach.
Until recently, Bamyan province's governor was Habiba Sarabi, the first woman in the country to take on provincial leadership. Today, she is on the ticket as second vice-president to Hamid Karzai's favoured candidate, Zalmai Rassoul, and her face peeps out from posters across the country.
It was the massive gap between men and women's lives in Afghanistan that made Dr Sarabi so keen to pursue politics. "Women faced inequality in Afghanistan, especially during the Taliban time. We lost everything, that's why I wanted to fight to get back everything we had lost," she says.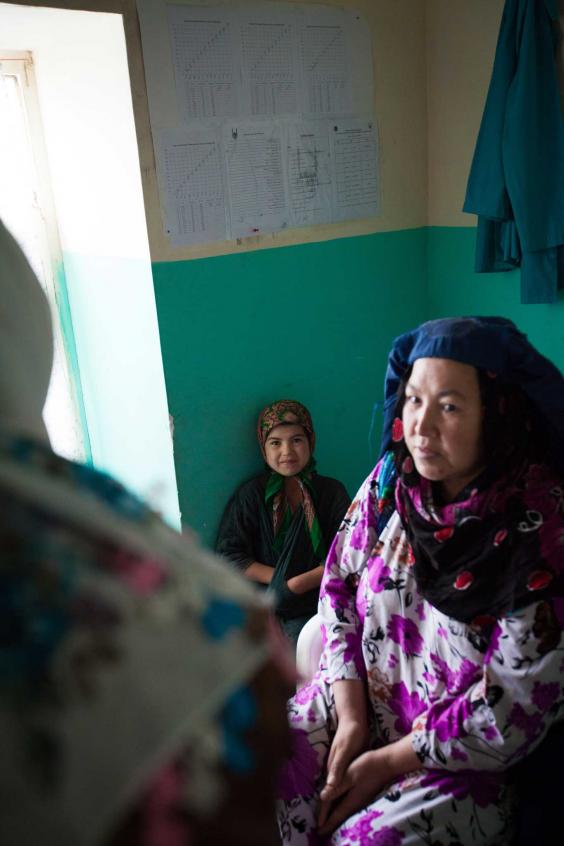 She is aware of the dire consequence of the Taliban regaining influence in government, but unlike Fawzia Koofi, she is optimistic that they can be kept at bay. "If they are able to take power, of course it will affect the rights of women and politics in Afghanistan," she says, "but I'm sure the people of Afghanistan can fight against the Taliban and we have the international community supporting us. That's why I think they cannot get much power to impact or influence our lives."
Mariam Mohammady, aged 39, who runs a sewing business in Bamyan city, fears the worst. "I'm worried that the war will come back after the election. I didn't experience the Taliban because I left during the Russian invasion, but if the Taliban come back they will kill all of us."
Mariam's 13-year-old daughter, Masooma, wants to be a journalist. "School is good," Masooma says, smiling under a turquoise head scarf. "If someone studies, they can improve Afghanistan." Persuaded by her daughter's optimism, Mariam softens her view of the future. "Women can work and study. I think life will be better for Masooma's generation"
'When a girl is born everyone becomes sad'
Uzra Lali, aged 32, makes no attempt to hide her pride as she shows off a stall of brightly embroidered bags, hats and prayer mats in central Bamyan. The goods were handmade by her and 38 employees in a village near Afghanistan's historic city. Her new trade has brought her family more than £2,000 in savings, making her the main breadwinner.
Uzra's life looked very different in 1998. That was the year the Taliban attacked her village, imprisoning her husband, Abdul Hamid, and forcing her to flee to Pakistan with two young children. "My husband is disabled now because of the way the Taliban treated him in jail. He becomes very angry and he cannot work."
Now she lives back in Bamyan with Abdul and five children, but fears the return of the Taliban. "I am very worried that day will come back."
When Uzra was 10, her school days were ended abruptly by the civil war. She is keen for her daughter Huma to learn what she could not. Huma, aged 15, is head of the children's council, a position she beat local boys to in a vote. She wants to be a doctor and is passionate about changing the fate of women. "When a boy is born everyone is happy and when a girl is born everyone becomes sad," she says. "Boys are allowed to go to school and the cinema and do any kind of social activities but that's impossible for many girls. I feel sad about this."
Uzra is proud of her daughter's achievements and how women have progressed: "I do not agree that the Taliban represent true Islam. Under the Taliban women worked like servants. This is not true Islam."
'If I didn't get the opium, I couldn't work as much'
Korpa Yosini, aged 43, sits in a waiting room under a dusty blue burqa at a drug treatment clinic near the Uzbekistan border in Shortepa, Balkh province. Once inside the consulting room, she pushes it off her face to reveal a flowery dress and scarf underneath.
Korpa became addicted to opium after her husband Mohammed's heroin addiction meant no money was coming in to feed their seven children. She realised that on opium she could weave more rugs.
"I was working hard to get bread for my family. If I didn't get drugs I couldn't work as much. On drugs I can make four metres of carpet in 40 days, but previously that might take me six months. I was so powerful when I used drugs.
"I gave my children opium until they were four. It made them silent so I could work. I didn't take the drugs away at once.
"I decided to quit when my son came to me and said, 'Do whatever you want but don't take opium any more'. After that, the clinic nurses came to our house and talked to us and we decided to stop. I've been under treatment for around 15 days. At the height of my addiction I was taking 20 grams of opium a day. I would divide a piece into four small pieces and give it to my children."
She is likely to carry around the stigma of her addiction for years. "If a man is addicted he is not that rejected by society, but if a woman is addicted she observes so many bad things. She is not trusted. If my kids go somewhere they will say 'These kids are from that drug-addicted family or mother'. When I go to parties, people know I'm drug addicted and they call me 'nesha band' [junkie]".