Myanmar's government has said it is not to blame for the migrant crisis in Southeast Asia as thousands of Rohingya Muslims and Bangladeshis remain stranded at sea.
More than 2,000 people have landed in Indonesia, Malaysia and Thailand, but thousands more migrants are thought to be drifting in boats in the Andaman Sea following a crackdown on people trafficking.
The government of Myanmar said it doubts it will attend an emergency summit on the issue, to be held in Thailand.
As the crisis intensifies naval vessels from Indonesia, Malaysia and Thailand are refusing to allow the boats to land on their shores, but are offering food and water to the beleaguered migrants on board.
The Rohingya Muslims are fleeing persecution in predominantly Buddhist Myanmar, while the Bangladeshi migrants are moving for economic reasons.
Major Zaw Htay, director of the office of Myanmar's president, said: "We will not accept the allegations by some that Myanmar is the source of the problem.
"We are not ignoring the migrant problem, but our leaders will decide whether to attend the meeting based on what is going to be discussed."
He appeared to blame neighbouring countries for the current situation, saying from a humanitarian point of view "it's sad that these people are being pushed out to sea by some countries".
Many of the migrants are keen to reach Malaysia, a Muslim country which has hosted 45,000 Rohingya in recent years, but now says it can take no more. Thailand and Indonesia have also said they cannot accept further migrants.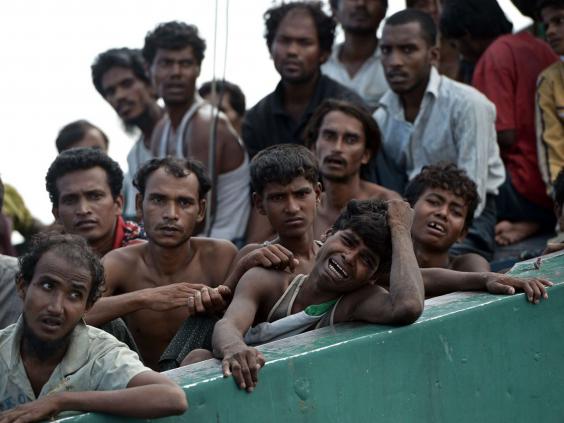 A meeting, organised by Thailand, is scheduled to be held on 29 May with representatives from 15 countries to discuss the causes of the "irregular" migration in the Indian Ocean.
Myanmar's government said it would not attend the summit if Rohingya Muslims were mentioned. It also accused other governments of trying to divert attention away from their own failings in tackling human smuggling, by blaming Myanmar for the present situation.
The UN has called the Rohingya Muslims one of the world's most persecuted minorities, who have suffered from state-sanctioned discrimination. They are denied citizenship and are effectively stateless.
Over the past three years an estimated 120,000 people have fled Myanmar on traffickers' boats, after attacks on Rohingya Muslims left hundreds dead.
Additional reporting AP
Reuse content