Wildlife officials have saved a rare newborn rhinoceros, which was discovered alone in an Indian national park.
The three-day-old male rhinocerous was discovered wandering in the Kaziranga National Park.
Images of the operation show the vulnerable creature being transported through the park in north-eastern Assam state.
The 430-square-kilometre (166-square-mile) Kaziranga park is the habitat for the world's largest concentration of one-horned rhinoceroses.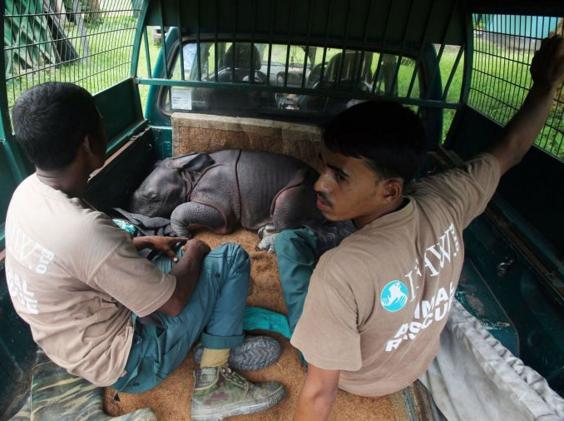 The whereabouts of the calf's mother is unknown, sparking fears she may have become a victim of the poaching problem in Kazaringa.
At least 12 rhinoceroses have been killed by poachers in the park since the start of 2015, BBC News reported citing local media.
Critically endangered species
Critically endangered species
1/10 Yangtze Finless Porpoise

There are as few as 1,000 of this highly intelligent dolphin from the Chinese river of Yangtze.

Wikmedia

2/10 Cross River Gorilla

There are around 200-300 left in the wild.

Wikmedia

3/10 The Amur Leopard

There are only around 30 left, exclusively in the Russian Far East.

Wikmedia

4/10 Black Rhino

Improving numbers, but with fewer than 5,000 left in central Africa, it is critically endangered.

Wikmedia

5/10 Hawskbill Sea Turtle

Mostly threatened by wildlife trade; their shells highly valued.

Wikmedia

6/10 Javan Rhino

The most threatened rhino species - there are as few as 35 in Ujung Kulon National Park in Java, Indonesia.

Wikmedia

7/10 Leatherback Turtle

Having lost many of its habitable beaches, and impacted by fishing operations, this seaturtle is considered by WWF to be 'critically endangered'.

Wikmedia

8/10 South China Tiger

It is believed to be 'functionally extinct', with none of the species left in the wild.

Wikmedia

9/10 Sumatran Elephant

There are between 2,400 - 2,800 of this elephant native to Borneo and Sumatra.

Wikmedia

10/10 Sumatran Orangutan

There are an est. 7,300 but the gradual deforestation of their Sumatran habitat may threaten further.

Wikmedia
Kaziranga is a Unesco World Heritage site. Undisturbed by humans, it is also home to tigers, elephants, panthers and bears, and thousands of birds.
Reuse content