A new campaign which claims to defend 'the good guys' from being labelled as rapists appears to have backfired.
The #BlameOneNotAll hashtag, which was started by Indian media company Mintified, showcases a series of women holding placards which read things like, 'I go for late night parties with my colleagues, and I always get home safely' and 'I don't mind inviting my best friend over, when I'm alone at home. Because I trust him completely.'
The photographs are an attempt, the firm claims on Facebook, to avoid "generalising the other gender" - because "not all men are rapists".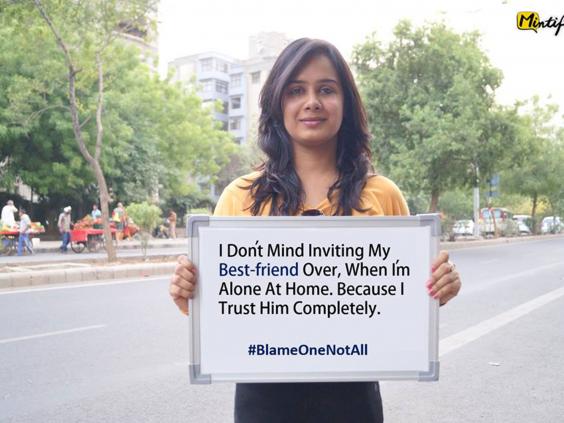 "We do agree that a woman has to go through a lot," it says. "The leering, the catcalls, the groping, the societal othering, the miasma of all this that women bear the brunt of every damn day. Every single day is a war to them. 
"BUT generalizing the other gender, is not right. Not all men are rapists. Not all men abuse their significant others. Not all men actively oppress women. And these posters say it all."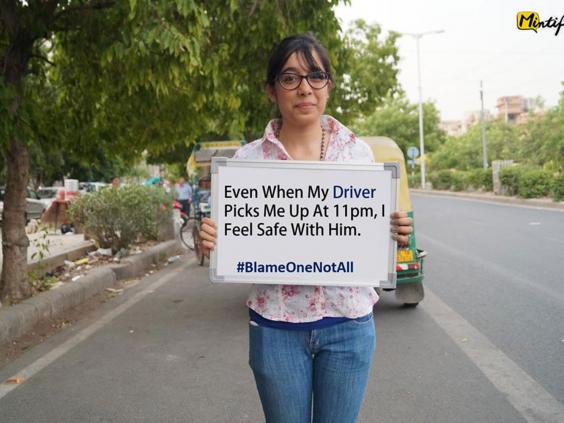 But the 'meninist' campaign - a term for the so-called 'meninist' movement, an attempt by some men to mock and undermine feminism, and to express the "difficulties" of being a man in the 21st century - has been met with mixed responses.
Nayantara Umashankar commented on Mintified's Facebook page: "Wow!! Why are we applauding men for NOT assaulting women when it's literally human decency???"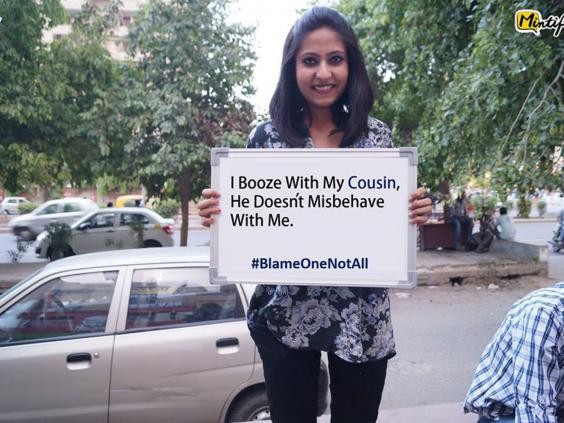 And Van Murmaid said: "All these women are saying is that they trust some men in their lives. I think the fact that posters are required to indicate that 'some' men are trustworthy, speaks for itself . Big whopee. #ironic"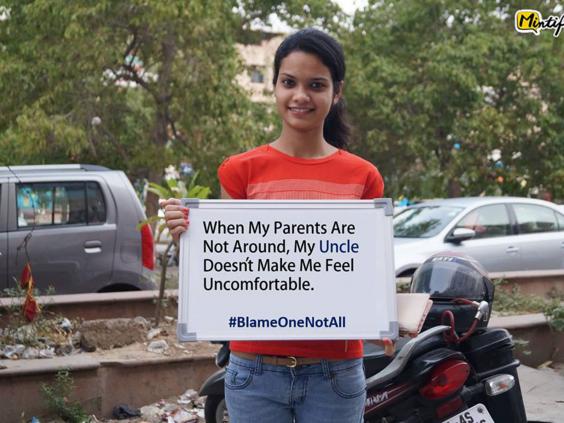 Ishita Das added: "But how does one know which one to keep distant from? I do think this line of thought may be dangerous for young women who don't know any better. First priority should be safety, next can be trust. #BlameNoneBewareAll"
While Pauline Jouvet wrote: "Unfortunately, the One to blame have certainly Sisters, Niece or Colleages he treat with respect too.. Because he has to .."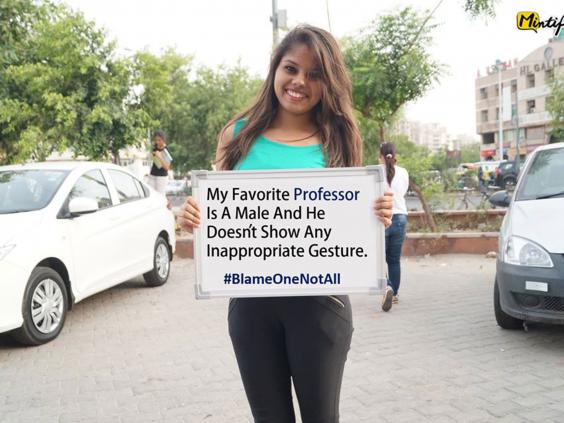 But others were more supportive. Prateek Singh wrote: "Nice work team mintified.. True There are good men out there and keep up the good work..."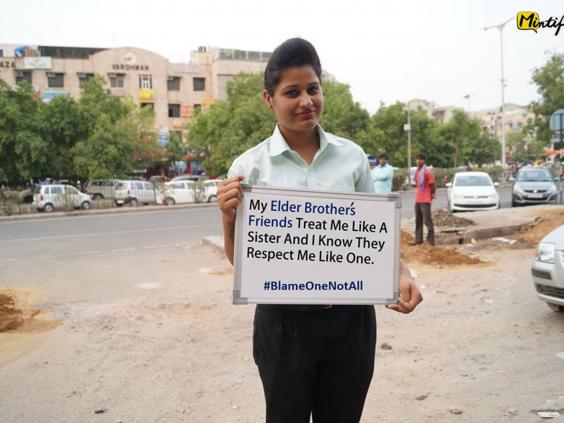 The posters have been shared thousands of times online, with some taking to Twitter to point out that men shouldn't be being praised simply for not raping somebody.
This #BlameOneNotAll campaign feels like giving men a pat on back for not being rapists... why would men want to be patronised like that?

; Jessica Elgot (@jessicaelgot) May 26, 2015
I also like #BlameOneNotAll because when we're talking about women getting raped, really our priority should be men's feelings.

; Marie Le Conte (@youngvulgarian) May 26, 2015
#BlameOneNotAll is an epistemically violent hashtag, meant to minimize rape culture and structural violence. It's lazy. It's offensive.

; Trudy (@thetrudz) May 27, 2015
In response to the criticism, Mintified told i100: "The campaign was initiated keeping in mind the Indian scenario. There are a lot of issues a girl/women go through on daily basis.
"Having said that, we can't generalise the other gender. There are certainly good men out there. And this initiative is to support this thought."
Reuse content