Chinese authorities have arrested a journalist and a prominent supporter of Bo Xilai as they prepare to charge the purged former Communist Party rising star on charges of corruption and abuse of power.
Song Yangbiao, a reporter for the magazine The Time Weekly, was detained on charges of "picking quarrels and causing trouble", according to friends and supporters, apparently after he used his Sina Weibo microblog to denounce Mr Bo's trial and call for an uprising to oppose it.
"All members of the Chinese Communist Party should rise up together to oppose the illegal trial in Jinan," Mr Song wrote, according to freeweibo.com - a site that monitors China's censorship of the web.
Bo Xilai's trial is expected to start in the eastern city of Jinan within days. Mr Bo could be sentenced to death, although a lengthy jail sentence is the more likely outcome.
His trial marks the final stages of a dramatic fall for a man who just two years ago seemed destined to make the Standing Committee of the ruling Politburo, but his showy style and his populist, leftist rule in the 30-million-strong metropolis of Chongqing set him on a collision course with a leadership in transition.
A guilty verdict is almost a certainty, and Steve Tsang, of the China Policy Research Institute at the University of Nottingham, believes the trial will be well-staged, effectively managed - and short.
"The script has already been written and approved by the top leadership," said Mr Tsang.
Mr Bo still has many sympathisers within the party, so he is unlikely to be executed. However, the case has cast a shadow over President Xi Jinping's efforts to push economic reforms, and the leadership will seek a quick resolution.
Like Mr Xi, Mr Bo is a "princeling", a Communist Party blueblood. He is the son of former Vice Premier Bo Yibo, one of the "eight immortals" of the party.
Mr Bo's indictment follows the conviction of his wife, Gu Kailai, last August for murdering British businessman Neil Heywood after a one-day trial that produced a suspended death sentence.
Any chance of a final act of defiance was ruled out by the timely leaking of information that his son, Bo Guagua, would attend the expensive, elite Columbia Law School, a reminder of what was at stake if he did not follow the script closely enough.
"Whatever the formal sentence, Bo will not be executed and will not be freed. He will be kept under detention until his death, the only difference is how many years he will spend in a jail, in contrast to subsequent 'soft detention'," said Mr Tsang.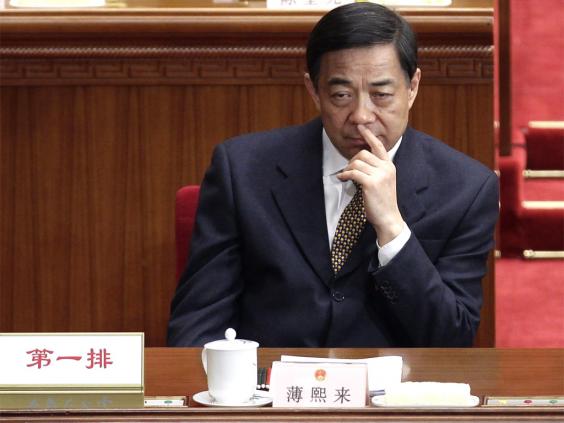 Guo Ming, 29, who teaches at a primary school in Beijing, believes Bo Xilai will not get the death penalty because that would trigger more public anger.
"After all, he has quite a few supporters. Also, he was an important figure within the Party. It would project a bad image of the party if he gets the death sentence," said Mr Guo.
Liu Hai, 31, who works in sales at an import-export company, believes a life sentence is more likely.
"All the important figures don't get death sentences, like Liu Zhijun who took tens of millions in bribes. But if it had been a normal person, even 100,000 yuan (£10,552) would be enough to get a death sentence," said Mr Liu.
Mingxin Pei, a professor of government at Claremont McKenna College, believes the trial will not end the political scandal. He wrote in a Bloomberg commentary that the questions raised by the case, "will continue to dog the party and undermine its credibility".
Reuse content