Police in Borneo say that four men arrested over the murder of two British medical students from Newcastle University have "admitted the crime".
Neil Dalton and Aidan Brunger were stabbed in the back and chest after leaving a bar in Kuching early on Wednesday morning, in their last week of a six-week placement at a Malaysian hospital.
Deputy police commissioner Chai Khin Chung said police had concluded their investigation with the recovery of "weapons" and the men's confessions, and that their evidence would now be passed on to prosecutors.
In the UK tributes were paid to the two 22-year-old victims, who were set to return to Britain to become doctors.
Professor Jane Calvert, Dean of Undergraduate Studies for Newcastle University Medical School, said the fourth-year students were "highly committed" and were both doing well in their studies.
She said: "We are all so shocked and saddened by this. They were excellent students.
"Aidan was aspiring to do some medical research on his return, Neil was going straight into his final year and it's such a tragic thing to occur."
The two students were killed after they got a lengthy argument with the men on the table next to them in a bar, police said. After they left on foot, they were followed by men in a car and then attacked from behind.
Malaysia's The Star newspaper reported that the main suspect was a 23-year-old fishmonger, one was a 29-year-old mechanic, the others 19 and 35 and both unemployed. Two were said to have previous convictions for drugs and armed robbery.
"We have finished our investigation, the crime has been solved," deputy commissioner Chai said.
"The four people, who are local men, will be charged with murder. It's very unusual for Kuching, it's always very peaceful.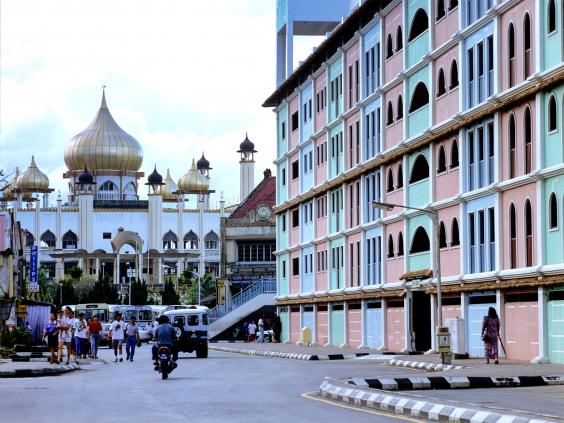 "It's very unfortunate and we were very surprised this kind of thing happened in our city."
Dr Chin Zin Hing, the medical director of the Sawatar Hospital where the pair had been working, siad the incident was "very sad".
He said: "We are trying to provide counselling for the students here. We currently have about 20 British elective students."
He said the hospital is also working closely with the British Embassy to "see how best we can provide some assistance to the families of the men".