An indigenous court could attempt to take further action against a British backpacker and other Western tourists who stripped for naked photos on a sacred mountain, a Malaysian politician has warned.
Eleanor Hawkins was among four Western tourists who were jailed for three days and fined for committing the "obscene act" on Mount Kinabalu.
The politician who blamed the group for causing a deadly earthquake that killed 18 people days later said state justice had been served but some indigenous people were unsatisfied.
As the four foreigners left the country on Saturday, Joseph Pairin Kitingan, the deputy minister of Sabah state, said locals had wanted to hear the case before a tribal court.
"The important thing is that they have acknowledged they did it, and have gone against local customs," he said, according to the Malay Mail.
"In a way, justice has been served, the story is over. Even though from the point of view of the natives, they are not satisfied because the matter was not brought to native court."
Malaysia's Star newspaper quoted him as saying: "We will wait to see if there is any subsequent action from the Native Court."
It was unclear what action could by taken, as Miss Hawkins and the other three climbers from Canada and the Netherlands have already left Malaysia.
Mr Kitingan is also a leader of the local Kadazandusun tribe, who revere Mount Kinabalu as the final resting place of their souls and the home of their dead ancestors' spirits.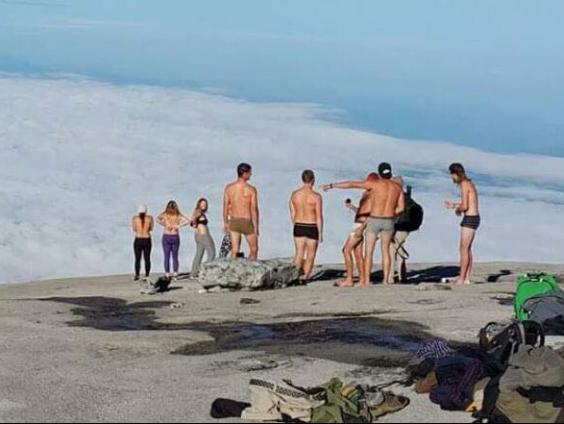 Following the 5.9-magnitude earthquake that struck on 5 June, sending boulders raining down the mountain to kill 18 people and leave hundreds more stranded, he blamed the tourists for showing "disrespect".
"When the earthquake occurred it can be taken as confirmation of what the consequences would be when these people decided to bare all on top of the mountain," he told the Borneo Post.
"We cannot play around with the spirits on our sacred mountain."
Mr Kitingan vowed that "more will be done" to appease the spirits with rituals to address local concerns.
Masidi Manjun, Sabah's minister of tourism, culture and environment, said the tourists' conviction, which was considered not to be severe enough by some Malaysians, sent a message.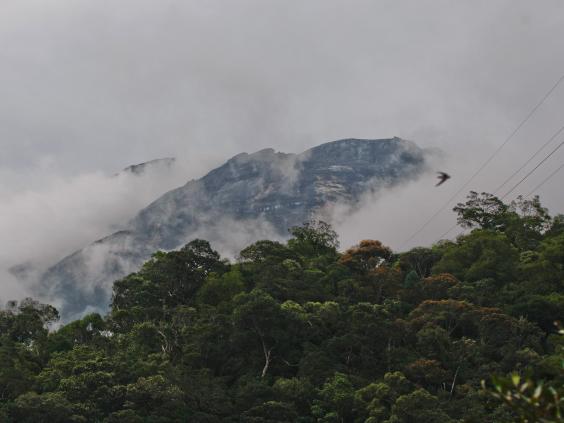 "I know there are some who say the penalty is light, but personally, it is message to visitors that they cannot do whatever they please when in Sabah," he was quoted as saying by the Star.
Writing on Twitter, he said that local anger over the naked photos, taken on 30 May, was "boiling hot" before the earthquake and "multiplied 1,000 times" afterwards.
Tour groups and mountain guides are considering new steps to ensure climbers respect customs and beliefs on Mount Kinabalu in the future.
The Foreign and Commonwealth Office said climbing would be suspended there for three weeks following the earthquake on 5 June.
Its travel advice cautions British travellers to remember that Malaysia is a "multicultural but mainly Islamic" country, adding: "You should respect local traditions, customs, laws and religions at all times and be aware of your actions to ensure that they don't offend, especially…if you intend to visit religious areas."
Miss Hawkins, a Southampton University graduate from Derbyshire, is due to return home today.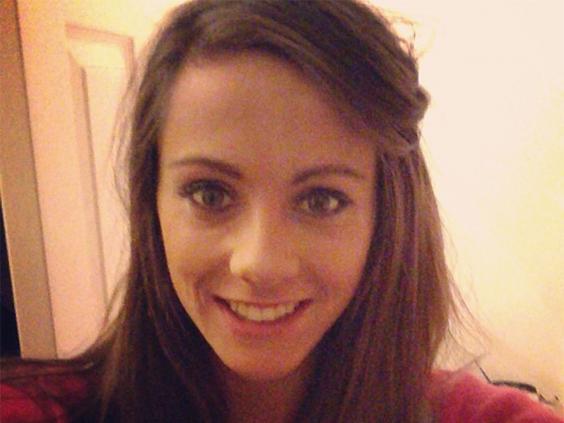 A judge handed the 23-year-old a fine of 5,000 Malaysian ringgit (£860) yesterday and backdated her three-day prison sentence to the time of her arrest on Tuesday, meaning the time had already been served.
Miss Hawkins and three other tourists - Canadian siblings Lindsey and Danielle Petersen, and Dutch traveller Dylan Snel – had admitted committing an "obscene act".
After the conviction, Miss Hawkins's father described the sentence as "appropriate" and "fair".
"Eleanor knows what she did was wrong and disrespectful and she is deeply sorry for any offence she's caused to the Malaysian people," Timothy Hawkins said.
Several other backpackers who appeared in the pictures are still being hunted by police, according to reports, although it was unclear whether they remain on the island of Borneo.
Reuse content