Hundreds of people remain missing, feared dead, in the waters of the Yangtze river in China after a cruise ship with 458 people on board capsized.
Only around 13 of the people on board, many of whom were elderly, had been rescued from the Eastern Star, which had been travelling from Nanjing to the south-west city of Chongqing.
The ship's captain and chief engineer were among the survivors and were detained by police shortly after they reached safety. They said that the ship had been hit by a cyclone and sank at about 9.30pm on Monday. According to Chinese state radio the ship sank within two minutes and a distress signal was not sent out. The alarm was only raised after seven survivors swam to shore.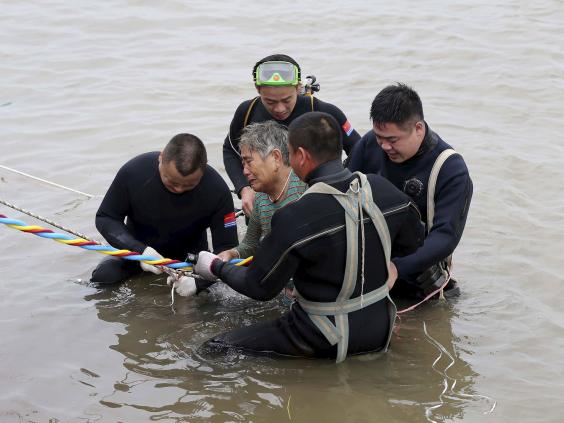 The captain and chief engineer's relatively prompt escape from the doomed ship invoked anger from people who believed they had loved ones on board.
Huang Yan, a 49-year-old accountant based in Shanghai, believed that her husband and his father were on the ship.
She said: "Why did the captain leave the ship while the passengers were still missing? We want the government to release the name list to see who was on the boat."
The Chinese Premier, Li Keqiang, was quick to head to the scene of the disaster, with state media running pictures and reports of him assertively managing the rescue effort.
According to the state-sponsored news agency, Xinhua, President Xi Jinping ordered an "all-out rescue effort". More than 50 boats and over 3,000 people were involved in the rescue.
At least five bodies have been recovered, state television reported.
In pictures: China ferry disaster
In pictures: China ferry disaster
1/10 China ferry disaster

A woman is helped after being pulled out by divers from a sunken ship in Jianli, Hubei province

2/10 China ferry disaster

A woman is helped as she is sent to hospital after being pulled out by a diver from the sunken ship in Jianli, Hubei province

3/10 China ferry disaster

Rescuers work on the overturned passenger ship, which capsizes on Yangtze River, Hubei Province

4/10 China ferry disaster

Relatives of passengers on the ship that sank at Jianli section of Yangtze River in Hubei province, cry as they wait for news at an arranged hotel, in Nanjing, Jiangsu province

5/10 China ferry disaster

A man, accompanied by his aunt, grieves for his missing parents outside a closed travel agency which participated in organising the tragic Yangtze River tour, in Shanghai

6/10 China ferry disaster

Rescue workers search on a sunken ship in the Jianli section of Yangtze River, Hubei province

7/10 China ferry disaster

Chinese rescue teams head out to search for survivors of a passenger ship carrying more than 450 people which sunk in the Yangtze river, triggering a rescue effort hampered by strong winds and heavy rain off Jianli in China's Hubei province

8/10 China ferry disaster

Rescue workers carry a boat as they conduct a search

9/10 China ferry disaster

Paramilitary policemen assemble to get ready to travel to Hubei province for rescue operations after a ship sank in the Jianli section of the Yangtze River, at a port in Chongqing

10/10 China ferry disaster

China's Premier Li Keqiang (R) looks at a map as he discusses with experts on a rescue plan, on his plane en route to the site where a ship sank in the Jianli section of Yangtze River, Hubei province
One rescuer on top of the ship had communicated with passengers trapped beneath him by hitting a hammer on the hull and listening to noises made in reply. "Rescuers knocked on the ship and received responses," the Hubei Daily reported. Footage also showed rescuers trying to cut through the hull with an angle grinder.
A symbol of hope amid the chaos came in the form of the rescue of a 65 year-old female passenger who was helped to safety by divers. The divers brought breathing apparatus to her within the upturned ship and spent five minutes teaching her how to use them before guiding her to safety.
Chen Shoumin, the Hubei military region commander, said: "That old woman had a very strong will and learnt very fast, and after 20 minutes she surfaced to the water and was rescued.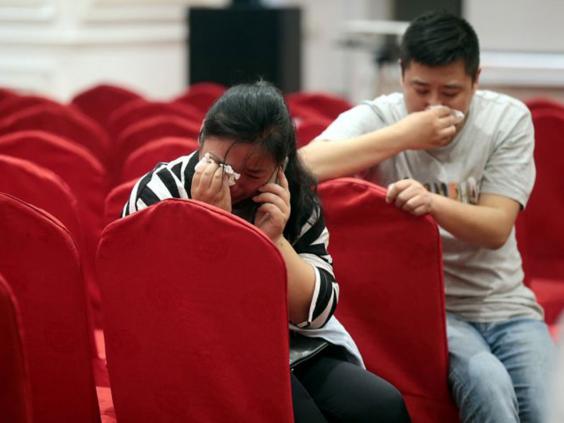 "We will do everything we can to rescue everyone trapped in there, no matter they're still alive or not and we will treat them as our own families."
Chinese journalists were reportedly kept away from the site and were told that they must relay state media reports of the incident. In Shanghai clashes between authorities and those who believed they had family members on board flared.
Huang Jing, who believed that his brother and father-in-law were on the sunken ship, was one of those who stormed the offices of the Shanghai Xiehe Tourism Agency, the company many passengers booked the cruise with.
A passenger list circulating on Chinese social media only included passengers who had bought travel insurance.
Huang was kept away from the media but told Associated Press by mobile phone: "The government must meet its responsibility.
"We need to learn what happened to our loved ones."
Reuse content