Terrorists armed with explosives have driven two cars at shoppers in a busy Chinese street market, killing at least 31 people and injuring nearly 100 in the deadliest attack on the Xinjiang region for five years.
The "violent terrorist incident" occurred in the regional capital of Urumqi, in the heart of the volatile north-western province, Xinjiang regional officials said.
The two vehicles, described by the Xinhua News Agency as being large cross-country 4x4s, crashed through barriers between a road and the market at 7.50am.
Attackers within the cars then reportedly threw explosives out of windows as they ploughed through the crowds, before crashing "head-on", at which point one exploded.
Witnesses described up to a dozen large explosions in total, in the bloodiest incident in Xinjiang since a day of riots in 2009 killed almost 200.
Speaking to Xinhua in the aftermath of today's attack, President Xi Jinping said the government would be taking a typically tough approach to dealing with those responsible. He pledged to "severely punish terrorists and spare no efforts in maintaining stability".
China's top police official, public security minister Guo Shengkun, has been dispatched to Urumqi to lead the investigation into today's incident.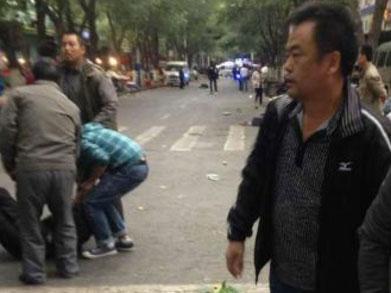 Though information from Xinjiang is strictly controlled, images posted to Sina Weibo, China's closest equivalent to Twitter, appeared to show the attack took place at one end of a busy market lined with vegetable stalls.
At least three fire engines could be seen attending the incident, with most of a wide junction at one point appearing to be ablaze.
The incident has, like other recent attacks in the region, widely been blamed on the Uighur group of Islamic extremists. Though reports rarely include claims of responsibility, activists have said in the past that they are pushed to violence by discrimination from the central Chinese government and a limitation of their religious freedoms.
A train station in Urumqi was also the scene of a suspected Uighur attack last month, which saw the deaths of three people, including two attackers, and 79 injured. That incident took place while President Xi was visiting the region.
The most recent attacks suggest terrorists in China are becoming increasingly bold and well-coordinated across the whole country. In an unprecedented incident last year, three Uighur militants carried out a suicide attack with a vehicle against crowds near the Forbidden City gate in the heart of Beijing, killing two tourists.
In March, an attack with long knives saw 29 people stabbed to death at a train station in the southern city of Yunnan, which was also attributed to Uighurs.
Reuse content