He has proclaimed himself a master of Qigong, an ancient Chinese healing and martial arts practice, and he has rubbed shoulders with some of China's leading politicians and celebrities. His claims of "supernatural powers", including conjuring snakes from thin air, have won him a wide following on the internet, while his fondness for making friends in high places led some to call him China's answer to Rasputin.
But now Wang Lin, who claimed to be a billionaire, has been detained by police in the eastern province of Jiangxi on suspicion of the murder of a disciple, in a case that has gripped China with lurid tales of wealth and magic.
Mr Wang is suspected in the kidnapping and death of a businessman, provincial legislator and disciple called Zou Yong earlier this month. The two reportedly met in 2002, and Mr Zou told a television station he paid five million yuan (£500,000) in 2009 to become Mr Wang's disciple.
"Wang has been previously investigated for possession of a gun, unlicensed medical practice, bribery and fraud. Local police and health authorities launched an investigation in 2013 but failed to make any headway due to lack of evidence," according to Xinhua, the state news agency. It was not possible to reach Mr Wang for comment and it was not clear if he has a lawyer.
According to The Global Times, a popular tabloid published by the ruling Communist Party's official People's Daily, Mr Zou also gave Mr Wang sports cars and gold in return for teaching him tai chi, but the two fell out in 2012.
Among others with whom Mr Wang has posed are the actors Jackie Chan and Jet Li, Hong Kong's chief executive, Donald Tsang Yam-Kuen, a former Chinese railways minister Liu Zhijun – since disgraced – and others.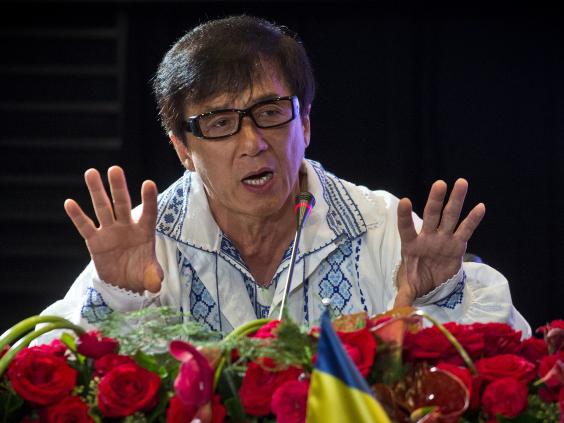 Mr Wang fled to Hong Kong when the previous investigation into his activities was launched and Chinese media accused him of practising illegal medicine and claiming he had supernatural powers. At the time, according to The Beijing News, he owned a five-storey villa and kept a Rolls-Royce and three Hummers. The paper also alleged that he was seen buying snakes rather than summoning them with his spirits.
The allegations infuriated Mr Lin so much that he phoned the journalist to curse her, the paper said. But his name was cleared last week after a two-year investigation found no proof he practised illegal medicine.
Religious groups, sects and religious leaders outside government control have multiplied in recent years, as Chinese seek to find spiritual meaning following some three decades of breakneck economic growth. The issue gained prominence earlier this year after the country's former domestic security chief, Zhou Yongkang, was linked to a mysterious fortune teller and healer during his trial for corruption and abuse of power. Zhou was jailed for life last month.
The government has cracked down on groups and individuals it sees as belonging to dangerous cults. Authorities executed two members of a banned religious cult in February for murdering a woman in a McDonald's restaurant after she rebuffed an apparent recruitment attempt by the group last May.