Chinese authorities have taken the damning pollution documentary "Under the Dome" offline after it gained hundreds of millions of views within days of its release.
The 103-minute documentary by Chinese journalist Chai Jing explores the social and health costs of pollution in the country following a year-long investigation.
She speaks plainly to an audience throughout the video, in a style reminiscent of Al Gore's "An Inconvenient Truth".
As one of the first in-depth studies of the extent of China's pollution problems, it is viewed by many as a potential watershed moment that could spark national debate and change.
As well as including basic facts and figures about pollution, the film also examines the effects of smog and lax industrial practices outside of Beijing in lesser-reported provinces.
She shows villagers in Shaanxi province, whose health was put severely at risk by dangerous pollutants from nearby coal plants, including a six-year-old girl who tells her she has never seen stars or blue sky.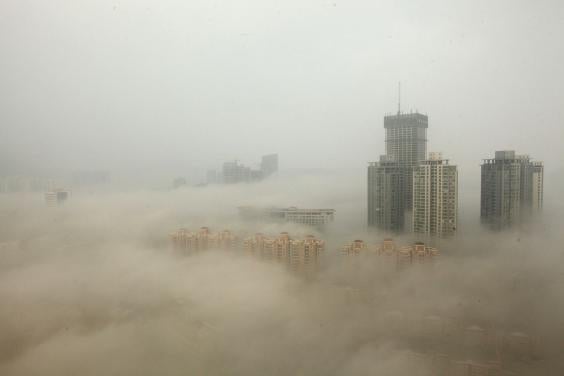 Self-funded by Chai, an investigative journalist, the documentary also gains unprecedented access to factories where she manages to document regulations being broken on camera and she sharply criticises the Chinese government's lax environmental laws.
As of Saturday, the film had been removed from popular Chinese mainland video sites such as Youku.
Neither Youku nor Ms Chai responded immediately when asked to comment, the Reuters news agency reported. 
In 2010 outdoor air pollution contributed to 1.2 million premature deaths in China, the 2010 Global Burden of Disease Study found. Curbing pollution, particularly from coal-burning factories, remains a daunting challenge for the country. 
In pictures: Chinese New Year 2015 - Year of the Sheep/Goat celebrations
In pictures: Chinese New Year 2015 - Year of the Sheep/Goat celebrations
1/15 Chinese New Year 2015

A family uses a selfie stick, in front of a tree decorated with paper lanterns at the Temple Fair, which is part of Chinese New Year celebrations at Ditan Park, also known as the Temple of Earth, in Beijing

2/15 Chinese New Year 2015

Chinese-Thai nationals walk past under Lunar New Year banners on the eve of the Chinese Lunar New Year in Chinatown, Bangkok, Thailand

3/15 Chinese New Year 2015

Men perform a lion dance to celebrate Chinese New Year in front of the Royal Palace in Phnom Penh, Cambodia

4/15 Chinese New Year 2015

An Indonesian Chinese woman prays during the preparations for the Chinese New Year celebrations at a temple in China town in Jakarta, Indonesia

5/15 Chinese New Year 2015

A child runs past a multi coloured sheep installation displayed in a shopping mall for the Chinese New Year celebrations in Hong Kong

6/15 Chinese New Year 2015

Paper money, called spirit money, is burnt in a bucket by an ethnic-Chinese Thai family in a traditional Chinese New Year ritual, believing that they will be passed onto their ancestors, at the front entrance of their shop-house home in Bangkok, Thailand

7/15 Chinese New Year 2015

Chinese New Year lanterns are pictured at the Thean Hou temple in Kuala Lumpur, Malaysia

8/15 Chinese New Year 2015

Two shop clerks wrap up Shou Tao, or Longevity Peaches, with callophane in a bakery in Taipei, Taiwan. Shou Tao is a steamed bun painted pink or red with red bean paste inside. Chinese give away Shou Tao as gifts or display them on the table at home during the Chinese Near Year holidays

9/15 Chinese New Year 2015

Fireworks explode at the River Hongbao Lunar New Year Celebrations along Marina Bay in Singapore. The Chinese Lunar New Year on February 19 will welcome the Year of the Sheep (also known as the Year of the Goat or Ram)

10/15 Chinese New Year 2015

Traditional dancers perform at the Temple Fair, part of Chinese New Year celebrations at Ditan Park, also known as the Temple of Earth, in Beijing

11/15 Chinese New Year 2015

A performer takes part in the opening of the Temple Fair, part of Chinese New Year celebrations at Ditan Park, also known as the Temple of Earth, in Beijing

12/15 Chinese New Year 2015

Filipino dancers perform a Dragon Dance on the eve of the Chinese New Year

13/15 Chinese New Year 2015

A woman stands under paper lanterns, celebrating the Chinese New Year at Ditan Park in Beijing

14/15 Chinese New Year 2015

Goat dolls are on display at a gift shop for the upcoming Chinese Lunar New Year at a market in Bangkok's Chinatown

15/15 Chinese New Year 2015

People watch fireworks illuminating the sky during the River Hongbao festival in Singapore. Chinese around the world celebrate the Chinese New Year also called Spring Festival which this year falls on 19 February the first day of the Year of the Goat
Reuse content