China's censors are having a field day as Barack Obama, Vladimir Putin and world leaders converge on Beijing.
The Asia-Pacific Economic Co-operation (Apec) summit has so far been carefully choreographed, with delegates arriving on a glitzy red carpet while being entertained by crowds of dancers and fireworks in a lavish ceremony covered by state media.
The first day of meetings on Monday saw President Xi Jinping diplomatically sandwiched between President Obama and President Putin.
Cheery pictures of the Chinese leader surrounded by delegates from 21 counties were beamed across the country, with state news agency Xinhua showing them planting symbolic "trees of friendship".
But the perils of over-friendliness were demonstrated later in the day, when President Putin's apparently chivalrous gesture of draping a shawl around President Xi's wife's shoulders went viral on the Chinese version of Twitter.
CCTV, the state broadcaster, showed the pair chatting while sitting next to each other at a grand Apec event at a Beijing Olympics venue.
The first lady, Peng Liyan, was seated between the newly single Putin and her husband, who was looking the other way chatting to Obama as the Russian slipped his snappy camel shawl around her.
She discreetly gave it to an attendant seconds later but that did not stop commentators picking up on the moment, which was cut from the footage and posted by major Chinese news outlets as it circulated on social media.
But not for long – Chinese news sites pulled the video within hours, according to Foreign Policy, and censors scrubbed it from Weibo in an apparent attempt to shut down any unflattering gossip.
Alongside her husband, Peng's name is one of the most heavily censored by the state apparatus and any hint of more than strictly politicla relations between her and the Russian president will not be tolerated.
China's squeaky-clean presentation at the Apec summit has also apparently extended to the air quality.
Data on the popular pollution monitoring app APEC Blue in China appears to dramatically differ from international information.
The Chinese Government had shut down factories and imposed strict traffic controls in a bid to temporarily lessen Beijing's infamous smog for the arrival of the Apec leaders, aiming to reduce air pollution by 40 per cent, according to Xinhua.
But according to the Washington Post, data on smartphone apps that normally relay Beijing air-quality readings from both the city's environmental protection agency and the US Embassy disappeared on Monday.
The Beijing-based Fresh-Ideas Studio, which runs the China Air Quality Index, told the Wall Street Journal US readings were withheld on a request from the government.
In pictures: Air pollution in China
In pictures: Air pollution in China
1/30

Skyline of Puxi, Huangpu River and the Lujiazui Financial District with the Oriental Pearl TV Tower, right third tallest, the Shanghai Tower, right tallest, the Shanghai World Financial Center, right second tallest, and other skyscrapers and high-rise buildings in Pudong at sunrise in heavy smog in Shanghai

2/30

A commuter walks in front of the China Central Television (CCTV) building on a smoggy day in Beijing

3/30

A magpie flies in heavy pollution in Beijing

4/30

A woman wearing a mask practices roller blading at Olympic Park during heavy smog in Beijing

5/30

Cyclists and vehicles travel on a road in heavy smog in Beijing

6/30

An electronic screen is seen through pollution in Beijing

7/30

Ground-staff (L) are seen under an Air China plane at the airport on a polluted day in Beijing

8/30

A man wearing a protective mask walks in Beijing

9/30

A subway passing bridge on a day of heavy pollution in Beijing

10/30

Visitors walk toward Linglong Tower during an extremely polluted day

11/30

Policemen wear protective masks at the Tiananmen Square on an extremely polluted day as hazardous, choking smog continues to blanket Beijing

12/30

Apartment rooms are lit up with lights during daytime on an extremely polluted day

13/30

A pedestrian walks on a bridge on an extremely polluted day as hazardous, choking smog continues to blanket Beijing

14/30

A man pulls his luggage past electronic screens showing the Olympic Green park under blue skies, near the National Stadium (R), or the Bird's Nest, amid heavy smog in Beijing

15/30

Chinese workers work on a unfinished building during a hazy day in Beijing

16/30

Heavy smog is seen in Beijing

17/30

Tiananmen Square is seen in heavy smog on a day of high pollution in Beijing

18/30

A Chinese paramilitary policeman stands guard on Tiananmen Square in heavy smog in Beijing

19/30

Tourists visit the Olympic Park during dheavy smog in Beijing

20/30

woman wears a face mask next to traffic shrouded in heavy smog in Beijing

Getty Images

21/30 China

Heavy smog has been lingering in northern and eastern parts of China, disturbing the traffic, worsening air pollution and forcing the closure of schools

22/30 China

Buildings are shrouded in smog in Changsha, Hunan Province

23/30 China

A ship sails up the Huangpu River as heavy smog engulfs the city in Shanghai

24/30 China

A man looks towards a bridge in heavy fog in Beijing

25/30 China

A man and his child wear masks as they visit The Bund in Shanghai. Heavy smog covered many parts of China worsening air pollution

26/30 China

Four workers walk through a panda sculpture during severe pollution in Beijing

27/30 China

A truck containing used plastic bottles travels along a highway covered in haze in Beijing

28/30 China

An attraction for visitors on Chaotianmen beach in Chongqing. The city of Chongqing is one of the fastest-growing urban centres on the planet but it is also suffering from very high pollution

29/30 China

Smoke rising from land as Chinese farmers clear their land for replanting on the outskirts of Tianjin. China's Environment Ministry said it will send inspection teams to provinces and cities most seriously affected by smog to ensure rules on fighting air pollution are being enforced

30/30 China

Steelworkers work at the Chongqing Iron and Steel Factory in Chongqing Municipality
Chinese government data put the average air-quality reading for the city was 96, or "good," on Monday evening, while the US embassy reading put it at an "unhealthy" 180.
But there is little the censors can do about awkwardness, with several photo ops looking less than comfortable.
President Xi shared a hesitant handshake with the Japanese Prime Minister, Shinzo Abe, on Sunday in an attempt towards easing two years of tensions between Asia's largest economies.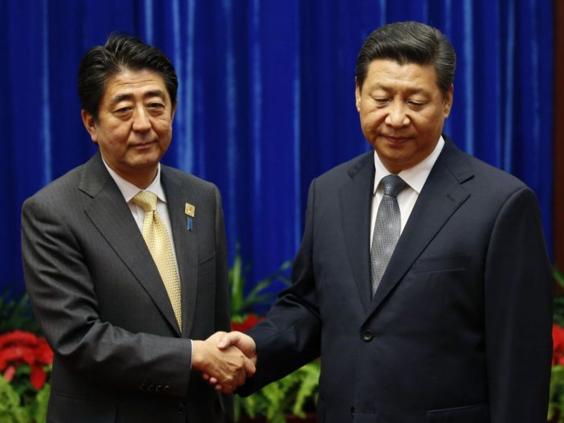 There was little sign of warmth between the two leaders, whose countries are locked in a territorial dispute over the East China Sea, as well as historical animosity following the Sino-Japanese wars.
Obama and Putin also enjoyed a similarly frosty meeting, seeming unable to meet each other's eyes during several brushes.
At one point, the US President appeared to ignore his Russian counterpart's friendly gesture of a manly clap on the shoulder and they spoke little.
There is no love lost over the continuing Ukraine crisis, with Russia denying America's accusations of arming rebels and resenting Western economic sanctions.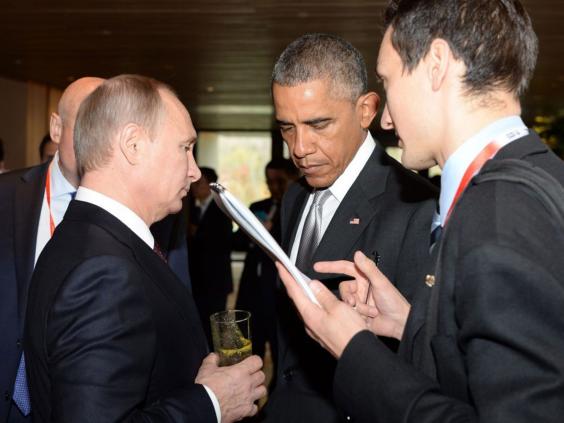 Obama's relations with President Xi are also being put under strain by their competing trade plans – China's Free Trade Area of the Asia-Pacific (FTAAP) and Obama's Trans-Pacific Partnership (TPP).
The US President is seeing a great deal of the Chinese leader over the coming days, with a planned walk and dinner in his walled compound today, a formal welcoming ceremony and state banquet and a bilateral meeting on Wednesday.
Obama will not get so close to the Chinese public, with no plans for televised interviews, public meeting or major speeches.
During his first Chinese visit as President in 2009, the hosts reportedly attempted to control the questions at a public meeting and refused to stream the session online, the New York Times reported.
An interview with the Southern Weekly was heavily censored, favouring Obama's comments about basketball over international policy, although this time he is being granted a written interview with Xinhua.
Australia, Brunei, Canada, Chile, Indonesia, South Korea and Mexico are among the 21 Apec member nations at the summit, which takes place as China looks to underline its growing status as regional leader and economic giant.
It is the biggest event hosted so far by Mr Xi, who took over the Chinese presidency in March 2013 with international trade as one of his top priorities.
Additional reporting by agencies
Reuse content