Officials in Delhi have fought off accusations that the quality of its air is worse than that of Beijing - the capital of its Asian rival that is notoriously associated with deadly, choking conditions.
Amid a flurry of reports that suggested pollution caused by small particles in the air was worse here, officials said that the situation in Delhi was bad but insisted it was not yet as bad as in Beijing.
Anecdotal reports suggest this year has been one of the worst winters in Delhi for air quality and smog. Countless trains and planes have seen their schedules disrupted while people have complained of coughing, tight chests and lethargy. A Chinese journalist visiting Delhi to attend an art exhibition swiftly donned a mask and decried the air as worse then where she had come from.
"I've been in Delhi for five years and this is certainly the worst I can remember," said Arati Davis, an environmental consultant who lives in south Delhi. "I gave up smoking three months ago. But I am coughing more now than I did when I smoked."
The negative comparison between Delhi and Beijing followed reports that the concentration of small particles less than 2.5 micro metres in diameter – usually known as PM 2.5 – had leapt. Readings taken in the first weeks in January in some parts of the city found the peak figure was as high as 473 microgrammes per cubic metre. Some said it was even more. This was considerably higher than in Beijing.
Worse than Beijing? Here's what China looks like under smog
In pictures: Air pollution in China
In pictures: Air pollution in China
1/30

Skyline of Puxi, Huangpu River and the Lujiazui Financial District with the Oriental Pearl TV Tower, right third tallest, the Shanghai Tower, right tallest, the Shanghai World Financial Center, right second tallest, and other skyscrapers and high-rise buildings in Pudong at sunrise in heavy smog in Shanghai

2/30

A commuter walks in front of the China Central Television (CCTV) building on a smoggy day in Beijing

3/30

A magpie flies in heavy pollution in Beijing

4/30

A woman wearing a mask practices roller blading at Olympic Park during heavy smog in Beijing

5/30

Cyclists and vehicles travel on a road in heavy smog in Beijing

6/30

An electronic screen is seen through pollution in Beijing

7/30

Ground-staff (L) are seen under an Air China plane at the airport on a polluted day in Beijing

8/30

A man wearing a protective mask walks in Beijing

9/30

A subway passing bridge on a day of heavy pollution in Beijing

10/30

Visitors walk toward Linglong Tower during an extremely polluted day

11/30

Policemen wear protective masks at the Tiananmen Square on an extremely polluted day as hazardous, choking smog continues to blanket Beijing

12/30

Apartment rooms are lit up with lights during daytime on an extremely polluted day

13/30

A pedestrian walks on a bridge on an extremely polluted day as hazardous, choking smog continues to blanket Beijing

14/30

A man pulls his luggage past electronic screens showing the Olympic Green park under blue skies, near the National Stadium (R), or the Bird's Nest, amid heavy smog in Beijing

15/30

Chinese workers work on a unfinished building during a hazy day in Beijing

16/30

Heavy smog is seen in Beijing

17/30

Tiananmen Square is seen in heavy smog on a day of high pollution in Beijing

18/30

A Chinese paramilitary policeman stands guard on Tiananmen Square in heavy smog in Beijing

19/30

Tourists visit the Olympic Park during dheavy smog in Beijing

20/30

woman wears a face mask next to traffic shrouded in heavy smog in Beijing

Getty Images

21/30 China

Heavy smog has been lingering in northern and eastern parts of China, disturbing the traffic, worsening air pollution and forcing the closure of schools

22/30 China

Buildings are shrouded in smog in Changsha, Hunan Province

23/30 China

A ship sails up the Huangpu River as heavy smog engulfs the city in Shanghai

24/30 China

A man looks towards a bridge in heavy fog in Beijing

25/30 China

A man and his child wear masks as they visit The Bund in Shanghai. Heavy smog covered many parts of China worsening air pollution

26/30 China

Four workers walk through a panda sculpture during severe pollution in Beijing

27/30 China

A truck containing used plastic bottles travels along a highway covered in haze in Beijing

28/30 China

An attraction for visitors on Chaotianmen beach in Chongqing. The city of Chongqing is one of the fastest-growing urban centres on the planet but it is also suffering from very high pollution

29/30 China

Smoke rising from land as Chinese farmers clear their land for replanting on the outskirts of Tianjin. China's Environment Ministry said it will send inspection teams to provinces and cities most seriously affected by smog to ensure rules on fighting air pollution are being enforced

30/30 China

Steelworkers work at the Chongqing Iron and Steel Factory in Chongqing Municipality
Yet officials in Delhi said the average daily concentration had never risen above 250 microgrammes, a figure that would still be ten times than the limited recommended by the World Health Organisation of between 10-35 microgrammes per cubic metre.
"There is no doubt it has worsened. The situation is not good. But the average is around 200," said Sandeep Mishra, a senior official with the Delhi Pollution Control Committee. "We need to address the situation or it will get worse."
The PM 2.5 particles are usually caused by cars, power plants and diesel powered vehicles. Yet things such as the fires lit every evening across Delhi by guards and night-watchmen, around which they huddle to keep warm, exacerbate the situation.
This is a situation not unique to Delhi but is found in cities across north India. Indeed, a study published last week by the Yale Centre for Environmental Law & Policy and Columbia University, placed India 174 out of 180 countries for its air quality. Only four countries – Pakistan, China, Nepal and Bangladesh - had worse air quality.
By comparison, the counties with the least polluted air were Mauritius, Barbados, Antigua, the Seychelles, Trinidad and Tobago, Argentina and Dominica. The UK was listed at 45, positioned between Colombia and Kazakhstan.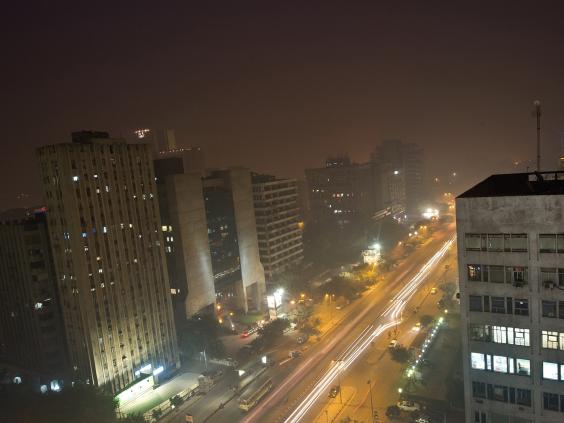 Amid the controversy, the authors of the study issued a report saying the had only compared countries and not cities. The reason for this was that there was insufficient data.
"An accurate comparison of air quality in any two cities requires data from consistently calibrated ground stations," author Angel Hsu of Yale University, said in a statement. "Beijing reports data on fine particulate matter concentration on an hourly basis over a publicly accessible platform. Delhi's reporting is not as consistent or transparent, making direct comparison impossible."
She added: "Delhi may or may not have dirtier air than Beijing, but it is clearly behind in how it makes air quality information available to its citizens."
Activists say the issues being talked about now have been present for some time. Anumita Roy Chowdhury, of the Delhi-based Centre for Science and Environment, said the first generation of anti-pollution measures in the city had resulted in some success. However, they had not been followed up.
Ms Roy Chowdhury said the city already had 7.5m vehicles and the fleet was being added to by a further 1,400 a day. She said given that most industry had been relocated out of the city, vehicular pollution was the greatest hazard. She said there had been some readings taken this winter when the concentration of PM 2.5 particles had been as high as 570.
What was clear, she said, was that the authorities in China were seeking to address the issue. By contrast, in Delhi nothing was being done. The situation in Delhi was exacerbated by the fact that there was rarely a breeze in the city to move the pollution.
"China is constantly refining its actions. They are capping the number of cars that can be sold. These are real measures," she said.
The AFP news agency said that pollution in China had been linked to hundreds of thousands of premature deaths. The reputation of cities such as Beijing had been damaged as a result and visitor numbers had fallen by around 10 per cent in 2013.
The PM 2.5 particles can easily enter the body and interfere with the functioning of the lungs. They are also associated with increased rates of chronic bronchitis, lung cancer and heart disease.
'Smog is part of daily life'
The day-to-day reality of living with pollution in Beijing means that you adopt good habits early and try to stick to them. Our family reaches for the CN Air Quality Index app first thing every morning to check what preparations we need to make for the day. On Friday, for example, the reading was 221, or Very Unhealthy, according to the US embassy, usually the most reliable yardstick, while the Chinese government reading was 203. Even the Beijing city government says it is Heavily Polluted.
Most long-term residents have largely become used to dealing with the smog. It's just a fact of life – an ugly aspect of living in this exciting city yet part of the daily round. But, on the worst days, the diesel smell is pretty disgusting.
Cycling is really the only way left to get around Beijing, but it's difficult on days when the air is off the scale and leaves your eyes streaming, mask or no mask.
The kids are on Chinese New Year holiday, but the readings mean they won't be playing out. They'll be putting on masks, of which we have a range: high-end Japanese ones, cheaper but reliable 3Ms, and a Hello Kitty mask for my five-year-old daughter.
The air purifier in every room is cranked up most of the time, noisy but essential. We get the kids out of the city as much as possible – to Ireland, to Bavaria, to gulp in that sweet European air that our relatives take for granted. When Shanghai, Beijing's eternal rival, went off the charts earlier this year there was a kind of schadenfreude here in the capital, and a patronising shake of the head at the outraged comments on Weibo, China's version of the banned Twitter. In the cities of Hebei province, which the app says were worst last year, they must think Beijingers are wimps. In Delhi, I find the air worse still, and wonder why no one gives India a hard time about it. Do people expect more from China, somehow?
Clifford Coonan
Reuse content