Bolstered by a royal endorsement to run the country after last week's coup, the leader of Thailand's junta warned citizens today not to cause trouble, not to criticise and not to protest – or else they would face a return to the "old days" of street violence.
Dressed in a crisp white uniform, General Prayuth Chan-ocha said he had seized power to restore order after seven months of violent confrontations and political turmoil between the now-ousted government and demonstrators who had called repeatedly for the army to intervene.
"I'm not here to argue with anyone. I want to bring everything out in the open and fix it," Gen Prayuth said in his first news conference since taking power last Thursday. "Everyone must help me," he said, before adding: "Do not criticise, do not create new problems. It's no use."
The warning came as an aide to the former Prime Minister, Yingluck Shinawatra, said she was released from military custody today. Ms Yingluck, who was forced from power by a controversial court ruling earlier this month, had been held at an undisclosed location without a telephone since Friday. The aide, who spoke on condition of anonymity, said Ms Yingluck had gone home.
Thailand protests: Thai army declares martial law
Thailand protests: Thai army declares martial law
1/25 Thailand

A Thai soldier stands in front of a portrait of Thai King Bhumibol Adulyadej as he patrols near government buildings in Bangkok

2/25 Thailand

A pro-government protester points at a soldier during a cleanup at a pro-government demonstration site on the outskirts of Bangkok

3/25 Thailand

Thai soldiers patrol near government buildings in Bangkok

4/25 Thailand

A soldier walks past barefoot Buddhist monks begging for alms outside a temple near Government House in Bangkok

5/25 Thailand

Thai police and army soldiers stand guard outside a military compound before former Prime Minister Yingluck Shinawatra arrives to report to Thailand's ruling military in Bangkok

6/25 Thailand

Thai soldiers stand guard at a roadblock outside the Defence Ministry building (background) after Thailand's army chief announced that the armed forces were seizing power in Bangkok

7/25 Thailand

Thai soldiers patrol after army chief General Prayut Chan-O-Cha met with anti-government and pro-government leaders at the Army Club in Bangkok

8/25 Thailand

Thai police and military display a haul of weapons seized during recent raids since the imposition of martial law, at a press conference at the Army Club in Bangkok

9/25 Thailand

Thai soldiers stand next to the portrait of King Bhumibol Adulyadej after the declaration of martial law at the Army Club in Bangkok. Thai Army Chief Prayuth Chan-ocha, declared martial law giving the military full control to prevent further protest-related violence in the country

10/25 Thailand

Anti-government protest leader Suthep Thaugsuban (R) gives a traditional greeting to a soldier before leaving Government House in Bangkok. Thailand's army chief said rival political groups should talk to each other and that the martial law imposed would last until peace and order had been restored

11/25 Thailand

A Thai soldier stands outside the Government Public Relations Department in Bangkok

Getty Images

12/25 Thailand

Thai soldiers man a checkpoint near pro-government "red shirt" supporters encampment in suburbs of Bangkok

13/25 Thailand

(L-R) Thai Police Chief Adul Saengsingkaew, Navy Chief Adm Narong Pipattanasai, Army Chief General Prayuth Chan-ocha and Air Chief Marshall Prachin Chantong during a meeting at the Army Club in Bangkok. Thailand has been wracked by six months of non-stop protests seeking to topple the government. At least 25 people have died in political-related violence and more than 700 injured

14/25 Thailand

Motorists on their way as Thai soldiers take to the streets with a heavy machine gun on a Humvee military vehicle at a main road outside the Royal Thai Police Sports Club in Bangkok

15/25 Thailand

Outside police headquarters in Bangkok

Getty Images

16/25 Thailand

An anti-government protester waves a Thai national flag during a rally outside the Government House in Bangkok. Thailand's Senate said it was ready to choose an interim prime minister to end a political deadlock but stopped short of throwing out a beleaguered caretaker government and risking a violent backlash by its supporters

17/25 Thailand

Thai anti-government protesters shout slogans during a rally in front of the Parliament as senators debate to find and end to the country's political conflict in Bangkok. Thousands of anti-government protesters rallied the area surrounding parliament and Government House to pressure the Senate to appoint an interim government to institute political reforms before new elections while key Thai institutions are resisting the opposition's demands

18/25 Thailand

Thai anti-government protesters gather in front of the Parliament in Bangkok

19/25 Thailand

Thai riot policemen stand guard during an anti-government protest rally at the Air Force auditorium in Bangkok. Thailand's Election Commission called for the postponement of key parliamentary polls due to be held on 20 July 2014 because of political unrest shaking the kingdom

20/25 Thailand

Anti-government protesters leave an air force base after breaking into its grounds in Bangkok. Protesters seeking to oust Thailand's government broke into the grounds of an air force compound where the acting prime minister was meeting the Election Commission to fix a date for new polls, forcing him to flee

21/25 Thailand

Thai Air Force military (L) face anti-government protesters after they broke into the Royal Thai Air Force base in Bangkok. Hundreds of anti-government protesters broke into the meeting between the election commission and the caretaker government as they discussed for the planned next elections on 15 May 2014, after the results of the 02 February general elections were annulled. According to media reports, Thailand's Election Commission said that the 20 July polling is no longer possible due to political turmoil

22/25 Thailand

Thai anti-government protesters leader Suthep Thaugsuban (C-L) cheers his followers during a street rally march toward Government House and Parliament in Bangkok

23/25 Thailand

An anti-government protester (C) gives instructions to a fellow protester on how to wave a huge Thai flag from atop a barricade near the Government House in Bangkok. Thailand's beleaguered government warned people to stay away from anti-government protests, saying it had to step up security as the two sides in a lengthy political crisis squared off over who is running the country

24/25 Thailand

An anti-government protester looks at a damaged telephone booth after a grenade attack at a protest site outside Government House in Bangkok. Supporters of Thailand's embattled government warned the country's judiciary and Senate against any attempt to install an unelected prime minister, saying it would be a disaster for the nation that could spark civil war

25/25 Thailand

Anti-government protesters making a fist and waving a giant Thai flag, the symbol of the protest, on top of a truck as they rally outside Thai Parliament in a call for the final battle in Bangkok. Protesters marched on many key sites in Bangkok, police fired tear gas and some protesters have been injured. Protest leaders say they are hoping to strike the final blow at the weakened government and usher in a people's council to reform the government
In a gruff, 20-minute appearance, Gen Prayuth warned the media and social media users to avoid doing anything that could fan the conflict. He also called on anti-coup protesters who have staged small-scale demonstrations in Bangkok and other cities for several days to stop.
"Right now there are people coming out to protest. So do you want to go back to the old days? I'm asking the people in the country: if you want it that way, then I will have to enforce the law."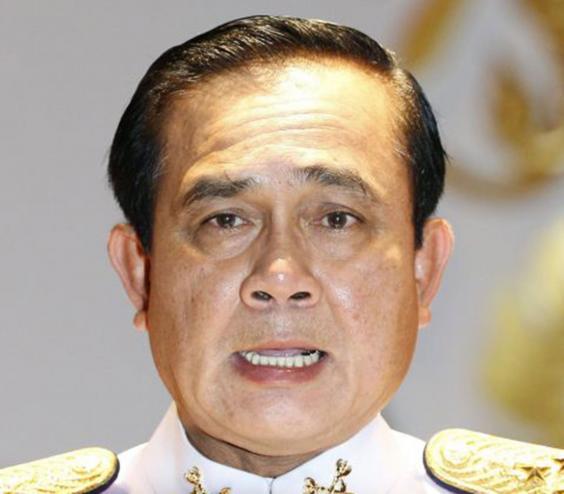 Earlier today, King Bhumibol Adulyadej officially endorsed Gen Prayuth to run the country, in a royal command that called for "reconciliation among the people".
The King, who is 86 and in fragile health, did not attend the ceremony at the army headquarters in Bangkok. But the monarch's statement removed any speculation that the palace, which has been silent so far, might withhold its support for the junta.
Last week's coup, Thailand's second in eight years, deposed an elected government that had insisted for months that the country's fragile democracy was under attack from protesters, the courts and finally the army.
The country is deeply split between an elite establishment based in Bangkok and the south – that cannot win elections – on one side, and a poorer majority in the north that has begun to realise its political and economic power over the other.
Gen Prayuth justified the takeover, saying that "when the conflict intensified and there was the threat of violence, we had to act".
"We have to stop arguing," he said. "The most important thing right now is to keep peace and order."
Since sporadic violence began last November with anti-government protests gathering steam, at least 28 people have been killed in grenade attacks, gunfights and  drive-by shootings.
After declaring martial law on 20 May, Gen Prayuth invited political rivals for peace talks. At the end of the meeting, he ordered everyone detained. Half an hour later, he appeared on state television, declaring a coup.
AP
Reuse content