A British woman could be charged with "indecent behaviour" in a Malaysian court today after being blamed for causing an earthquake by stripping on a sacred mountain.
Eleanor Hawkins, 23, was with a group of 10 backpackers at the summit of Mount Kinabalu who were seen taking their clothes off for celebratory photos on 30 May.
Six days later, a magnitude-5.9 earthquake struck the 13,400ft-high mountain, killing 18 people and leaving hundreds more stranded.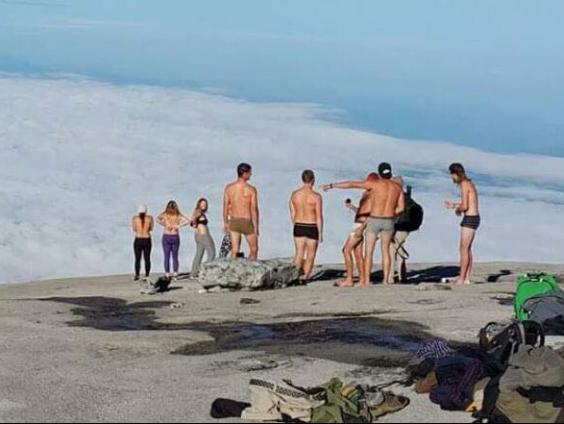 Miss Hawkins was due to appear on Friday at Kota Kinabalu Magistrates' Court and could be sentenced to up to three months in prison.
Her lawyer, Ronny Cham, said: "She may be charged today or have her bail extended. I don't know."
Joseph Pairin Kitingan, the deputy chief minister of Sabah state, was among the politicians attributing the earthquake to travellers showing "disrespect to the sacred mountain".
The tourism minister, Masidi Manjun, later said the idea had been "misconstrued" but claimed the foreigners' actions "were against the people of the largest tribe in Sabah".
The Kadazan Dusun tribe believe the mountain houses their dead ancestors' spirits, conducting rituals to appease them, and guides reportedly tell climbers to treat it with respect.
Yesterday, Miss Hawkins's father said his daughter "knows what she did was stupid and disrespectful and is very sorry for the offence that she has caused the Malaysian people".
He added: "We hope that the Malaysian authorities deal with the misdemeanour and not link it to the unfortunate tragic events that occurred the following week."
Mr Hawkins criticised a "halfwit Canadian guy", 33-year-old Emil Kaminski, for "stirring up a media storm" with offensive comments on social media.
Malaysian newspapers initially reported that he was among the tourists arrested but he has since claimed he was "trolling" because of his anger at ministers' statements and was not in the country.
Miss Hawkins, who recently graduated with a masters in aeronautical engineering from Southampton University, is in the middle of a gap year travelling around south-east Asia that started in January.
A court order allowed her and three other tourists to be detained for four days while they are investigated for indecent behaviour, Sabah state police chief Jalaluddin Abdul Rahman said.
Two Canadian siblings, Lindsey and Danielle Petersen, and a Dutch male surrendered at a police station in Sabah on Tuesday evening.
Additional reporting by PA
Reuse content