Four Isis fighters have been reportedly decapitated and had their heads put on display by the side of a road in a revenge killing by Afghan militia. 
Militants loyal to a powerful Afghan lawmaker placed the severed heads of their opponents on the side of the main road in Nangarhar, in eastern Afghanistan, local officials said on Sunday.
The killings highlight the increasingly brutal violence of the fight between Isis and rival groups as they engage in a bitter power struggle in the region.
Opposing forces include the Afghan National Army, local militias defending their territory, the Taliban, and Isis - the latter of which claims to be annexing the nation to its so-called caliphate across Syria and Iraq.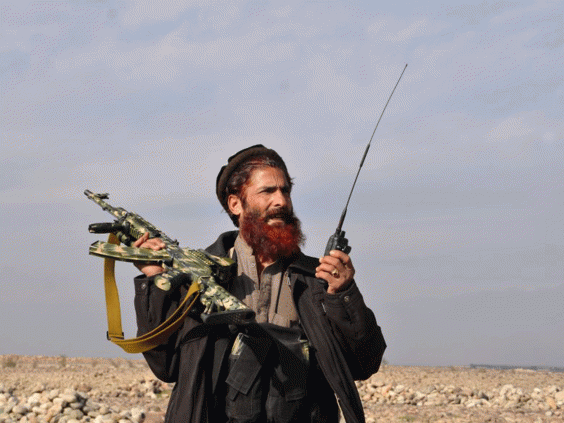 Dozens of members of a local militia force who are loyal to Haji Zahir, the deputy speaker of parliament, have been battling both Taliban and Isls fighters in the district for weeks, after the jihadist group made inroads into the province.
Isis fighters first captured four fighters from the militia, known as Pasoon or "Uprising", and beheaded them. The militias then retaliated, Zahir told reporters.
"Do you think if they behead you, you cook them sweets?" Zahir asked.
In pictures: Russian air strikes in Syria
In pictures: Russian air strikes in Syria
1/10

Volunteers from Syria Civil Defence, also known as the White Helmets, help civilians after Russia carried out its first airstrikes in Syria

2/10

The aftermath of Russian airstrike in Talbiseh, Syria

3/10

Smoke billows from buildings in Talbiseh, in Homs province, western Syria, after airstrikes by Russian warplanes

AP

4/10

Russian Air Forces carry out an air strike in the ISIS controlled Al-Raqqah Governorate. Russia's KAB-500s bombs completely destroy the Liwa al-Haqq command unit

5/10

Caspian Flotilla of the Russian Navy firing Kalibr cruise missiles against remote Isis targets in Syria

6/10

Caspian Flotilla of the Russian Navy firing Kalibr cruise missiles against remote Isis targets in Syria, a thousand kilometres away. The targets include ammunition factories, ammunition and fuel depots, command centres, and training camps

7/10

Russia claimed it hit eight Isis targets, including a "terrorist HQ and co-ordination centre" that was completely destroyed

8/10

A release from the Russian defence ministry purportedly showing targets in Syria being hit

9/10

A video grab taken from the footage made available on the Russian Defence Ministry's official website, purporting to show an airstrike in Syria

10/10

Russia launched air strikes in war-torn Syria, its first military engagement outside the former Soviet Union since the occupation of Afghanistan in 1979. Russian warplanes carried out strikes in three Syrian provinces along with regime aircraft as Putin seeks to steal US President Barack Obama's thunder by pushing a rival plan to defeat Isis militants in Syria
Ataullah Khoqani, a spokesman for the provincial governor, said Afghan government forces were not involved in the incident and that the incident is being investigated.
In a sign of Isis's growing reach, its fighters have taken to the airwaves in a radio show called "Voice of the Caliphate" in Nangarhar to win recruits among young Afghans.
Last week, local authorities said they had blocked the broadcast but Zahir said the 90-minute daily Pashto language broadcast was still operational.
Isis is a relatively new force in Afghanistan and there is some dispute about how strong it is, how many members it commands and how closely they are linked operationally to the movement's main arm in Iraq and Syria.
Last week, the commander of international forces in the country, US general John Campbell, said there were between 1,000 to 3,000 members of the Isis movement in Afghanistan and he said its influence would spread if left unchecked. 
Reuse content