Journalists have said they fear for the future of Hong Kong's press freedom after the vicious stabbing of a former newspaper editor known for his fearless investigative reporting on mainland China.
Kevin Lau Chun-to was left fighting for his life on Wednesday after he was stabbed in the back and legs, with wounds so deep that his chest cavity and vital organs were exposed.
Police sources described the attack on Mr Lau, 49, recently removed from his post as editor of Hong Kong newspaper Ming Pao, as a classic triad-style hit meant as a "warning" rather than to kill. No arrests have been made.
Speaking today, Mr Lau's wife Vivian said his condition was stable after life-saving surgery, and he can now communicate in writing. He remains in intensive care.
Speculation has been rife that the attack on Mr Lau, described by friends and colleagues as "gentle" and a "reserved academic", was related to his investigative work in collaboration with the International Consortium of Investigative Journalists (ICIJ) into the offshore assets of thousands of mainland Chinese and Hongkongers, including some related to China's leaders.
This included uncovering confidential files on relatives of Chinese President Xi Jinping, former Premier Wen Jiabao, and several members of China's National People's Congress. The ICIJ however said they were not aware of any evidence linking the attack to the investigation.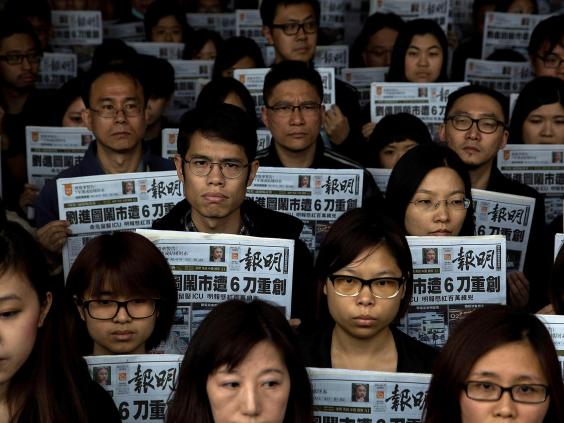 Hong Kong Journalists Association vice-chairwoman Shirley Yam, a long-time friend of Mr Lau's, said: "The whole thing is outrageous, that someone can chop up a journalist in broad daylight. We strongly believe that with his job, where invisible interference has already come by removing him as chief editor, he has antagonised someone."
Hong Kong lawmaker and former journalist Claudia Mo Man-ching said: "We have to take it very seriously. The Hong Kong government is kowtowing to pressure from Beijing. [Hong Kong Chief Executive] CY Leung is conveniently ignoring the call for legislation for the freedom of information act in Hong Kong while he is getting what he calls a 'stalking law' through, which would harm press freedom, as journalists would not be allowed to stalk politicians, himself included."
Media organisations have condemned the attack, with students and journalists coining the phrase "You can't kill us all" as an expression of their defiant solidarity. An anti-violence march by journalists and other supporters to government offices under this banner is planned for Sunday.
Bob Dietz, Asia coordinator for the Committee to Protect Journalists said: "I'm not prepared to immediately link the attack to Lau's reporting on China, but I do think there is a growing chilling effect on journalists and media houses in Hong Kong, and that pressure is coming from China."
Francis Moriarty, vice president at the Foreign Correspondents' Club Hong Kong, said: "An attack on him is an attack on all of us."
Reuse content