Unshaven, overweight and dressed in black, Rurik Jutting was flanked by Hong Kong police officers as he arrived in court today.
He stared blankly ahead – apparently emotionless.
The 29-year-old Cambridge graduate's descent from a British banker working in the heart of Asia's finance industry, to a man accused of murdering two Asian women in the former colony was just beginning. The killings have been the talk of Hong Kong and the wider world.
Police were called to a luxury flat in the Wan Chai district, near the city's financial heart, early on Saturday morning. That flat belonged to Mr Jutting, who reportedly had worked in structured equity finance and trading at Bank of America Merrill Lynch since July of last year. There they found a naked woman, believed to be aged somewhere between 20 and 30, with stab wounds to her neck and buttocks. She was pronounced dead at the scene.
Hong Kong murders: British banker Rurik Jutting charged with the murder of two women
Hong Kong murders: British banker Rurik Jutting charged with the murder of two women
1/5 Hong Kong murders

British banker Rurik Jutting (L) leaves the Eastern Magistrates Court in a prison van accompanied by a prison guard, at Sai Wan Ho, Hong Kong, China

2/5 Hong Kong murders

The British expatriate Rurik Jutting being taken to court in Hong Kong, where his lawyer suggested he may co-operate with police over the two murder charges he is facing

AFP/Getty

3/5 Hong Kong murders

One of the women found discovered at the flat in the Wan Chai district was found inside a suitcase

Reuters

4/5 Hong Kong murders

Forensic police working in the Hong Kong flat where the bodies of two women were found

AP

5/5 Hong Kong murders

A general view of a high-rise apartment building (C) where the bodies of two women were found, at Hong Kong's Wan Chai district
Another chilling discovery was to come. Hours after their initial arrival at 3.40am, officers then found a second woman's body in a black suitcase on the apartment's balcony. It was reportedly wrapped in a carpet. "We believe the woman had been dead for quite some time," Wan Siu-hung, the Wan Chai assistant district commander for crime, told the South China Morning Post.
That woman was named as Sumarti Ningsih, a 25-year-old Indonesian woman who entered Hong Kong on a tourist visa last month.
An Indonesian consulate spokeswoman, Sam Aryadi, said Ms Sumarti came from the city of Cilacap in central Java. He said the consulate was working with Hong Kong police to find out more about the second victim.
Local media reports and Eni Lestari, an adviser with the Association of Indonesian Migrant Workers in Hong Kong, also indicated that the second woman was Indonesian.
She has been named in reports as Jesse Lorena, who, it is claimed, told friends hours before the killing that she was going out to "have fun".
Yesterday, Mr Jutting's temporary lawyer, Martyn Richmond, said his client "may well co-operate" with a planned police reconstruction at the apartment.
"I do," Mr Jutting responded yesterday when asked whether he understood the charges against him at the Eastern Court. He declined to enter a plea.
At the same time, Mr Jutting's personal life continued to attract feverish interest. Yesterday, it was claimed he had been previously engaged to another banker before being left distraught when the relationship ended acrimoniously.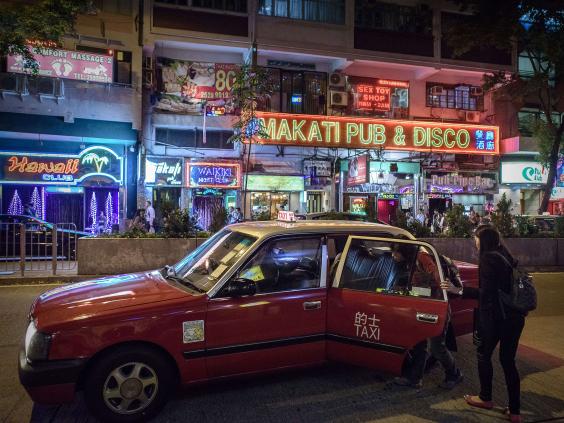 Officers have said that Mr Jutting himself called police to the flat in the exclusive block, where rents average HK$30,000 (£2,400) a month. The night before, as revellers celebrated Halloween nearby, he was allegedly filmed on CCTV returning home with one of the women.
According to Bloomberg, Mr Jutting's office email account had been set up with an automatic reply – apparently written by Mr Jutting – telling contacts he was away from work "indefinitely" and that they should "please contact someone who is not an insane psychopath".
Police teams have been calling at local pubs and strip clubs with a picture of the unknown woman, asking if anyone recognised her.
Mr Jutting's lawyer, Mr Richmond, told the court his client had been interviewed by police as many as seven times. His apartment block is a mere two-minute walk from the area's vibrant nightlife scene, popular with foreign men. It is known for its many brothels, strip clubs and South-east Asian prostitutes soliciting in the street.
Mr Jutting attended the prestigious Winchester College in Hampshire before studying law and history at Peterhouse, Cambridge. He used to work for Barclays Bank in London, according to an online professional profile.
His case has gripped Hong Kong. The city has not seen such a high-profile crime involving one the tens of thousands of expats who live there since the so-called "milkshake murder" case of 2003 when a US expat housewife, Nancy Kissel, was convicted of bludgeoning her banker husband Robert Kissel to death after giving him a strawberry milkshake laced with a sedative.
She is serving a life sentence for killing Mr Kissel, who also worked at Merrill Lynch before it was taken over by Bank of America.