The only question opposition legislator U Win Htein asked Parliament last session was for permission to remove his silk turban, saying it was causing him headaches and hair loss.
The 72-year-old, known for his irreverent sense of humour, admits he was just teasing. But the speaker shot him down just the same.
The civilians elected to Burma's legislature are required to wear hats when taking the floor. The appointed military members are not.
Hats hold meaning in the country, embodying political allegiances, accomplishments and failures of a nation transitioning from a half-century of dictatorship to democracy.
The dress code in parliament's two chambers, based on old laws of the bygone king's courts in Mandalay, reflects the major political camps and the legislature's ethnic make up.
Military members distinguish themselves from their civilian counterparts with a conspicuous absence of both headwear and elections. Men in uniform are appointed to a quarter of the 664 seats by armed forces chief Min Aung Hlaing.
The Burman majority don a silk-wrapped, cane-frame turban known as a gaun baung, which has come to symbolise the nascent civilian government. Ethnic minorities wear everything from feathers and claws to tea towels. The most famous legislator, Aung San Suu Kyi, wears white flowers.
U Myat Ko, of the ruling Union Solidarity and Development Party, says his proudest achievement in Parliament is wearing his hat: a cane bowl adorned with wild boar tusks, hornbill feathers, a mountain goat's red mane and the fur and claws of a sun bear. It's about 2ft tall, more than a century old and attracts insects. His ancestors hunted the animals.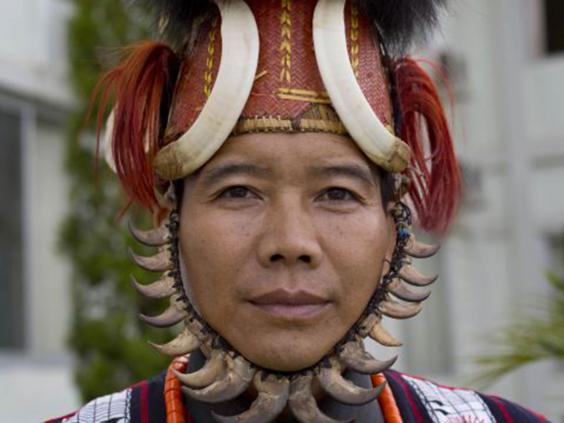 "I wouldn't take off my hat no matter how bad the headaches get," Mr Myat Ko says. The mere fact that the hat is in Parliament, representing his ethnic group, The Nagas, is a mark of progress for him. The Nagas are a collection of at least 66 different tribes inhabiting the mountains straddling the Burma-India border, are known as fearsome, headhunting warriors
Like the hats, political allegiances in Parliament are as complicated as they are colourful. Ms Suu Kyi, leader of the opposition National League for Democracy party and Nobel Peace laureate, spent decades under house arrest. She now sits alongside her former captors, in turns scolding or praising the military.
Meanwhile, the military is even better represented than the 166 hatless heads would suggest. Many of those wearing the gaun baung of the Union Solidarity and Development Party are retired men of uniform.
The military sees itself as the glue that binds the country and, perhaps counterintuitively, the arbiters of peace in the world's longest running civil war. The posting to Naypyitaw's parliament is seen as unglamorous, as it's not well paid and offers no chances for promotion.
President Thein Sein, a retired general, has promised a ceasefire ahead of the 2015 election. Ethnic armed groups have proven tough negotiators despite clashes with government forces.
U Win Htein typifies Parliament's web of paradoxes. A close friend of Ms Suu Kyi and a member of her party, he, too, was a soldier, under socialist dictator General Ne Win.
Mr Win Htein was erroneously accused of being an accomplice in an assassination plot against Ne Win and forced to retire in 1976. In 1988 Mr Win Htein joined Ms Suu Kyi's party and was soon imprisoned. The jovial politician says he tries to avoid meetings with the leadership, explaining that their relationship is complicated enough.
"I was senior to them when I was in the army," he says with a mischievous smile, referring to the president and other major players. "They call me ako gyi (big brother) when we meet."
So, having moved from military uniform to gaun baung, at least in parliament, he has to wear his dreaded hat.
AP
Reuse content