The Dawnlight, a steel-hulled bulk carrier with large grey cranes, looks no different from the other container ships that ply East Asia's busy shipping lanes, heading in and out of the bustling port of Singapore.
But it is not just any container ship: the Dawnlight has been suspected of illegal dealings with North Korea. It was blacklisted by the US last year because it was previously owned by a Singapore company alleged to have helped Pyongyang with its weapons programme, but it still shuttles between Singapore and the Korean peninsula, with occasional diversions to China. 
Its ultimate destinations were unclear, though, because even on trips when the crew logged a North Korean port as its goal, radar and satellite data showed it appearing to turn around off the coast of South Korea and return without having called at a port. The Dawnlight's previous owners insist the ship has carried only commercial cargo. The new Hong Kong-based owner could not be reached.
While international sanctions against North Korea prohibit trade involving goods such as those that could be used in weapons programmes, general commercial trade is permitted. And with its nascent market economy, the country has much reason to do business abroad. But inspection regimes in the region's busy ports are selective, making it hard to determine what is being shipped to North Korea.
As the global community considers how to punish Pyongyang for last month's nuclear test and this month's long-range rocket launch by further isolating it from the outside world, and specifically by cutting off its access to outside nuclear and missile technology, shipping is emerging as a focal point.
Japan has barred North Korean ships from its ports. South Korea, which already bans North Korean-flagged ships, is also considering extending this blockade to include vessels that have recently called at the northern half of the peninsula. "Doing this would also be for our own protection," said Chun Yung-woo, former national security adviser. "Ships are the best way North Korea has for delivering nuclear weapons."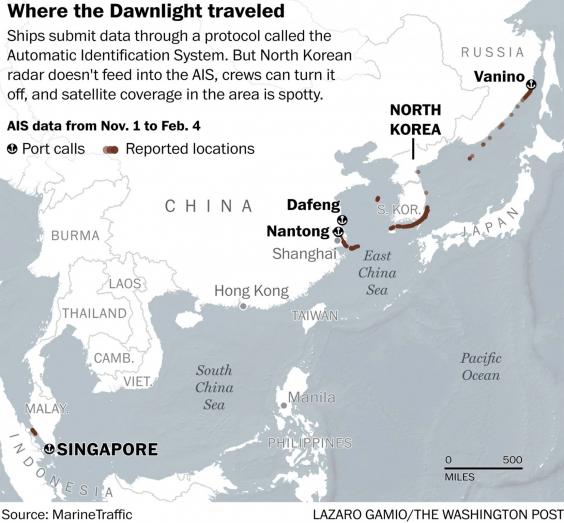 But the difficulty of monitoring the Dawnlight underlines the limits of sanctions. The ship could be operating entirely legitimately. But the questions remain: what is it carrying? Where is it going? And who owns it? China is by far North Korea's largest trading partner. But most of the goods heading to North Korea come through South-east Asian trans-shipment hubs. 
Singapore, one of the biggest, relies on speed to maintain its competitive edge. Cargo lists are not publicly available, and inspections are generally conducted only when there is intelligence to suggest a breach of international sanctions.
Tracking ships travelling to North Korea is inherently challenging, because the North does not have radar stations that feed into international tracking systems.
Although it is against international regulations, a ship's crew can turn off satellite systems, ensuring that it will not be tracked. On some of its voyages, the Dawnlight generated extremely limited data even in areas far from the Korean peninsula with reliable radar and satellite coverage.
"We generally ignore unilateral sanctions," said a former Singaporean official.
© The Washington Post
Reuse content