A huge explosion has ripped apart a toxic chemical factory in China, with hundreds of firefighters battling the flames.
An explosion in the pumping station of the Dragon Aromatics site, in the eastern Chinese city of Zhangzhou, Fujian province, at around 6.56pm (local time) yesterday evening was the second to hit the factory in 20 months.
At least six people – four of them firefighters – have been hospitalised fighting the blaze, which the provincial government website reported as under control this morning.
Footage captured by nearby residents, broadcast on China Central Television, shows flames billowing into the sky as approximately 430 fire-fighters battle the fire.
Other news agencies claimed that the blast from the paraxylene (PX) factory, a flammable chemical used in plastics and polyester manufacturing, could be felt as far as 50km away. Windows in houses and factories as far as 1km away were reportedly broken in the blast.
The explosion comes following protests from residents over the PX factory.
PX factories are highly controversial within China. The Dragon Aromatics site was moved from its original site – outside Xiamen – following NIMBY (Not In My Backyard) protests.
The US Environmental Protection Agency has claimed the chemical may cause harmful side effects and can be dangerous is inhaled or absorbed through the skin, damaging abdominal organs and the nervous system.
"The people of Xiamen were right," one Weibo (China's most prevalent social media site) user wrote yesterday after the explosion.
Chinese social media erupted following the explosion, with many taking to the relatively unregulated site to share images and videos of the damage.
No chemical leaks or traces have been detected in the nearby villages downwind of the wind, the South China Morning Post reported, but added that much of that area was deserted.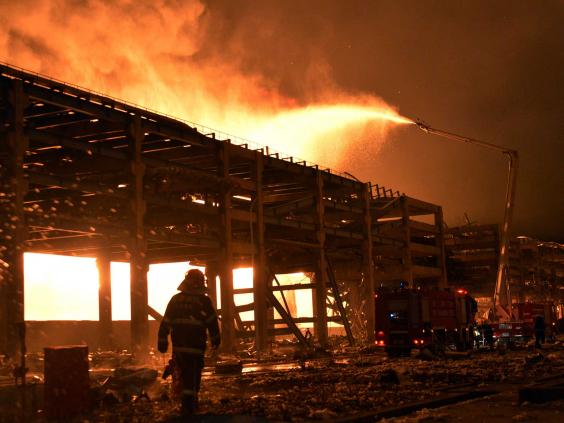 Many residents left after the first explosion at the plant about two years ago. There were no reported casualties or toxic leaks.
Witnesses told the Beijing News that this time around, residents up to 18km from the plant had been evacuated. The six people hospitalised are believed to be in a stable condition.
Additional reporting from Associated Press
Reuse content