Thousands of families in a shanty town had to flee their homes on New Year's Eve after celebratory firecrackers believed to have been set off by children caused a devastating fire that killed at least three in Manila, Philippines.
Flames that ripped through the whole community for six hours were fanned by strong winds as fire crews attempted to put out the blaze that burnt a half mile-long row of houses and shacks in the suburban area of Quezon city yesterday night, said village officer Noel Carino.
"It's really a tragic way to welcome the new year," he said of the fire that is one of at least 17 that have broken out across the country around the New Year despite a government campaign against the possession of powerful firecrackers.
Police arrested 15 people for selling illegal fireworks and nine, mostly teenagers, for "several violations of the pyrotechnics law" during an inspection on Monday, the Philippine Star reported. Breaking the law can be punishable by a fine between 20,000 and 30,000 Philippine pesos, around £290 to £430, and six to 12 months in prison.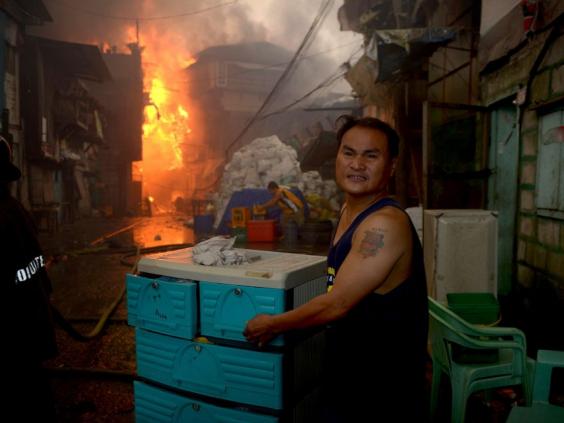 Bureau of Fire Protection spokesman Renato Marcial is reported by Associated Press to have said that houses, mostly shanties and huts, were destroyed and approximately 4,000 poor families are displaced. At least seven people died in two of the reported fires, Marcial added.
Firefighters found the body of a woman and two other residents who died in the shanty town, where the alleyways were so narrow that crews encountered trouble in manoeuvring their equipment.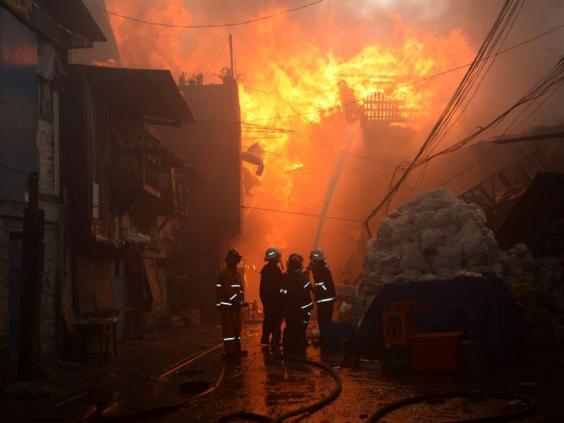 Three people were injured, including a firefighter, whose three fingers were ripped off by metal shrapnel that flew around when a cooking gas tank exploded, the Bureau of Fire Protection said.
Residents carried their vital belongings out of their lodgings with rescuing cats and dogs from the blaze, which is said to be one of at least 17 that have broken out in the country around the New Year, across a river with makeshift floating devices.
The Department of Health reported Thursday that more than 350 people were injured by firecrackers and celebratory gunfire in recent weeks and on New Year's Eve.
Reuse content