In a narrow lane in Old Delhi, four members of the Nagar family were engaged in something of a disagreement.
Sagun Nagar's mother, father and grandfather were planning to vote for the ruling Congress party. He, on the other hand, was trying to persuade them to put their support behind a new, grass-roots party that had targeted corruption and whose leader believes India requires a revolution.
"This is Chandni Chowk, it's the oldest part of Delhi," said Mr Nagar, a 26-year-old software developer, as he smiled to his family members. "And you can see that some people here have old-fashioned views."
Tens of millions of Indians on Thursday headed for the voting booths on the most important day so far in the country's month-long process to select a new government. Around 110m voters were registered to vote in 92 constituencies - about a fifth of the total number of seats in India's parliament. Reports said in many places the turn-out had increased by more than 10 per cent, suggesting an electorate that was enthused.
Among the seats were many in the battleground states of Uttar Pradesh (UP), Bihar, Maharashtra and Madhya Pradesh. Voters also cast their ballots in seven constituencies located in the nation's capital, Delhi, which have previously acted as a bell-weather for the rest of the country. Around half of the 92 seats are are currently held by the Congress party.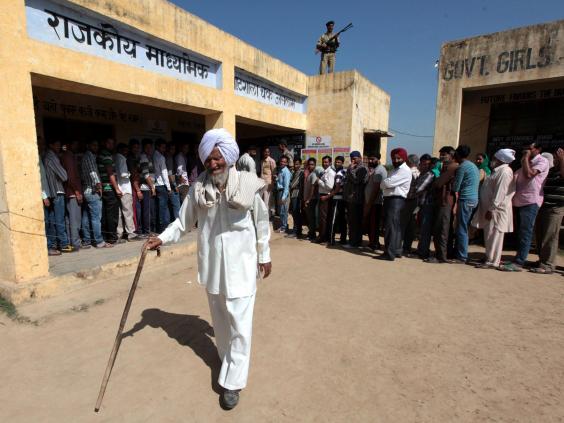 The Chandni Chowk constituency takes in much of Old Delhi, the 17th Century walled city built by Emperor Shah Jahan. Even today it remains a world apart; tiny twisting lanes, the sounds from tethered goats, a general crush of people, and traditions and trades that have continued largely unchanged for more than 400 years. The population of the area is at least 20 per cent Muslim.
The sitting MP, Kapil Sibal, is a Congress minister. But experts say that in a three-way battle, he faces a tough challenge from the Bharatiya Janata Party (BJP) and the Common Man Party (AAP), which Mr Nagar favoured. The AAP's leader, Arvind Kejriwal, stunned observers last year by winning power in the Delhi provincial election, only to resign as chief minister after 49 days.
"They are the only party that are interested in giving power to the ordinary people," insisted Mr Nagar. "All the other parties have candidates with criminal records. But the AAP has expelled any candidates. Today we have another option."
The young man's impassioned plea was making little impression on his family members. All of them said they voting for Congress, one of the oldest political parties in the world. "It's an old party. It has its own ideology," said his father, Mahendra Chandar Nagar, a lawyer. "Secularism in the main ideology – keeping India's united."
The debate that was taking place among the Nagar family was being played out in numerous similar conversations being held across India's capital yesterday as people debated and discussed the choice of the candidates on offer. The capital's roads were quiet and there was an air of a holiday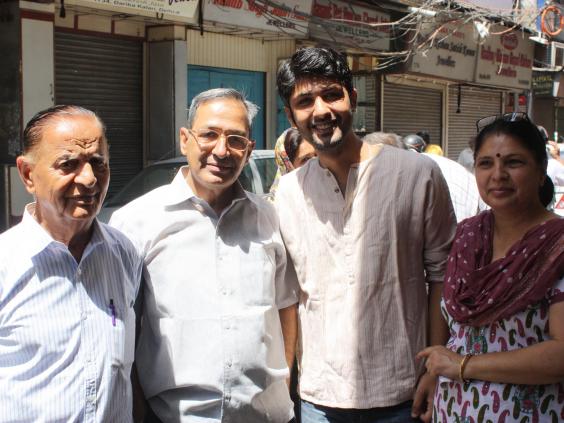 Most of the conversations appeared to be civil - certainly more polite than the increasingly toxic campaign being waged by some of the candidates of rival parties – though some were more pointed. A number of people said they intended to vote for Narendra Modi, the BJP's candidate for prime minster, and who consider to be the favourite.
"Narendra Modi is going to be the prime minister. I have seen what Modi has done in Gujarat," declared 52-year-old Kousik Pandya, who runs an electrical shop in the Chandni Chowk market, directing his comments to a man who had revealed he had backed Congress. "There are roads, infrastructure and honest administration."
Thursday was the third of nine days of polling that are taking place over a five-week as India elects a new government. But the first two days of polling, on Monday and Wednesday, involved just seven constituencies, located in the nation's north-east.
By contrast, the 92 constituencies in play in the third phase of voting were spread across 14 states and involved some of the most crucial contests. Among them were ten seats in the west of UP, where the BJP must win big if Mr Modi is to succeed in his ambition.
The polling day with the biggest number of constituencies involved will be April 17 when a voters cast their ballots in 122 seats. On April 24, 117 seats will be decided. The results of the election are due to be announced on May 16.
"The third phase is important because it involves states where the BJP must do extremely well if it is to get the numbers it needs to form the next government. For instance, Delhi, UP and Haryana," said Milan Vaishnav, an India expert at the Carnegie Endowment in Washington.
"In the first two phases involving states in the north-east, the BJP is not much of a player. The BJP needs to run the tables in the Hindi heartland if it is to get Modi the seats he needs to be PM."
While voters in Chandni Chowk talked about issues such as development and corruption which have dominated the campaign at a national level, many also referred to local problems. Poor roads and an irregular supply of water and electricity in an area where infrastructure is utterly overloaded by the sheer numbers of people, were the most pressing.
On Thursday evening it was reported that in many constituencies turn-out had leapt since the last parliamentary election in 2009. India's Election Commission said that in Muzaffarnagar in UP, an area that last year saw deadly communal violence, turn-out had increased by 12 per cent to around 69 per cent. Meanwhile in Delhi, turn-out was 64 per cent, up from 52 per cent in 2009.
Some analysts had said they believed the higher numbers could indicate a greater sense of anti-incumbency, though not everyone agreed. Yet while exit polls have been banned by the authorities, analysts do believe the anecdotal feedback from interviews with voters can give some insight into the mood. "The third phase provides early indications of which way the wind is blowing," said Swapan Dasgupta, a conservative journalist and broadcaster.
In Old Delhi, Saurabh Jha, a 24-year-old studying for India's elite civil service exams, appeared sure the way things were going. Dismissive of the Congress party, he said Mr Sibil, the sitting MP, had done nothing for Chandni Chowk.
He said young people struggled for access to high school and college. He claimed that like him, his fellow students studying for the Indian Administrative Service tests, were planning to vote for Mr Modi.
"Modi has done a lot of good work in Gujarat. We only ever hear he is doing good, " said Mr Jha, whose father is a priest at a Hindu temple in Old Delhi. "I think Modi can do that for the whole country."