The Narendra Modi wave has become a tsunami. That, at least, was the claim by supporters of India's Prime Minister after local elections resulted in big gains for his party and a further cementing of his political dominance.
Five months after Mr Modi and the Bharatiya Janata Party (BJP) stormed to a landslide victory election in India's general election, his party secured two impressive performances in state polls in Maharashtra and Haryana. In the northern state of Haryana it did well enough to rule the state assembly by itself, while in the western state of Maharashtra, which includes the commercial capital, Mumbai, it won 122 out of 288 seats and will head the state government.
In both states the once-dominant Congress party was reduced to third place. The party that long reigned supreme under the control of Jawaharlal Nehru and his daughter Indira Gandhi looks increasingly sidelined and its fortunes could yet slip further.
"There is still a Modi wave that is like a tsunami," the BJP's president and campaign manager, Amit Shah, told Reuters. Mr Shah, who has three murder charges outstanding against him, added: "Today's results give a seal of approval to the Modi government over the past four months, and prove that our countryfolk recognise Modi as an undisputed leader of India."
The results underscore the continuing appeal of Mr Modi, who had campaigned earlier this year on a platform of growth and development. They also highlight the political savviness of Mr Shah, Mr Modi's most trusted aide.
The result will mean the next flurry of entrants into the upper house of India's federal parliament will be BJP members, allowing the government to push forward more easily with new legislation.
Yet some commentators claimed the elections were most significant for marking the moment that the BJP replaced Congress as India's national party.
"The most important thing is that the BJP has replaced Congress as the pan-Indian party," said Swapan Dasgupta, a conservative commentator. "The Congress is still very important, but at one time they were the dominant, pan-Indian force."
Congress, headed by Sonia Gandhi and her son Rahul, could fall further yet. Ashok Malik, another analyst, said it was likely Congress would lose control of the state assembly in Assam during the next polls. "They are down to just a handful of states," he said.
The performance of Congress has added to the already intense scrutiny of Mr Gandhi, the 44-year-old grandson of Indira Gandhi. While he was never officially named as the Congress party's prime ministerial candidate, he headed the recent general election and suffered in comparison to the dynamic Mr Modi, who was 20 years his senior.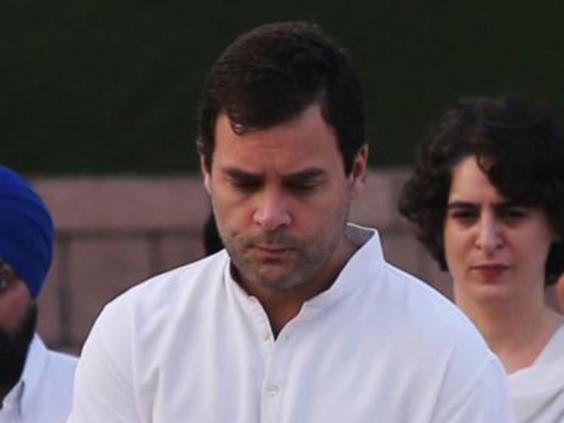 Half-hearted efforts by the party to try and analyse why its traditional, paternalistic campaign was not effective among an increasingly aspirational public, have deflected criticism from Mr Gandhi and his mother, who is in poor health. In the aftermath of the election drubbing, Mr Gandhi said: "We accept the verdict of people. People have voted for change, after 15 years of our government in Maharashtra and 10 years in Haryana."
Observers have said the party's fortunes are only likely to be revived once the party has an honest examination of why Mr Gandhi failed to attract sufficient support.
"Congress is still on a downward spiral," said Professor Katharine Adeney of the University of Nottingham. "Coming third in these elections was a very bad result for the party, which has not taken any serious steps to rejuvenate itself since its disastrous result in May."
Supporters of Mr Modi hope the strong results will encourage him to push forward with a series of economic reforms. While his first five months in office have been steady and have seen a series of successful foreign trips, there has not been the flurry of domestic reforms that some were hoping for.
At the weekend, Mr Modi made alterations to his economic team, replacing the top civil servant at the Finance Ministry and hiring US-based economist Arvind Subramanian as his chief economic adviser. His government also scrapped diesel price controls and raised the cost of natural gas, giving market forces greater sway as it seeks to attract energy investment, boost competition and cut subsidy costs.
Reports said Mr Modi may also soon expand the size of his cabinet in an effort to increase efficiency. At the moment, Arun Jaitley is handling both the Finance and Defence portfolios, a situation that has been widely criticised.
"The victories certainly will give Modi more scope for pushing reforms, particularly at the state level where BJP-ruled states will fall in line with his policy vision," said Milan Vaishnav of the Carnegie Endowment in Washington.
Reuse content