A fifth suspect has been arrested in connection with the brutal gang-rape and murder of two teenage girls in northern India, police have said.
The arrest came early on Saturday morning, police officer N Malik said.
Among the five suspects are two policemen accused of dereliction of duty and criminal conspiracy. Police are continuing to hunt for two others.
The two girls, cousins aged 14 and 15, were attacked after leaving their home to relieve themselves on Tuesday night; they were allegedly gang raped and hung from a mango tree where their bodies were discovered the following morning.
Relatives and villagers have accused the police of being slow to respond to the shocking crime.
The two girls were members of the low-caste Dalit community, previously called untouchables. Campaigners say Dalits are often the victims of sexual violence, but police do not take the crimes seriously.
Amid the fierce criticism, officials in Uttar Pradesh state – which has a long reputation for lawlessness – arrested the two police officers and fired two more Friday for allegedly failing to investigate when one of the girls' fathers reported them missing.
The three other arrested men are cousins in their 20s from an extended family, and face murder and rape charges, Malik said – crimes punishable with the death penalty.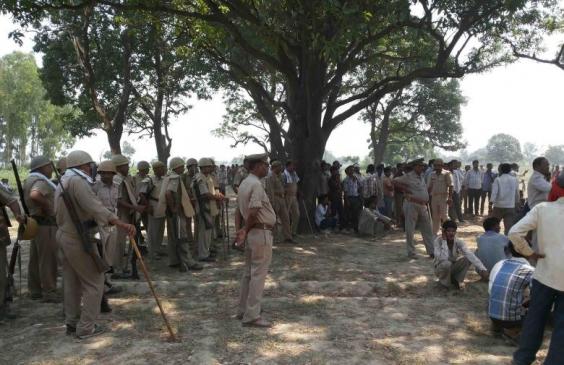 Around 25,000 people are raped in the 1.2 billion-strong nation each year, according to official statistics. But activists say that number is likely much higher, as women feel pressured to stay silent about sexual assaults.
Indian police and politicians have faced growing public anger against sexual violence in the country after a woman was gang-raped and murdered on a bus in New Delhi December 2012.
And there have been a string of high-profile attacks in just the past few days in Uttar Pradesh.
On Thursday, police arrested three men over a brutal attack on the mother of a rape victim after she refused to withdraw her complaint.
The attack, in the town of Etawah, followed the rape of the woman's teenage daughter earlier this month. A local man was arrested after the mother filed a complaint with authorities.
Five men – including the father, a brother and a cousin of the man accused in the rape – allegedly followed the victim's mother away from her house on Monday and beat her relentlessly, demanding she drop the accusation, said Dinesh Kumar, the town's police superintendent. The mother was in critical condition in a hospital, with numerous broken bones and internal injuries.
Police arrested three men on Thursday over the attack and were looking for two others.
On Wednesday, a 17-year-old woman was attacked in a field and raped by four men in southwestern Uttar Pradesh, police said. One man has been arrested.
Additional reporting by Associated Press
Reuse content