Outside Delhi's busy Nizamuddin railway station, red-shirted porters take turns to shelter under trees from the fierce afternoon sun.
But their respite is short-lived, as like millions of other workers across India, they have no choice but to brave the deadly heatwave that has enveloped huge swathes of the country, in order to make ends meet.
"It's very difficult in the heat, but I am doing this hard work for my family," says Akram Khan, 24, drenched in sweat as he vies to carry passengers' luggage for small change.
The heatwave that has engulfed much of India for the past two weeks has killed more than 1,800 people, largely in the southern states of Andhra Pradesh and Telangana, where thousands have arrived at hospitals suffering from sunstroke or severe dehydration.
While hot weather is common in India's summer months of May and June, the length and intensity of the extreme temperatures – as high as 47 deg C (116 deg F) in parts of the country, has caught authorities off guard.
People across India are reporting scorched crops and dying wildlife, with some animals succumbing to thirst. Indians are doing whatever they can to beat the heat, including staying in the shade, plunging into rivers, and trying folk remedies such as drinking buttermilk and onion juice – or even plain water.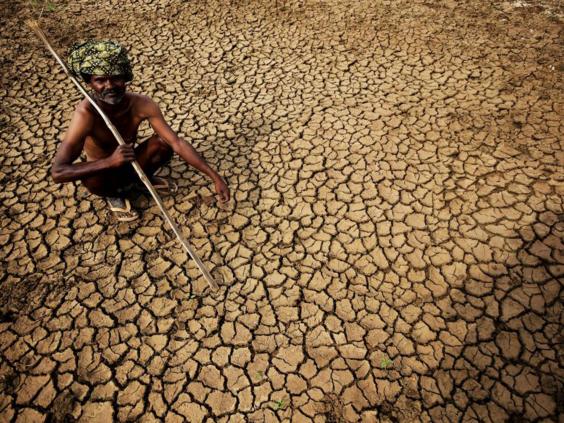 State governments have cancelled all leave for doctors, set up water distribution points and urged people to stay indoors rather than risk the blistering daytime heat.
But their pleas have fallen on deaf ears for those such as farmers, construction workers and outdoor traders, whose livelihoods depend on being outdoors, whatever the weather, even if their potential customers have decided to stay away.
They are at the most at risk,  along with the impoverished elderly, without no access to air conditioners or sometimes even shade trees.
"Business is not good. I am not able to earn money for food," says Bisram Saxena, a visibly flagging cycle-rickshaw puller in a busy market in south Delhi.
It's a similar story from ice-cream sellers at India Gate, Delhi's imposing war memorial whose grounds are usually teeming with visitors, but where recently crowds have been thin. While maintenance staff try in vain to water the parched grass, children cool off in the murky waters of nearby fountains.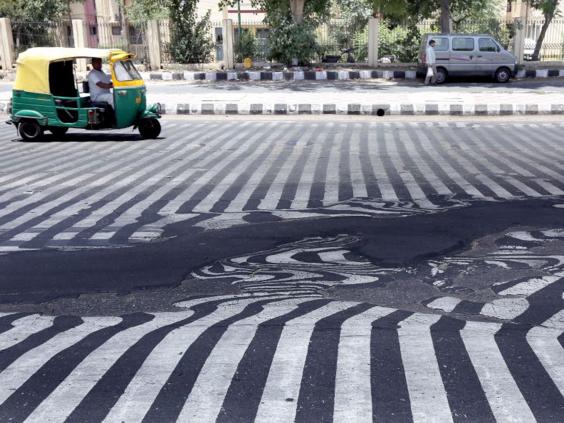 Elsewhere, wealthier Delhiites driving cars are offered fizzy drinks at petrol pumps, while those on foot are surviving by nipping in and out of air-conditioned cafes or shops – a reprieve only available to those that can afford it. "We recharge in the AC. No matter how much fun we're having outside, we have to take a break," said 17-year-old student Akansha Rukhaiyar.
Others are retreating underground, travelling on Delhi's climate-controlled Metro to avoid the extraordinary heat, blamed on hot dusty winds that have blown in from Iran and Afghanistan.
A heatwave in India is officially declared when the maximum temperature reaches 45 deg C, or five degrees higher than the average for the area in previous years. "Last year there were severe heatwaves in Andhra Pradesh. This year has been worse," said Tulasi Rani, a special commissioner of the state's disaster management department. "There have been higher temperatures in a greater number of places; that's why we have had a greater death toll."
Deadly heatwave hits India
Deadly heatwave hits India
1/15 Deadly heatwave hits India

Indian boys playing in a river in Ahmedabad to cool off

EPA

2/15 Deadly heatwave hits India

There are fears that homeless people unable to access water and proper shelter will be worst hit

AP

3/15 Deadly heatwave hits India

A man sleeping in a concrete pipe to escape the burning son in Hyderabad

Reuters

4/15 Deadly heatwave hits India

A man herding his buffaloes into the Daya River near Bhubaneswar

AP

5/15 Deadly heatwave hits India

A motorcyclist avoids a melted part of road in Delhi

EPA

6/15 Deadly heatwave hits India

Indian boys trying to cool down in a fountain in Delhi

AP

7/15 Deadly heatwave hits India

Sheep being herded across a dried-up pond on the outskirts of Delhi

Reuters

8/15 Deadly heatwave hits India

Indian youths frolic in the Sabarmati river in Ahmedabad, India

EPA

9/15 Deadly heatwave hits India

People trying to keep cool at a water park in Hyderabad

AP

10/15 Deadly heatwave hits India

An Indian boy takes a bath at a fountain at India Gate in New Delhi

11/15 Deadly heatwave hits India

A mahout splashes water on his elephant in the river Sabarmati on a hot summer day in Ahmedabad, India

12/15 Deadly heatwave hits India

Indian rickshaw pullers sleeping during a heatwave in Delhi

AP

13/15 Deadly heatwave hits India

The extreme heat is melting the roads in Delhi

EPA

14/15 Deadly heatwave hits India

A 17-year-old boy in hospital with sunstroke and dehydration in Bhopal

EPA

15/15 Deadly heatwave hits India

An Indian farmer sits in his dried up land in gauribidanur village, doddaballapur district, which is very close to Karnataka and Andhra Pradesh border.

EPA/JAGADEESH NV
Meteorologists expect some let-up next week, when much-needed monsoon rains are due to hit the south before they sweep across the country over the following weeks.
Meanwhile in south Delhi, lethargic market stall-holders slump over their wares, repositioning fans and gulping down lassi yoghurt drinks and juices, while listless shoppers roam aimlessly around.
"It's like melting. You feel like your skin is coming off. It's a roasted chicken feeling," said Meghna Bhaskar, a textile designer, mopping her brow.
Reuse content