It would have needed an army of party cadre to count the sea of banners that lined the road to Khowai. They had been placed every six or seven feet and appeared to run for miles. Most of them were coloured red, and bore a white imprint of the Hammer and Sickle.
India on Monday embarked on the start of a massive, month-long series of polls and one of the places to vote first was the north-eastern state of Tripura, a final bastion of the Left. The Communist Party of India-Marxist (CPI-M) has controlled the state government for 21 years and symbols such as the Hammer and Sickle are as commonplace here as they are rare elsewhere.
Among the very first to vote amid the birdsong in the orderly town of Argatala, the state capital, were Putul Dass, 71, and her husband, 78-year-old Mohanda. At a polling station at the Bijay Kumar secondary school Ms Dass was first in the women's line while her husband was second to vote among the men. They had arrived as 6.20am.
"The idea was to get here early and to get it done. Then you can spend the rest of the day like a holiday," said Ms Dass, displaying a purple ink mark on her thumb, but declining to say who she had voted for.
Also voting on Monday morning was the state's chief minister, Manik Sarkar, who is serving his fourth term. The 65-year-old Mr Sarkar was mobbed by the media when he cast his ballot at another school and looked a little surprised to be asked about Narendra Modi, the candidate of the Bharatiya Janata Party (BJP) and the man many believe could be India's next prime minister.
"There is no Narendra Modi wave," he insisted. "This is created by the corporate media because he represents corporate interests."
If the Modi wave that has caught the imagination of much of India has been kept at bay in Tripura, then it is not the only thing. Surrounded on three sides by Bangladesh and with a large population of tribal communities, towns as Argatala have a look and pace that has disappeared in other parts of India. There are no traffic lights, but rather white uniformed policemen control traffic with hand-signs.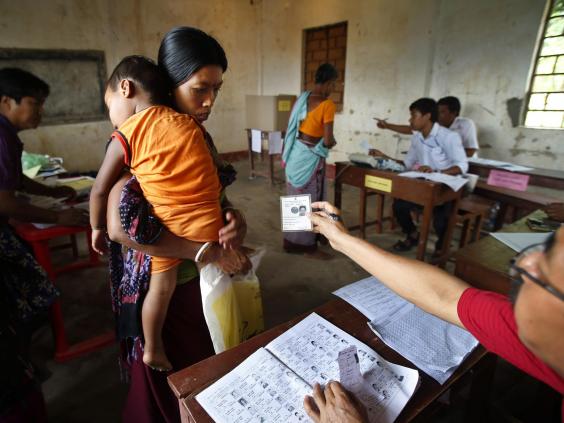 The former princely state was once part of a trio of Indian provincial governments controlled by India's once powerful and influential left. But after West Bengal's Communists suffered defeat in 2010 and those in Kerala forced to enter an alliance with the Congress party, Tripura has become the last redoubt.
At the CPI-M's offices, where the walls bore photographs of the likes of Marx, Lenin and Stalin - but none of Trotsky, "a collaborationist" according to one party worker - senior official Bijan Dhar, said the Left had been reelected because it had delivered to the people
Tripura was a poor state with more than 50 per of its population living below the official poverty line, said Mr Dhar. But figures released by the central government in Delhi showed that Tripura was the most efficient place in India when it came to overseeing welfare schemes.
"This answer is to be obtained from the people. They will tell you," said Mr Dhas, when asked why the CPI-M had retained its appeal in Tripura while losing it elsewhere. "Our struggle is to continue the development of the state."
Tripura's geographic location and the fact that two-thirds of its population are Bengali speakers, has led it to have a close relationship with Bangladesh. In 1971, when a war of independence in what was East Pakistan led to the creation of Bangladesh, thousands of refugees were given shelter here. Meanwhile, each year on 21 February, International Language Day, the land-border is opened to allow people to cross for the day with just a chit.
But Tripura's remote location has hindered it economically. Today it is connected to the rest of India by just one main road and a rail link was only established recently. People complain about having to leave the state to find work and say that those government jobs that are available are only given to those with connections to the ruling party.
"I voted for the party that I believed would best create jobs," said Jasib Saha, a 21-year-old student who voted on Monday morning at Tripura Women's College. He was hunting for a job but believed he would have to leave Tripura to find one. "We need to stop corruption. First at the state level and then at the centre."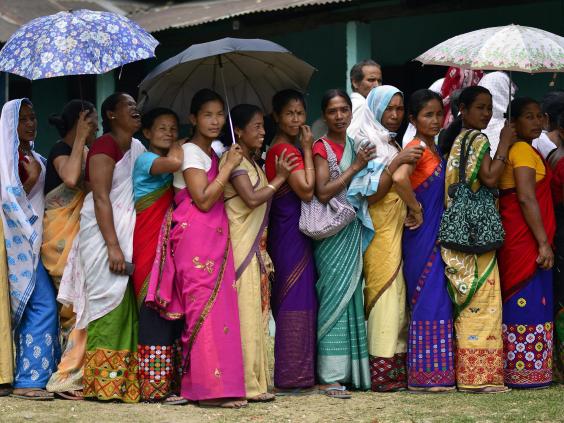 During the 2004 election, the Left secured around 70 per cent of the total vote. By the election of 2009 that had slipped to 60 per cent. Most believe the CPI-M will be reelected this time around, but observers are watching to see whether Mr Modi's BJP, or Mamata Banerjee's Trinamool Congress, make any inroads.
As it is, Tripura has two constituencies - Tripura West, which voted on Monday, and Tripura East, a seat reserved for candidates from tribal communities and which goes to the polls on Saturday. The CPI-M has returned 11 out of the total 15 MPs elected from both constituencies since India's first election in 1952.
Having cast his vote in Tripura West, Mr Sarkar, the chief minister, headed north to Tripura East and the town of Khowai, to deliver an election address to a crowd of around 8,000 people, many of them agricultural labourers. It was presumably ahead of his visit that the narrow road to the town had been prepared with so many red banners.
On a heavy overcast afternoon, in front of an audience of women wearing elegant traditional saris and men in western-style clothes, Mr Sarkar spoke for one hour and two minutes.
He said people were fed up with the corruption of the BJP and the Congress. The only solution was for the people of India to elect a "Third-Front" government. "Tripura has been the torch-bearer of the Third Front. We are an example to the rest of the nation," he said,
After he had completed his address Mr Sarkar told The Independent that despite what the polls suggested, there was a very real possibility that a non-BJP and non-Congress government could be elected.
It had happened several times before, he said, highlighting the examples of Morarji Desai, who served as prime minister between 1977-79, Vishwanath Pratap Singh who served for less than a year between 1989-90, and HP Deve Gowda, who served between 1996-97. "We have been saying we think there will be a non-BJP and non-Congress government," he insisted.
Tripura felt so far away from anywhere, so different to much of India. In the 21 Century, could the Left really still be relevant? "We are still relevant because we are still working for the interests of the peasants, the lower middle-class and the people who have been suffering a lot," said Mr Sarkar. "They know this is a real work."