In the fields of wheat outside of Sikar, change is stirring. Young women, once rarely educated, now go to school, even college, and consider careers and lives shut-off to their mothers.
Yet when it comes to politics, in Sikar, as in many places in the world, it remains largely a man's game.
India returned to the polls on Thursday - the fifth and largest day of voting in the process to elect a government. But in this old desert town, one of 122 constituencies where voting took place, not one of the 15 candidates was a woman. Across 20 seats in the traditional, conservative state of Rajasthan, the figure was 17 out of 239. Nationally, the figure was just 127 out of 1,769.
What's more, of the numerous women interviewed in both Sikar, dotted with traditional stone homes with intricately painted ceilings, and its rural hinterland, it appeared just a few had the chance to cast their vote without the overbearing influence of husbands, fathers or brothers.
"I voted for Modi. I am very excited. He looks like a promising candidate," said Meera Kharra, a 40-year-old physical education teacher who cast her vote early at the Shri Kalayan High School. She estimated that about a third of women made their own voting decisions. "Change will come slowly. And only with more education."
The effort to increase the turnout of women voters has been one of the great success stories of independent India. Since the 1960s, the gender ratio of voters – the figure which contrasts the number of female voters to every 1,000 male voters – has increased from 715 to more than 883.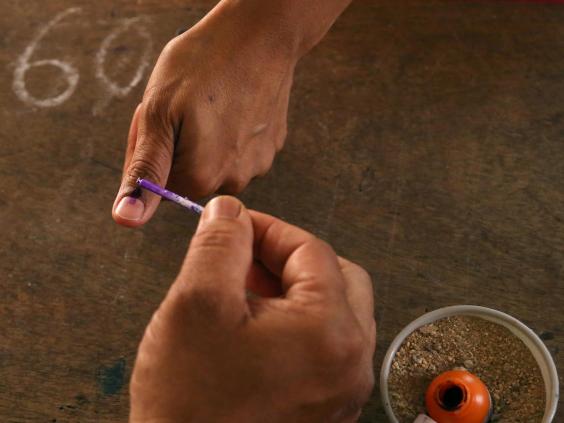 In Sikar, which has a population of around 2.8 million, 942,250 men and 827, 647 women were registered to vote, according to Bharat Lal Meena, a government official. The ratio between men and women here is 1,000 to 929, something campaigners put down to better early care of male children and the prevalence of female foeticide. The district's literacy rate is 86 per cent for men and 67 per cent for women, slightly above the national average.
Sajan Singh, who grows wheat, pulses and fenugreek on rented land on the fringes of the town, was educated only until the age of 16 and his wife, Sumitra, never went to school.
Yet he always wanted his daughter to have a chance. She attended a local school until enrolling in Goenka College in the town of Laxmangarh, where he pays R13,000 (£128) a year in fees. His daughter's daily bus fare is 100 rupees, a third of the daily wages for a field hand in these parts.
"Earlier, education was not important but now people realise it is everything," said his daughter, Sharmila, 20, who is studying geography, history and political science and has her eye on becoming a teacher.
Mr Singh said he tried to ensure his daughter did not work in the fields, where he and his wife cut wheat with sickles, and concentrated instead on her studies. But she had been helping in recent days because she had just completed her exams.
He said all the family would be voting and that a vehicle was being provided by Subhash Maharia, a former minister with the Bharatiya Janata Party, who was running as an independent after the so-called saffron party dropped him as its candidate. All the family members would all be voting the same, he claimed.
Asked why he had invested so much money to educate his daughter and yet still direct which party she should for, he said: "Children are going to do what we advise them. If she was working or got married, she could make her own decisions."
Nationally, few of the parties have had much to say about women ahead of the month of voting. In Delhi, location of the 2012 gang rape of a medical student which many believed would lead to a reassessment of the position of women in India, Mr Modi, the presumed front-runner, has vowed to ensure better security.
The party's manifesto supports a 33 per cent reservation for women in parliament and talks of promoting women's equality. It also refers to creating new IT jobs for women.
India has had no shortage of powerful women political leaders – the late Indira Gandhi, Congress leader Sonia Gandhi, Tamil Nadu Chief Minister Jayalalithaa Jayaram, Mamata Banerjee, head of West Bengal, and even Rajasthan's current chief minister, Vasundhara Raje.
Yet frustration with the way the main parties have allegedly treated women as an afterthought, considered in passing every five years, led campaigners to produce the "womanifesto", six basic points – education that promotes for equality, making laws more efficient, putting women in power, appointing police who serve the people, enacting swift justice and ensuring a flourishing economy - they have urged the parties to adopt.
So far, the Congress, the Common Man Party, the Communist Party of India-Marxist and Ms Banerjee's Trinamool Congress are among those that have agreed to do so.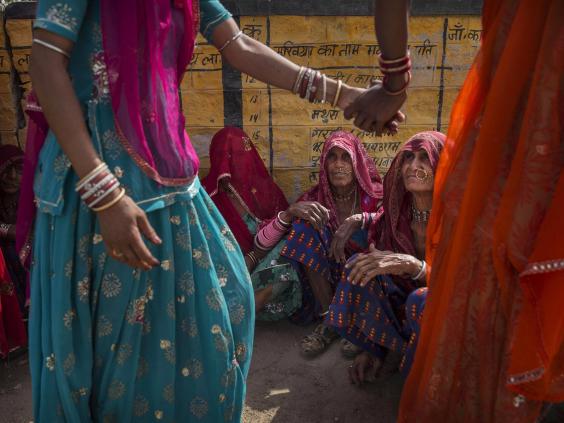 Karuna Nundy, a Supreme Court lawyer and one of those involved in the project, said it was clear the changes people felt might follow the 2012 gang rape had not taken place. "That is why we came together with these six points," she said. "These are the very basic essentials if the parties are going to [claim] to have any legitimacy to women, or to men who care about these things."
In Sikar, the issues discussed most commonly by voters were development, India's place in the wider world and job creation. Local issues included a shortage of drinking water and anger over the transfer of a medical college, reportedly promised to Sikar, to a neighbouring district.
Many Muslims said they would not vote for Mr Modi because of the 2002 killings of Muslims in Gujarat. Among the exception was Wahid Chowhan, a local businessman who had recently joined the BJP and was urging others to do the same. "The BJP is going to be in power in Rajasthan for the next five years, so it is better to work with them" he said.
By contrast, issues that might thought of particular interest to women – safety and welfare schemes – were barely mentioned. Babita, an 18-year-old woman from Piprali village, standing out among a sea of red saris as women voted in a local school, was among those who did. "There are issues for women, both in terms of safety and education," said the college student
One of the leading candidates, Sumedhanand Saraswati, a Hindu leader and social activist who was selected by the BJP following a recommendation from yoga guru Baba Ramdev, acknowledged there were no women competing in Sikar. Yet he claimed women fared better in the area then in other towns.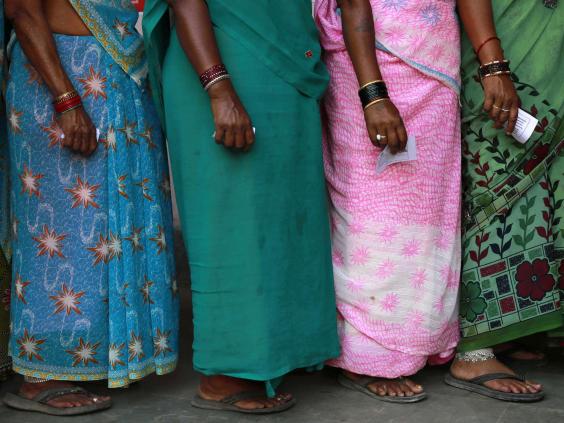 He also claimed there was a wave of support behind Mr Modi. "He has set up Gujarat as an example for the the nation," he said, seated in a quiet park next to a temple dedicated to the deity Krishna
There were certainly many who declared their support for Mr Modi. But not everyone appeared to be supporting him. Nisha Ranwa, who said she was an educationalist, appeared to question what people saw in the BJP leader.
She was also rather unsparing of her fellow female voters. "Women don't have much say here," she said. "It's all about education. But even the educated women women don't have their own say. Their husbands will ring up from overseas – Dubai or somewhere – and tell them who to vote for."
Reuse content