Indian police are investigating the death of the wife of government minister, whose body was discovered in a hotel room the day after she had made a series of dramatic claims that her husband was having an affair with a Pakistani journalist.
Police said the body of Sunanda Pushkar, the wife of minister Shashi Tharoor, was found at the Leela Palace hotel in Delhi. Officer Rakesh Kumar told the Associated Press they were investigating the cause of Sunanda Pushkar's death.
A day earlier Mr Tharoor and Ms Pushkar had issued a joint statement saying they were distressed by the controversy that had played out and were in fact happily married.
The statement followed a bizarre series of events in which Ms Pushkar made allegations that her husband was having an affair with a Pakistan journalist and posted on her husband's social media page a number of messages he had apparently sent to the woman.
The Pakistani journalist, Mehr Tarar, dismissed the claims and said she was surprised that the minister's wife had been making such accusations. Later still, Ms Pushkar, sounding sedated, was interviewed live by a local television channel. On that occasion she said was sticking by her husband.
The death of Ms Pushkar sent shockwaves around the Indian capital as well as through the world of social media where the drama - which with hindsight appears tragic - had originally played out. Ms Tarar, the Pakistani journalist, expressed her shock and dismay at the news of Ms Pushkar's death.
In another twist to the story, Indian media reported on Friday night that Ms Pushkar had claimed that she was suffering from Lupus, an auto-immune disease that can attack any part of the body.
In the joint statement issued by the minister and Ms Pushkar, the pair had claimed that their social media accounts had been used to sent out unauthorised messages.
"We are distressed by the unseemly controversy that has arisen about some unauthorised tweets from our Twitter accounts. Various distorted accounts of comments allegedly made by Sunanda have appeared in the press," it said.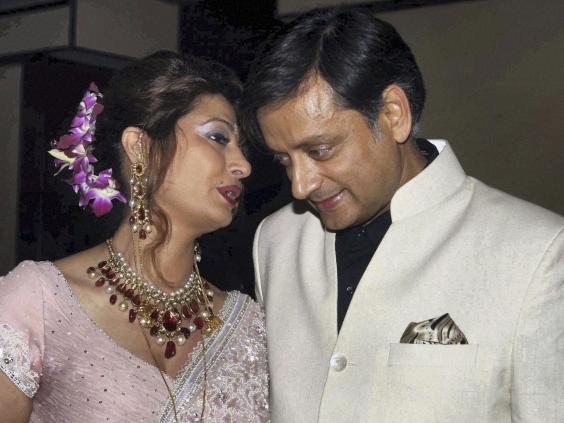 "It appears that some personal and private comments responding to these unauthorised tweets - comments that were not intended for publication -  have been misrepresented and led to some erroneous conclusions."
Mr Tharoor had to resign from his first ministerial post after revelations that then-girlfriend, Ms Pushkar, had been given a free stake in a new Indian Premier League (IPL) cricket team.
According to the AFP news agency, opposition parties said the stake, reportedly worth up to $15 million, was for Mr Tharoor's behind-the-scenes services in putting together a consortium that bought a franchise in his home state of Kerala.
Mr Tharoor, a father of two adult sons, resigned in 2010 saying that his conscience was clear over the IPL scandal, telling parliament he had done "nothing improper or unethical let alone illegal".
Mr Tharoor, who was once in the running to be secretary general of the United Nations, is the most active user of Twitter in the government and he has been instrumental in encouraging colleagues.
But it has damaged him on at least three occasions since he quit his three-decade career in the UN and entered Indian politics in 2008.
The allegations about corruption in the IPL were first exposed on the platform by the competition's top administrator Lalit Modi and in 2009 Mr Tharoor had to apologise after making a joke about "holy cows" in the cabinet.
Reuse content